Teen Wilderness Programs
Twin Eagles Seasonal Teen Rendezvous
Full-On Skills. Edge Experiences. Epic Adventures.
for Teens ages 13-18
in Sandpoint, Idaho & Spokane, Washington
and locations throughout the Inland Northwest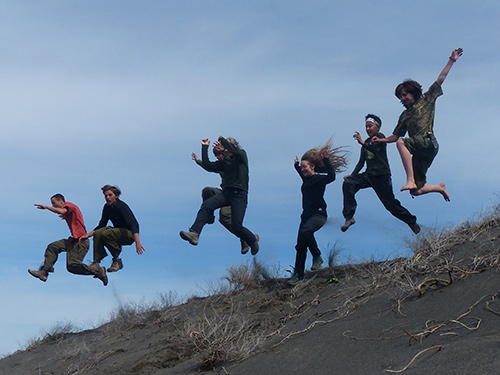 Twin Eagles Seasonal Teen Rendezvous, our teen wilderness programs, were created to offer awesome experiences to teens throughout the Inland Northwest and beyond to sink deep roots to the earth through wilderness skills while soaring high through full-on group adventures. These programs were designed to keep the deep nature connection mentoring experience alive throughout the school year. Teens learn leadership by working together as well as applying their sensitivities through ancient earth based skills and crafts. Twin Eagles nature based mentors guide teens through these experiences, developing significant creative problem solving skills while they revel in being fully alive.
Our teen wilderness programs are powerful opportunities for teens to encounter the wild around them as we journey to destinations throughout the Inland Northwest. As well, teens have a chance to touch their own inner wildness by giving unique voice to their inner selves amongst a community of peers and mentors. This will all take place within the powerful and safe context of a "cultural basket" of teachings that will provide grounding and balance while peaking their senses and learning. Thus, we echo the blueprint of natural learning shared by our ancestors through millennia.
All of our weekend teen wilderness programs have their own theme, allowing teens to experience a depth of mentoring difficult to find elsewhere. Some favorite themes have included earth based crafts, wilderness survival challenge, animal tracking, walkabout, primitive cooking, the way of the scout, and winter snow cave expedition.
Teenagers have a fundamental, archetypal need to
test themselves
and
test their world
. If we, the community of adults that hold them, don't provide experiences to meet these needs, they will seek out other potentially destructive ways of getting these needs met."
- Tim Corcoran, Twin Eagles co-Director & co-Founder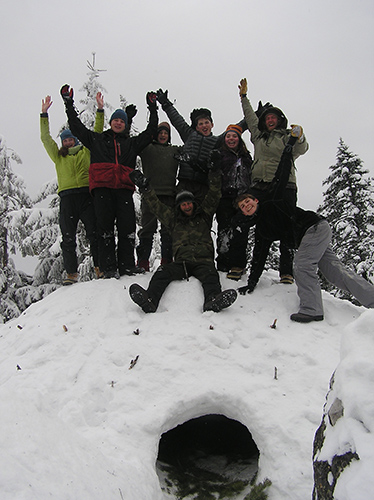 Where?
Our weekend teen wilderness programs are held at locations throughout the Inland Northwest, each matched to the unique theme of the weekend. Through Twin Eagles Seasonal Teen Rendezvous programs, we travel from the pristine mountains of north Idaho to the arid deserts of eastern Washington. From the shores of Lake Pend Oreille to deep cedar forests, teens have the opportunity to experience the breadth and depth of our bioregion.
How Many?
We are committed to a high mentor to student ratio of at least one-to-six to ensure a high quality program. We enroll students ages 13 - 18. Maximum program enrollment is 25 students. There are ample opportunities for teens to work one-on-one with mentors.
When?
Our weekend teen wilderness programs run from Friday evening through Sunday afternoon. Specific times vary for each teen wilderness program weekend.
Autumn 2019 Teen Rendezvous - Fri Oct 4 - Sun Oct 6
Theme: The Way of the Scout
Cedar Springs, just north of Sandpoint, Idaho
6:00 pm Friday - 3:00 pm Sunday, with a parent circle ending at 5:00 pm
The scouts of old were the eyes and ears of the tribe, protectors of the village. They were masters of stealth, camouflage, and invisibility, traveling unseen and unheard amongst the shadows. The journey of becoming a scout took years, as the initiates honed their senses to a razor's edge learning the secrets of the forest, reading track & sign, and deciphering bird language.
During this weekend, we'll practice skills such as:
Stealth & Invisibility
Natural Camouflage
Learning the Language of the Forest
Deep sensory awareness practices
Blindfold work
Intimate knowledge of the land
Skills of the Protector - The Benevolent Scout
Nighttime Scout Games
Renewing Connections amongst teens throughout our bio-region
Stories and Songs that inspire and celebrate
Awesome Autumn Games
Inner Teachings of the Autumn Season
PLUS, an exciting Trade Blanket!
Winter 2020 Teen Rendezvous - Fri Jan 31 - Sun Feb 2
Theme: TBA
Location TBA
Spring 2020 Teen Rendezvous - Fri Apr 24 - Sun Apr 26
Theme: TBA
Location: TBA
6:00 pm Friday - 3:00 pm Sunday, with a parent circle ending at 5:00 pm
How Much?
Each weekend costs $250, which includes lodging and some meals.
Scholarships are available.
A $100 deposit, $50 of which is non-refundable, per child per program is due upon registration. The remaining balance is due two weeks before the program start date.
SAVE 10% by enrolling in three or more sessions!
We are also offering teens who have been to Twin Eagles programs before the chance to learn to become nature based mentors through our Mentor-in-Training (MIT) program. Please see the Mentor-in-Training web page for more information.
I loved it! I had the time of my life and would do it again in a heartbeat!"
Erin Duebendorfer
To Apply
Registration is currently open for Twin Eagles Seasonal Teen Rendezvous 2019-2020.
Complete an online application and pay by credit card by clicking the "Apply Now" button below.
Scholarships are available for our teen programs - click here for more information.
If you prefer to pay by check, click here to download an application packet (pdf) and apply by US Mail.
Questions? Contact us here.
Please Note: Our programs often fill to capacity with waiting lists, sometimes quickly. Your child's space in this program is not reserved until we have received both a completed application and a deposit, and you have heard from us that they have been accepted and registered. Thank you!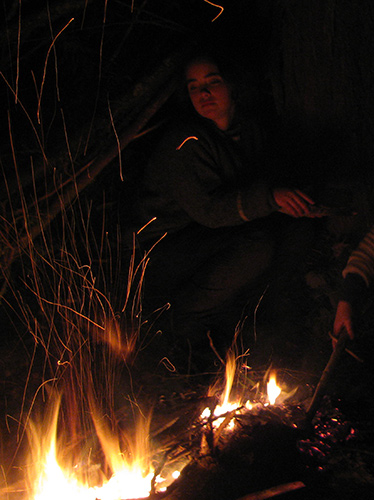 Never before in history have youth been so plugged-in - and so out of touch with the natural world...direct exposure to nature is essential for healthy development - physical, emotional and spiritual."
- From Richard Louv's Last Child in the Woods
Nature Based Mentoring
At our teen wilderness programs, our mentoring philosophy is grounded in the fact that human beings are multi-faceted and that personal growth and discovery is revealed gradually. For this reason we are committed to long-term mentoring relationships with whole families that support each student to unfold their natural gifts and potential over time.
Our teen wilderness programs provide opportunities for teenagers to deeply immerse their senses in the landscapes of nature and give them adventure challenges that are fun, test their strengths and intimately connect them to the land and themselves. By taking this journey, teens learn to be comfortable and confident outdoors, and a solid foundation of a love for our Earth is laid.
We inspire teens to grow as life long learners by nurturing their natural curiosity for the world around them. We help them form these curiosities into a cohesive and intense passion for learning. Thus, children grow into themselves holistically and are set forth on a path to discover their own unique gifts that they will one day share with the world.
Ultimately, they learn to ask questions for themselves and seek answers in their world; the simple truth that all things are teachers is revealed.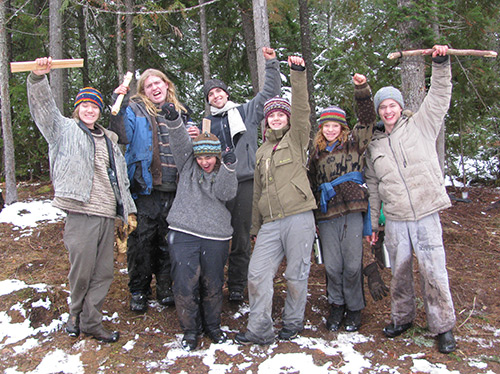 Why is this important?
We recognize that today's teens will be the true leaders of our future. We believe that through engaging the imagination and senses, nurturing their love for the earth, helping them develop their own unique gifts, being committed to passion-based learning and long-term mentoring, and helping them develop the fiber for adapting to natural challenge and change with resiliency, we hope to foster a larger community of naturalists, life-long learners and caretakers of our earth for the future generations. We invite you to come be a part of this exciting endeavor!
Return from Teen Wilderness Programs to Wilderness Survival
(homepage)