Teen Wilderness Programs
Twin Eagles Seasonal Teen Rendezvous
Full-On Skills. Edge Experiences. Epic Adventures.
for Teens ages 13-18
in Sandpoint, Idaho & Spokane, Washington
and locations throughout the Inland Northwest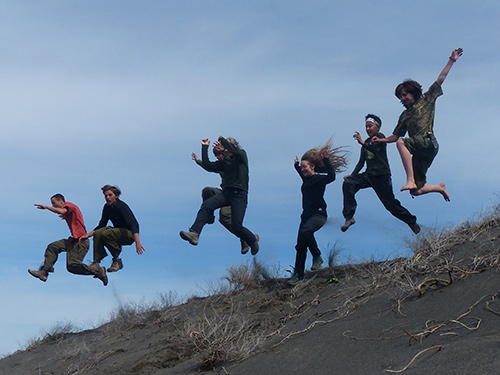 Twin Eagles Seasonal Teen Rendezvous, our teen weekend wilderness programs, were created to offer awesome experiences to teens throughout the Inland Northwest and beyond to sink deep roots to the earth through wilderness skills while soaring high through full-on group adventures. These programs were designed to keep the deep nature connection mentoring experience alive throughout the school year. Teens learn leadership by working together as well as applying their sensitivities through ancient earth-based skills and crafts. Twin Eagles nature-based mentors guide teens through these experiences, developing significant creative problem solving skills while they revel in being fully alive.
Our teen wilderness programs are powerful opportunities for teens to encounter the wild around them as we journey to destinations throughout the Inland Northwest. As well, teens have a chance to touch their own inner wildness by giving unique voice to their inner selves amongst a community of peers and mentors. This will all take place within the powerful and safe context of a "cultural basket" of teachings that will provide grounding and balance while peaking their senses and learning. Thus, we echo the blueprint of natural learning shared by our ancestors through millennia.
Teenagers have a fundamental, archetypal need to
test themselves
and
test their world
. If we, the community of adults that hold them, don't provide experiences to meet these needs, they will seek out other potentially destructive ways of getting these needs met."
- Tim Corcoran, Twin Eagles co-Director & co-Founder
Get ready to have the time of your life! These weekends are a blend of wilderness immersion, nature-based leadership development, and soulful group unity building. They are an opportunity to renew connection to the earth through skills and adventure amidst the companionship of peers during each season. All of our weekend teen wilderness programs allow teens to experience a depth of mentoring difficult to find elsewhere.
Each weekend focuses on different activities and qualities of learning based on the season and location as well as the teen's passions and experience. As mentors, we're skilled at meeting diverse experience levels within a group and are committed to keeping each participant highly engaged.
Skills
There are a variety of skills and practices we'll engage in throughout each weekend. Some possibilities include:
Wilderness Survival Skills like fire making, building & sleeping in primitive shelters, harvesting wild water, and hunting & trapping tools
Beautiful and functional Earth-based Crafts like baskets, pottery, rawhide containers, cordage making, moccasin making, and flintknapping
Wildlife Tracking and The Language of the Birds
Medicinal and Edible Wild Plants including Identification, Harvesting, Preserving, Preparing, Eating and Applying
Aidless Navigation, Lostproofing and Mapping
Ecology and Knowledge of Place including local mammals, birds, reptiles, amphibians, plants and trees.
Sensory Awareness Development
Bushcraft Skills like advanced shelters, knots & lashing, snowshoe making, working with knives & axes
Primitive Cooking like stone ovens, steam pits, and pemmican making
Knife & Sheath Making
Wooden Bow Making & Archery
The Way of The Scout including natural camouflage, stalking, and stealth games
Desert Walkabouts
Winter Snow Cave Expeditions
Cultural Mentoring Approaches
Renewing Connections amongst teens throughout our bio-region
Enlivened, Inspiring Storytelling
Songs that Celebrate and Build Community
Awesome Games and Unity Building Activities
Inner Teachings of each Season
Wilderness Ethics and Principles
Inspiring Conversation and Dialogue sharing ideas and creativity with others
Trade Blankets
The Deeper Journey
An Awakened sense of Connection
Helping teens Discover their Gifts and Passions
Allowing time and space for teens to experience self-sufficiency and creative problem solving both individually and in group situations
Leadership, Community Building and Peacemaking
Nature as an opening to Passion and Purpose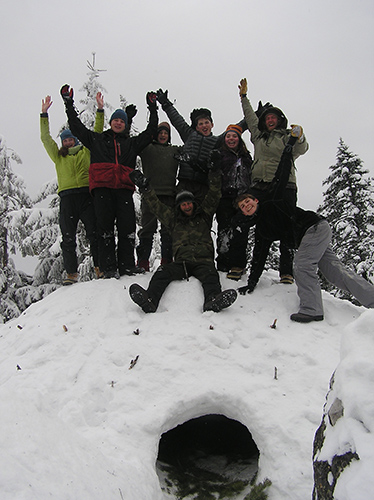 Where?
Our weekend teen wilderness programs are held at locations throughout the Inland Northwest, each matched to the unique activities of the given weekend. Through Twin Eagles Seasonal Teen Rendezvous programs, we travel from the pristine mountains of north Idaho to the arid deserts of eastern Washington. From the shores of Lake Pend Oreille to deep cedar forests, teens have the opportunity to experience the breadth and depth of our bioregion.
How Many?
We are committed to a high mentor to student ratio of at least one-to-six to ensure a high quality program. We enroll students ages 13 - 18. Maximum program enrollment is 18 students. There are ample opportunities for teens to work one-on-one with mentors.
When?
Our weekend teen wilderness programs run from Friday evening through Sunday afternoon. Specific times can vary, so be sure to check details below for accurate details.
Twin Eagles Seasonal Teen Rendezvous - 2023-2024 Dates & Locations
Autumn 2023 Teen Rendezvous - Fri Sep 22 - Sun Sep 24
Theme: Moses Lake Sand Dunes Wilderness Expedition
Moses Lake Sand Dunes, Moses Lake, Washington
5:30 pm Friday - 4:00 pm Sunday
Imagine joining together with other nature loving teens to explore the incredibly diversity where sand dunes meet a plethora of ponds and lakes, while tracking mule deer, bobcat, coyote, badger, skunk, weasel, porcupine, kangaroo rat, hawks, owls, quail, and dove. Moses Lake Sand Dunes comprise thousands of acres which many consider a "Naturalist's Playground". We'll join together for activities like:
Exploring the Ecology of Moses Lake Sand Dunes
Wildlife Tracking & Trailing
Modern and Primitive Navigation & Lostproofing
Mapping
Bird Language
Mystery Elements and Adventures
Ecological Tracking
Renewing Connections amongst teens throughout our bio-region
Stories and Songs that celebrate and inspire
Super Fun Spring Games
Inner Teachings of the Autumn Season
Winter 2024 Teen Rendezvous - Fri Jan 26 - Sun Jan 28
Theme: Carving Knife & Sheath Making
Location: Wood View, Sandpoint, Idaho
5:00 pm Friday - 5:00 pm Sunday
Join us this weekend to make your own beautiful and functional carving knife and accompanying leather sheath. Knives are an everyday tool especially important here at Twin Eagles Wilderness School, and there is nothing quite like having your own hand made sheath knife on your belt. You'll learn the basics of working with wood, metal and leather alongside other teens as we join together for activities like:
Carving Knife Design
Crafting a Wooden Handle
Steel Blade Selection
Mounting Blade to Handle
Knife Finishing
Sheath Design
Sheath Construction
Sheath Finishing
Renewing Connections amongst teens throughout our bio-region
Stories and Songs that celebrate and inspire
Super Fun Nature Games
Inner Teachings of the Winter Season
Spring 2024 Teen Rendezvous - Fri April 26 - Sun April 28
Theme: TBA
Location: TBA
5:00 pm Friday - 5:00 pm Sunday
How Much?
Each weekend costs $345, which includes lodging (typically camping) and some meals. Scholarships are available.
A 50% deposit (25% is non-refundable) per individual per program is due upon registration. The remaining balance is due two weeks before the program start date.
Mentor-In-Training Program
We are also offering teens who have been to Twin Eagles programs before the chance to learn to become nature based mentors through our Mentor-in-Training (MIT) program. Please see the Mentor-in-Training web page for more information.
I loved it! I had the time of my life and would do it again in a heartbeat!"
Erin Duebendorfer
To Register
Registration is currently open for Twin Eagles Seasonal Teen Rendezvous 2023-2024.
Complete an online application and pay by credit card by clicking the "Register Now" button below.
Scholarships are available for our teen programs - click here for more information.
Questions? Contact us here.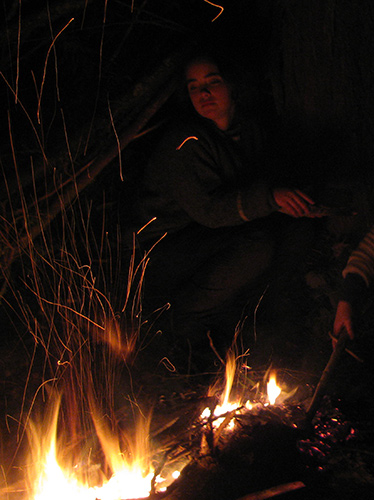 Never before in history have youth been so plugged-in - and so out of touch with the natural world...direct exposure to nature is essential for healthy development - physical, emotional and spiritual."
- From Richard Louv's Last Child in the Woods
Nature Based Mentoring
At our teen wilderness programs, our mentoring philosophy is grounded in the fact that human beings are multi-faceted and that personal growth and discovery is revealed gradually. For this reason we are committed to long-term mentoring relationships with whole families that support each student to unfold their natural gifts and potential over time.
Our teen wilderness programs provide opportunities for teenagers to deeply immerse their senses in the landscapes of nature and give them adventure challenges that are fun, test their strengths and intimately connect them to the land and themselves. By taking this journey, teens learn to be comfortable and confident outdoors, and a solid foundation of a love for our Earth is laid.
We inspire teens to grow as life long learners by nurturing their natural curiosity for the world around them. We help them form these curiosities into a cohesive and intense passion for learning. Thus, children grow into themselves holistically and are set forth on a path to discover their own unique gifts that they will one day share with the world.
Ultimately, they learn to ask questions for themselves and seek answers in their world; the simple truth that all things are teachers is revealed.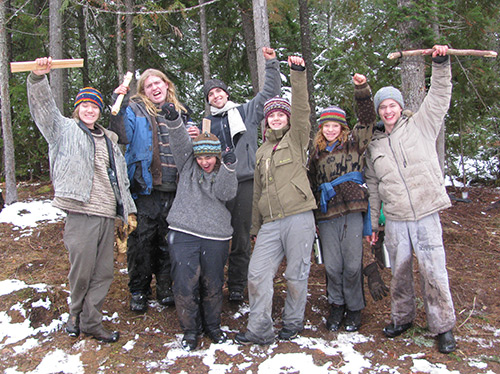 Why is this important?
We recognize that today's teens will be the true leaders of our future. We believe that through engaging the imagination and senses, nurturing their love for the earth, helping them develop their own unique gifts, being committed to passion-based learning and long-term mentoring, and helping them develop the fiber for adapting to natural challenge and change with resiliency, we hope to foster a larger community of naturalists, life-long learners and caretakers of our earth for the future generations. We invite you to come be a part of this exciting endeavor!
Return from Teen Wilderness Programs to Wilderness Survival
(homepage)