Father Son Wilderness Program
Dates: TBA
Location: TBA
for fathers and their 7 - 12 year old sons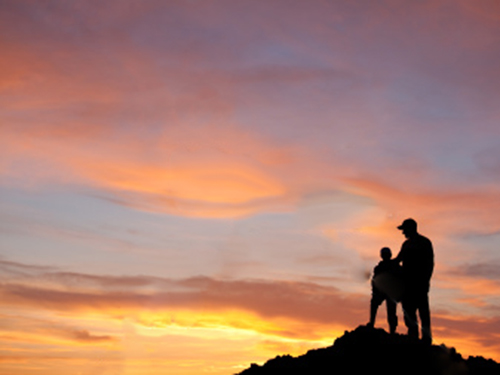 Fatherhood. What a journey.
When was the last time you stripped away all the distractions, and just connected with your son(s) and what is most important in life in the simplest way possible?
When was the last time you slowed down, really slowed down, and just connected with nature, on nature's terms?
Imagine taking four days with your son(s), and connecting deeply with nature and your boy(s) through ancestral wilderness survival skills, all within a small "tribe" of other fathers & sons that are like minded with similar values.
Since the dawn of time, fathers and sons have bonded deeply in and with the wilderness. Ancestral wilderness skills have an innate ability to deepen the Father Son connection like nothing else. During this Father Son Wilderness Program, we'll make fire by friction, build and sleep in natural shelters, learn traditional hunting and gathering techniques, and track wild animals. Primitive wilderness survival isn't a "Man vs. Wild" scenario, it is an opportunity to build a deep relationship with the Earth. As you and your son do so, you'll find that your relationship with your son deepens in powerful ways.
We'll have facilitated, open heart Father Son relationship deepening time, and of course opportunities to connect with the other fathers and sons present. Just as our earth based ancestors did, we'll utilize traditional earth based spiritual practices to help facilitate the connection, and have surprise elements too. We're looking for fathers and sons who are ready to open their bodies, minds, and hearts to a deeper connection, have epic fun, and take the time to connect with what matters most.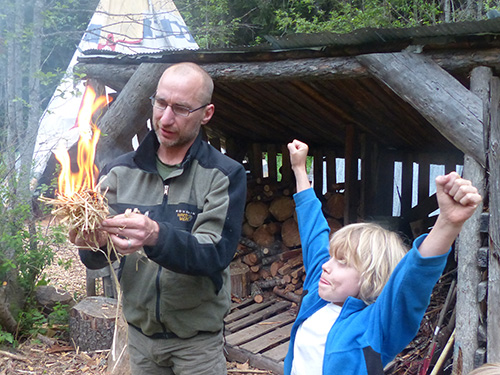 My sons and I attended the father son wilderness survival course at Twin Eagles, and it was an absolutely epic and life-changing experience. I cannot recommend Tim and his staff more highly. They are loving, trustworthy, knowledgeable and fun-loving folks who know how to give you the ultimate combination of mindfulness, nature and practical survival tactics. Add this to your bucket list!"
- Ben Greenfield of www.BenGreenfieldFitness.com
Over the four day program, we'll experience skills like:
Wilderness Survival
Building and Sleeping in Primitive shelters
Primitive & Modern Fire Making
Water Collection & Purification
Wild Edible & Medicinal Plants
Primitive Hunting Techniques
Primitive Cooking
Wildlife Tracking
Nature Based Mentoring
Core Routines of Nature Awareness
The Way of the Scout
Inner Tracking & Heart based Father Son Relationship Deepening
Nature Based Games
Earth Based Spirituality
Surprise Elements
and more!
Your Guides
This Father Son Wilderness Program will be led by Tim Corcoran, co-Director & co-Founder of Twin Eagles Wilderness School. Tim has been leading transformational adult and youth wilderness programs since 1999, and is a heart centered father of two brilliant boys. We'll have an all male staff, including other experienced instructors from Twin Eagles Wilderness School. You and your sons will be in good hands and hearts.
Accommodations
This Father Son Wilderness Program will be held at Cedar Sprinigs, located about 20 minutes north of Sandpoint, Idaho. We are blessed with immediate access to 50 acres of diverse forest, fields and wetlands, as well as being just minutes away from thousands of acres of state land and millions of acres of national forest! You'll stay in traditional tipis or tents, and we utilize the on-site simple outdoor kitchen and outhouses.
Travel
Each family is responsible for all travel to and from our program location. Carpooling is encouraged, and we're happy to help coordinate by sharing contact information of interested families.
Group Size
To support a powerful experience, we're limiting registration to just eight fathers and their sons. Each father is allowed to bring one or two sons ages 7-12, but no more. This will help support a balanced experience for all.
Times
This Father Son Wilderness Program starts at 1:00 pm Friday April 12 and ends at 3:00 pm Monday April 15.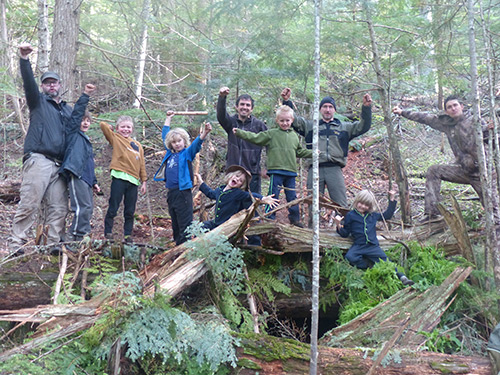 To Apply
Registration for this Father Son Wilderness Program is not currently open.
Return from Father Son Wilderness Program to Wilderness Survival
(homepage)