Morel Mushroom Hunting Workshop
Dates: TBA
Location: TBA
All Ages Welcome!
Our morel mushroom hunting workshop will introduce you to this epic springtime ritual that has captured the hearts and taste buds of nature loves far and wide! North Idaho is one of the very best bio-regions in the country for harvesting wild edible mushrooms, and our staff have many decades of experience with the science and art of hunting the elusive wild morel mushroom. Whether you are a total beginner or seasoned veteran, this workshop promises to be informative, fun, engaging, and delightful!
He yanked up a couple of mushrooms. 'Tania, can we eat these?' Taking them out of his hands and throwing them back on the ground, Tatiana said, 'Yes. But we will only be able to eat them once.'"
- Paullina Simons, The Bronze Horseman
This day long workshop will be a rich and diverse experience where we will cover the following:
How to Find Wild Morel Mushrooms
Morel Mushrooms Identification
Poisonous Look-a-likes
The Seasonal Cycle - Understanding when morels grow
Habitat - Understanding where morels grow, including associated trees
Natural Hazards - how to stay safe while hunting morels
The Harvest - how to ethically gather morel mushrooms
Preservation - how to store morels over time
Morel Mushroom Recipes - how to prepare this wild gourmet cuisine
The Motherload - how to find more morels than you can possibly harvest
Other spring time wild edible plants
Morel Feast - you'll get a chance to sample our favorite morel recipes!
Question and Answer time with participants
Our day will start with an opening circle with a formal presentation on wild morel mushrooms. Then we'll spend the bulk of the day out in the field, harvesting morel mushroom with the guidance of our experienced instructors. We'll bring our day to a close by sharing reflections and cooking up some of our harvest for a wild morel mushroom feast!
In the end, beginners will leave with the knowledge and experience to feel confident harvesting and enjoying morels. More experienced morel harvesters will be taken deeper on their journey and learn new tips and tricks.
Instructor Joshua Walters was raised on wild foods in the Laurel Highlands of Pennsylvania. Its been over thirty years since his grandfather first introduced him to the wonderful and amazing morel mushroom. Ever since those early childhood moments of stalking, discovering, harvesting, preparing, and feasting on morels, he has cherished the entire process. He's been harvesting wild mushrooms ever since. He brought his love for gathering wild foods to the Rocky Mountain West in 1997, and started working with Twin Eagles in 2005, sharing his love of nature with youth and adults. A hunter, fisherman, storyteller, musician, and lover of life, Joshua is excited to share his passion for morel mushrooms!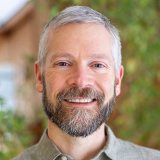 Instructor Tim Corcoran has been mentoring adults and youth in harvesting wild morel mushrooms for over 15 years. Tim is a hunter, an archer, a father and a husband and loves sharing his passions with others through his work as co-Director of Twin Eagles Wilderness School. Tim's approach blends science with the art of deep nature connection mentoring, always keeping the experience fun, engaging and transformative. Tim has been trained and mentored by expert naturalists and renowned native elders, but more importantly has made the teachings his own through a life of deep nature connection mentoring.
Logistics
This day long morel mushroom hunting workshop runs on Saturday from 10:00 am until 4:00 pm. Please bring your own sack lunch and plenty of drinking water, ready for the trail. You'll need good outdoor clothes and rain gear if its raining, as well as a mesh bag for collecting morels. This workshop will be 100% outside, rain or shine. Please come prepared to be outside the entire time. We'll send out a welcome letter complete with a gear list, directions, and full details after receiving your registration.
Location
This workshop will be held within a 45 minute drive of Sandpoint, Idaho. We are intentionally waiting to select our location so that we can have an excellent spot with plenty of good quality morels. We will announce our location one week prior to the workshop. This is one of the teachings that morel mushrooms bring us. There are no guarantees when it comes to finding morels, and we must learn to adapt in order to find the good morel harvesting spots.
Registration
Pricing:
$65 for adults & teens, $45 for youth ages 6-12, kids 5 & under come free.
Children under 13 years old must be accompanied by an adult.
Limited spaces available, please register soon to reserve your spot. We anticipate this will be a very popular workshop!
To Apply
Registration is not yet open for this workshop.
Questions? Contact us here.
Please Note: Our programs often fill to capacity with waiting lists, sometimes quickly. Your space in this program is not reserved until we have received both a completed application and a deposit, and you have heard from us that they have been accepted and registered. Thank you!
Return from Morel Mushroom Hunting Workshop to Wilderness Survival
(homepage)