Employment with
Twin Eagles Wilderness School
Environmental Education Jobs and more...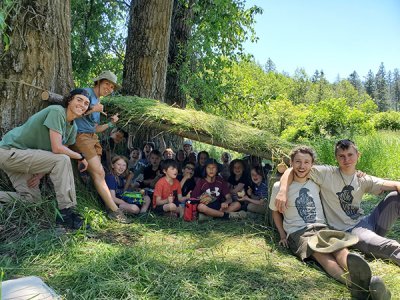 Twin Eagles Wilderness School is growing, and we have paid positions available for our upcoming 2023 Summer Camp Season.
We have a strong reputation as a powerful center for passion-based deep nature connection in the Inland Northwest with positive mentoring relationships with the families and individuals we work with. Before applying, please take a moment to familiarize yourself with us. We're totally out-of-the-box compared to most environmental education organizations.
Please start by reading our homepage. This will give you more of a sense of who we are.
As you can see, "environmental education jobs" or "outdoor education jobs" don't really do justice to the experience of working with Twin Eagles. "Outdoor adventure jobs" get closer, but even that is still lacking.
We are redefining a new standard for environmental education jobs. We're bringing nature back to the center of our culture, and believe firmly that real education and learning is:
Passion based. People learn best when they are excited to learn. This is common sense, but unfortunately not so common in our modern world today. For this reason, we have a high standard that everyone at Twin Eagles truly has a passion to be here - students, volunteers, staff, everyone.
Based in authentic, heart centered relationships. Working with Twin Eagles is not just a job, it's an experience in building relationships with a whole nature based community to expand consciousness. We open our hearts to each student, volunteer, and staff at Twin Eagles, and need that kind of full presence from each of our staff. If you work here, we will invest in you. Reciprocally, we'll need you to invest in us.
More about inspiring, less about "teaching". Authentic education is an ongoing journey of discovery for the individual. That is why we use the word "mentoring" rather than "teaching". Good mentors inspire students through their own passion for nature connection, community building, and self discovery. Less didactic downloads, more inspirational storytelling. Less stream sampling, more swamp tromps. Less about what you're doing, more about who you're being.
Benefits of Working at Twin Eagles Wilderness School:
Ongoing Professional Training as a Deep Nature Connection Mentor
Transformational Personal Growth & Self Discovery
Learn new Wilderness Skills
Network with Other Nature Based Mentors
Develop a Powerful Sense of Place
Support a Worthy Cause
Steep in Indigenous Wisdom
Become an Agent of Cultural Change
Experience Authentic Nature Based Community
Develop Passion, Purpose, Gratitude, Confidence, and Leadership.
Actualize Your Fullest Potential
Have Tons of Fun!
Experience a Truly Inspiration Vision of Hope!
Current Job Openings at
Twin Eagles Wilderness School
We are looking to hire instructors for our very popular summer camps. We're offering paid positions based on experience, with accommodations & meals provided for overnight camps. Have a blast working in a powerful deep nature connection mentoring culture, and deepening your mentoring expertise while supporting a common Vision of restoring hope in today's youth. We're known for crafting a culture of authentic depth mentoring.
To Apply
Click here to conact us for more information.
Volunteering with Twin Eagles
Not yet qualified? Consider volunteering with us. It is an amazing opportunity that builds your experience while making a real difference in the world as you develop yourself. Click here for more information on volunteering.
Stay updated about future job opportunities and more by subscribing to Twin Eagles free monthly eNewsletter.
Return from Environmental Education Jobs to Wilderness Survival
(homepage)