Brain Tanning Buckskin Workshop
Dates: TBA
Sandpoint, Idaho
Adults and older Teens Welcome
Learn the traditional art of brain tanning buckskin! Imagine making your own luxuriously soft, resilient, and versatile fabric sourced from 100% local, renewable, wildcrafted materials. Experience a deep connection to your indigenous ancestors as you discover this ancient art.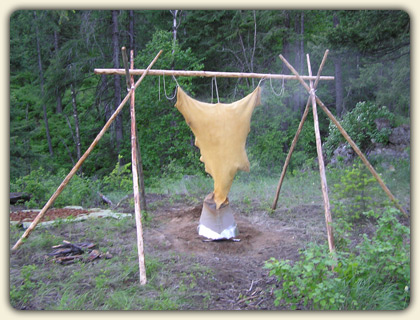 In this three day workshop, you will learn the complete process of wet scrape brain tanning buckskin start to finish. We will cover hide selection, fleshing, bucking, graining, rinsing, membraning, wringing, braining, softening, and smoking as we transform deer skins into buckskins that are velvety soft, supple, light and strong!
This workshop is desgined for beginners and novices. Participants will be working together in teams of three, which insures that everyone learns the process but doesn't get burned out. Deer hide tanning involves a lot of physical work, and is extraordinarily rewarding. Once learned, this process is applicable to a great variety of animal skins. We will provide all the necessary tools, brains, materials, and guidance.
Instructors Dan & Tim Corcoran have been tanning deer hides for over 20 years collectively. Through Dan's work at Wilderness Awareness School in Duvall, WA and Tim's work at Twin Eagles Wilderness School in Sandpoint, ID, they have taught over one hundred people the ancient art of tanning buckskin. Their approach is centered on creating enough understanding and connection throughout the learning process that participants will be able to repeat the whole tanning deer hide process on their own.
Logistics
Workshop runs Friday 9:00 am - Sunday 4:00 pm. Days are spent working hides, evenings are relaxed. Saturday night we'll share in a community potluck, so bring a dish to share. Bring your own meals other than that.
Registration
Pricing:
$245, includes the skin you get to process and take home (sharing with your group of three). Also includes camping. Scholarships available.
To Apply
Registrations are not currently being accepted for this workshop.

Please Note: Our programs often fill to capacity with waiting lists, sometimes quickly. Your space in this program is not reserved until we have received both a completed application and a deposit, and you have heard from us that they have been accepted and registered. Thank you!
Have more questions about this workshop? Feel free to contact us.
Return from Brain Tanning to Wilderness Survival
(homepage)