Our Lineage
Our Elders and Mentors
Here at Twin Eagles Wilderness School, we're honored and grateful to be part of something much bigger, an authentic nature based mentoring lineage. The teachings that we share here have been passed down to us with love and care by others, themselves deeply connected with the Earth, community, family, and self.
It is difficult to describe in words the impact that these individuals have had on us. We hold each of them in our hearts dearly. In their own way, they each truly reached out to us from their heart and mentored us to become greater versions of ourselves. We're deeply grateful for this, as our work and lives would not be what they are without these people.
Our intention here is to honor these individuals and their lineage, recognizing each as a part of where we come from, as we live the teachings and pass them on to the next generation.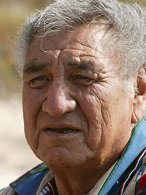 Gilbert Walking Bull
Born in the distant hills of South Dakota, Gilbert was the grandson of Moves Camp, a Lakota Sacred Man, and the great grandson of Sitting Bull. On his mother's side he was from the band of Crazy Horse and Black Elk. Selected from a young age to help carry on the spiritual teachings of his people, Gilbert was raised largely by his grandparent's generation, and educated in the traditional healing ceremonies, language, songs and culture of the Lakota. He was kept out of government schools and had little exposure to American Culture, or even the English language, until 1946, when he was 16 years old. Gilbert's knowledge of the traditional aspects of the Lakota was pure and true, and represented an unbroken cultural lineage possessed by very few others. Gilbert was the author of four definitive books on authentic traditional Lakota culture. Gilbert's vision was to share the gifts given to him with people from all walks of life, to help mankind understand a better way of life. In 2000 he founded Tatanka Mani Camp along with his wife Diane Marie, and Marilynn Bradley.
From 2000 until his passing in April of 2007, Gilbert shared the intact traditional ways of his upbringing with Jeannine and Tim, and was a core advisor to the founding of Twin Eagles Wilderness School, greatly impacting the forming of our own mentoring culture.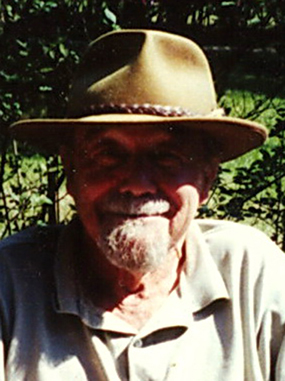 Ingwe
Born M. Norman Powell in 1914 of British ancestry, Ingwe spent his childhood running barefoot through the plains of Kenya with the young warriors of the neighboring Akamba tribe. Adopted into their tribe, Ingwe was raised and initiated as a warrior of the Akamba tribe. Through their teachings he learned how to live close to the Earth. During his life Ingwe became very involved in the Scouting movement and shared the wisdom and magic of the wilderness with thousands of youth both in Africa and the United States. 1984 was a landmark year for the deep nature connection movement, as Ingwe joined Jon Young to share the lessons of his Akamba people of holding and seeking positive Visions for the children of the future. He became the Grandfather, the Storyteller, the "weaver of dreams and visions" around the camp fire. Indeed, Ingwe was a magical storyteller who brought the splendor and awe of the wilderness to life with the enduring spirit of the Earth. Ingwe passed away in November of 2005, and will always be remembered as the Grandfather of the deep nature connection movement.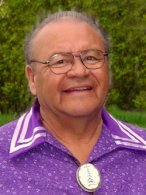 Jake Swamp
Tekaronianeken Jake Swamp was one of the world's foremost authorities on Peace and Cross-Cultural Understanding. Mohawk Nation sub-chief and representative on the Grand Council of the Iroquois Confederacy for over 30 years, Jake Swamp was the founder of the international Tree of Peace Society, taught extensively throughout the world, and met with heads of state and addressed the United Nations. We at Twin Eagles Wilderness School consider the Peacemaker Principles and Thanksgiving Address traditions he has shared with us as fundamental to our teaching philosophy, the way we operate as an organization, and the health of our community and families. Jake passed away in October of 2010. His love and teachings continue to live on in our hearts and in our relationships.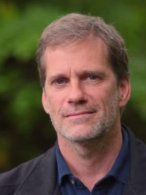 Mark Morey
Mark Morey is a creative artist, visionary educator, cultural engineer, and consultant who designs regenerative holistic communities with timeless native principles. He founded three transformational organizations in the last 15 years: the Institute for Natural Learning, Vermont Wilderness School, and Deep Wilds, sparking a nature and community awareness movement in the Northeast impacting over 7,000 adults and children today. He has facilitated wilderness survival and spiritual passages for teens and adults since 1997, including over 50 week-long Art of Mentoring programs for adults, and 10 years of Sacred Fire rites of passage for teen boys. Mark feels inspired by the hero's journey model and the oral history of his ancestors and native people around the world. Mark's passion for environmental healing and consciousness has gained him wide recognition as a leader in earth centered learning. Visit his website at www.MarkMorey.com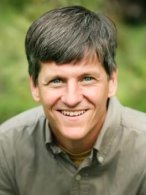 Jon Young
Jon Young is an international leader in the field of deep nature connection mentoring. His "Cultural Mentoring" approach to developing deep nature connection, holistic human awareness, and advance peacemaking skills has spawned over 300 local deep nature connection organizations and initiatives in the U.S., Europe, and throughout the world. Inspired by his childhood mentoring with famous tracker and author Tom Brown, Jr., Jon is the founder of the 8 Shields Institute and Wilderness Awareness School. He has also authored a variety of books including Coyote's Guide to Connecting with Nature, Animal Tracking Basics, the Kamana Naturalist Training Program, Seeing Through Native Eyes, and What the Robin Knows. Visit his website at www.JonYoung.org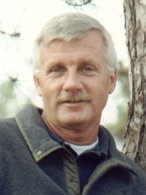 Tom Brown, Jr.
Tom Brown, Jr. is a renowned tracker, teacher, and author. From the ages of 7 to 18, Tom was closely mentored by Stalking Wolf, an Apache elder, shaman and scout who he called Grandfather, in the skills of tracking, wilderness survival, and awareness. After Stalking Wolf passed away, Tom spent the next ten years wandering the wilderness throughout the America's with no manufactured tools, perfecting Grandfather's skills and teachings. He wrote about his experiences in a book titled The Tracker, which was published in 1978. Soon after Tom founded the Tracker School, teaching people from all over the world and from all walks of life. Since the success of The Tracker, Tom has authored 18 books on tracking, awareness, nature observation and survival, which have sold well over a million copies.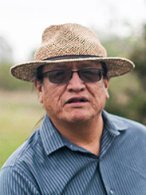 Tony Ten Fingers
Tony Ten Fingers is an Oglala Lakota and was raised in the traditional ways of his people. He is currently working on faculty at the Oglala Lakota College on the Pine Ridge Reservation in South Dakota, and is also a PhD candidate at the University of the Rockies. Tony has been essential in the founding of many wilderness schools and deep nature connection mentoring organizations and presented workshops across the country. Tony is a cultural ambassador who brings the wisdom of the Lakota people to all those he touches, in the form of the original teachings the Lakota were given. Gifted with the skill to blend traditional Native American ways with an understanding of the modern world, Tony is an accomplished educator and storyteller. A "master teacher of teachers," indeed, he has much to offer.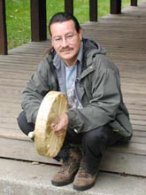 Paul Raphael
Paul Raphael has worked with his traditional indigenous ways to bring healing to many through the Sacred Fire, Peacemaking, and the Art of Mentoring. Paul knows tracking from the wild beings of the land to the inside of the human soul. Paul lives in the village of Peshawbestown, Michigan. He is married and has four grown children, two girls and two boys and five Grandchildren. Paul has been mentoring people for the past thirty years in deep nature connection, healing from grief, and discovering their personal gifts. He has worked as a Peacemaker for the Grand Traverse Band of Odawa and Chippewa Indians Tribal Courts. There he was instrumental in helping establish Peacemaking and a Nature Based Drug Court, to help repeated alcohol and drug offenders. Paul brings his humor and his knowledge of Native teachings passed onto him by his Elders.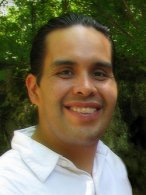 Barry Moses
Barry Moses was raised between worlds, in the cities of Spokane and Seattle, Washington, as well as the Spokane Indian Reservation. He is an educator with a keen interest in spirituality, indigenous cultures, dream work, and personal insight. As a "cultural specialist" he has a very rare and powerful gift of bridging the modern with the native. His tribal name is "Sulustu", which literally translates from the Spokane Salish language as, "Where the Worlds Come Together". You can read Barry's blog here, and view his TED talk on Preserving Endangered Languages here.
Return from Our Lineage to Wilderness Survival
(homepage)