Twin Eagles Girls Rite of Passage
Thursday May 2 - Sunday May 5, 2024
JDK Ranch, Spokane, Washington
for Girls ages 13 - 16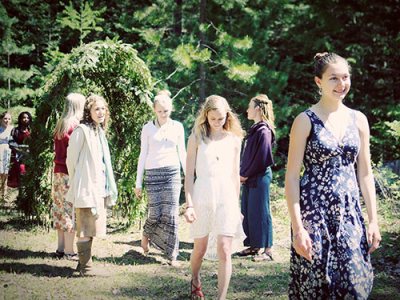 The journey from childhood to adolescence is a dramatic time of development. Just like the fledgling bird that leaves the nest, the Girls Rite of Passage is an opportunity for girls to expand their wings and begin to take flight. It's a crossing. A place where two roads meet. Those two roads are where your daughter was once a child and is now emerging into adolescence.
This rite of passage is a coming of age ritual that has been taking place since humans have been on the planet. These types of traditions are common throughout the world and across cultures. It's a unique blueprint that stands apart from every day ordinary life and at the same time, brings new depth, understanding and meaning to it.
What is a Rite of Passage?
A Rite of Passage is a ritual that signifies stepping from one life status or developmental stage into another. This important event helps girls form the milestones needed for the process of maturation. It helps them internalize the transition and essentially offers them stability in the midst of all the changes they're experiencing. It is the springboard that girls need in order to step towards their journey into the often difficult teenage years of adolescence. A Rite of Passage makes the difference between embarking on the adolescent years with consciousness and intention over the potential blur of just letting it happen.
In these complicated times, the vast majority of young people in our modern culture don't have formal events to mark this very important period in their lives. This gap has occurred because modern culture has lengthened childhood and coupled adolescence with it, transitioning both of them directly into adulthood in one fell swoop.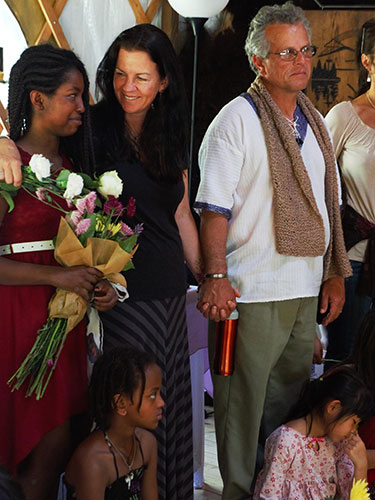 In the Twin Eagles Girls Rite of Passage girls are given the opportunity to pause and see this transition for what it really is, cultivate personal compassion, self-awareness and understanding of what they're going through, and be given guidance, support and inner strength to step into or continue their adolescence deliberately, with conscious determination and bravery.
Nature is the context and the container for this experience because it is in the solitude of nature that girls can reflect and receive insight on their personal story and begin to more deeply answer the lifelong questions, "Who am I and what are my gifts?"
Qualities Cultivated ~ The True Curriculum
There are many qualities we consciously cultivate and promote in the Girls Rite of Passage. Fostering these values is the passage and the curriculum. It is the fullness of the journey for them to awaken to their life stage and development. These are but a few of the myriad qualities and character traits that are nurtured in the Girls Rite of Passage:
Pushing oneself to new heights
Courageously facing challenges
Learning how to take healthy risks
Cultivating personal reflection
Gathering resourcefulness
Finding strength and purpose
Learning how to adapt to change
Strengthening the muscles of motivation
Cultivating mindfulness and self-awareness
Discovering potential and gifts within
Developing conscious communication skills and impulse control
Creating an honest, positive and healthy approach to the body
Developing awareness of emotions and how to effectively express them
Through practices and practical learning sessions, exercises and potent immersion experiences in nature girls will encounter themselves in new ways that will call them forward into owning this life stage and living it to the fullest.
Signs of Readiness
A chain reaction of signs often begin with increasing hormone production which precedes the brain rearranging connections and establishing new patterns of thinking. Then follow physical and emotional changes.
Acne may appear, breasts are developing, the menstrual cycle may have started, the body is growing (ex. feet, hands, height), anxieties surface, a myriad of emotions are experienced, the feeling of wanting to be alone, asking for more privileges and/or responsibility, social interactions are increasingly important, the need to "fit in" with peers and/or social groups is felt, focusing on physical appearance, individuating from the core family unit, and developing interests in romantic interactions/relationships are all examples of signs of readiness.
Parent Participation
Parents are to participate at the start of the program (2 - 3 hours upon drop off) and on the last day of the program (during most of the day). There will be extra educational offerings and tasks given to both parents and girls prior to the start of the program. Mentoring and support is offered to help prepare parents and daughters for this special event.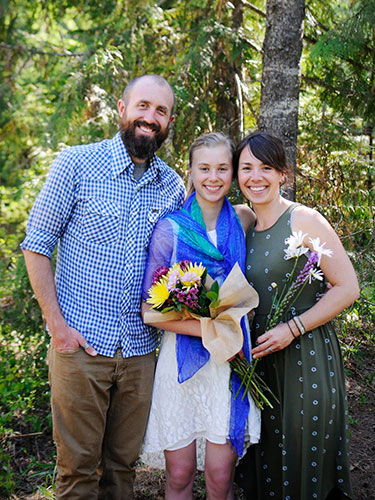 Dates & Times
This program includes one group conference call for parents and one group conference call for girls. Call information will be given upon enrollment. The Twin Eagles Girls Rite of Passage begins on Thursday, May 2, 2023 at 10:00 am Pacific for both parents and their daughters. Parents will stay on Thursday for 2 - 3 hours and then depart. Parents return on Sunday in the morning to reunite with their daughters, and the program ends on Sunday, May 5, 2024 by 3:00 pm Pacific.
Your Guide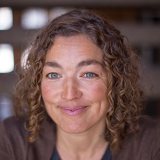 Jeannine Tidwell has been mentoring people of all ages for over two decades. She leads programs, community events, and offers personal coaching to people in mentoring, leadership, personal growth and vision. She offers programs for girls, young women and women. She's been guiding Rites of Passage for young women for many years.
Accommodations
This program will be held at JDK Ranch in Valleyford, Washington. JDK Ranch is a beautiful location that encompassed 50 acres, located about 30 minutes south of Spokane, Washington. The land includes mature forests with old growth douglas firs, wildflower filled meadows, access to Spangle Creek, and a camas butte. Activities will take place outdoors, including access to a traditional tipi. Outdoor camping is provided as part of this experience.
Travel
Each family is responsible for all travel to and from the program location. Carpooling is encouraged, and we're happy to help coordinate by sharing contact information of interested families.
Group Size
To support a powerful experience, we've limited registration to just eight girls. This will help support an intimate experience for everyone.
Cost
We're offering the Girl's Rite of Passage at a sliding scale of $950 - $1200, with the actual cost being $1075. If you need to pay less than $950, we have scholarships available. The cost covers both parents and daughters, and is all-inclusive, covering all mentoring, materials, accommodations and some meals.
Personal Invitation
If your daughter is feeling it's time to gain new privileges and responsibility or they've been feeling and sensing the desire to step out into the world more, then this opportunity is for them. If they're already taking on new responsibilities or privileges but never had a passage to walk through to acknowledge it, then this is the opportunity. If they're ready for an adventure that will help them discover more about who they are and the dreams they have for themselves in this new life stage, then this Rite of Passage is the perfect fit.
The Rite of Passage is a chance to give blessing to your daughter to be guided through this transformational experience that will help her successfully navigate the changes and rapids of this life stage and further a foundation for the rest of her life.
We welcome you into an age-old rite that has been taking place on the planet for time immemorial. This experience will give you and your daughter a powerful story together and a greater sense of knowing who you are as parents to your daughter as a young woman discovering her potential.
This is an opportunity for your daughter to transform the gifts of childhood into the resilience of adolescence. It's about cultivating an honorable response to all the complexity, confusion and challenge of the teenage years. When we are able to stand with integrity in a new life stage, we are able to face our own vulnerability and beauty, our strength and wholeness.
Returning to the Journey
The opportunity to return to the Girls Rite of Passage for a second and third year is a chance to deepen the journey and renew the experience. Many young women returning quickly realize that there is more growth and learning for them to discover. Returning to the Rite of Passage is crucial, for teens are living in a culture that is elaborately designed to train them in distractions. The return to the Rite of Passage cuts through all that quickly and brings young women back to their own source of wisdom and strength.
Year 2 - Girls Rite of Passage
This is truly the "chop wood, carry water" phase of the passage. After having gone through the first year ritual young women are now guided on a much deeper journey than they previously thought possible. Through an immersion experience they discover the subtleties of their lives and find where the gifts of their first year passage have been embodied and come to life. This is the ripening of the fruit.
They are also guided to dig deeper and with true grit, face hidden internal obstacles, envision solutions and take home greater meaning for practice. With reflections and guided mentoring, they are called forward to see their growth and accomplishments. This is a chance for them to renew themselves to the goals, discoveries and defining moments they had in their passage the first time.
Year 3 - Girls Rite of Passage
The Year 3 experience champions leadership and mentoring. Here young women are now able to articulate their experience with confidence and surety that they were still integrating in the Year 2 experience. They've gained enough perspective of the journey that they can not only look back and harvest the fruits of their passage but also offer that meaning and their gifts to the first and second year initiates.
The Year 3 young women stand as an inspiration and catalyst for other young women just embarking on the journey. Their leadership experience emerges through their presence, a powerful voice, emerging creative ideas and action.
Year 2 & Year 3 Cost
The cost for either the Year 2 or the Year 3 experience is $250, which covers both parents and daughters. The cost is all-inclusive, covering all mentoring, materials, accommodations and some meals. Arrival and departure times are the same as the first year.
To Register
Registration is currently open for Twin Eagles Girls Rite of Passage.
If you have questions, Contact Us here.
Return from Girls Rite of Passage to Wilderness Survival
(homepage)