Finest Morel Recipes
by Tim Corcoran
I'd like to offer you my very favorite morel recipes. Morel mushrooms are an exquisite delicacy, and truly deserve your very best. These mushrooms are prized for their earthy flavor and texture, and are a delight to share with family and friends.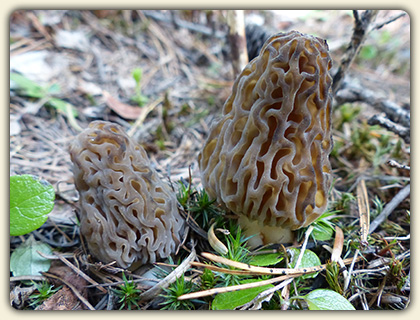 Do you need help hunting morels? If so, take a look at my morel mushroom hunting article here. In it, we detail out identification, poisonous look-a-likes, morel habitat, when to harvest, how to harvest, how to process and preserve, and also offer a deeper teaching of consciousness that morels offer us.
With no further ado, here are my finest morel recipes:
Sautéed Morels
Perhaps the simplest of the morel recipes, Sautéed Morels highlights this amazing mushroom like nothing else.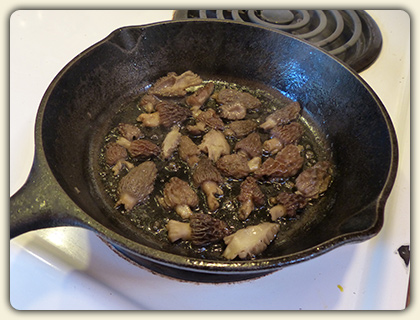 To prepare, gently sauté morels sliced lengthwise in real butter for several minutes until brown. Crack some fresh black pepper on top and sprinkle them with salt. Voila!
An alternative to this method is to use extra virgin olive oil and freshly diced garlic. Add a splash of marsala wine to highlight the richness of the morels. This is one of the best morel recipes in that it enhances the earthy flavors and aromas.
Fried & Breaded Morels
This is one of my most beloved morel recipes.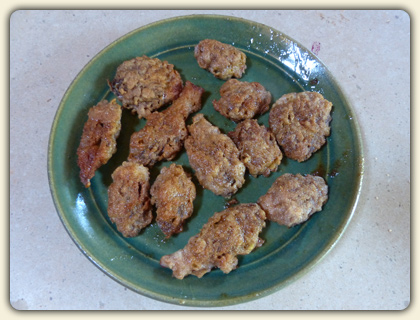 Slice morels lengthwise.
Beat 2 eggs with a little milk. Dunk the morels in the egg mixture.
Then, place the morels (covered in egg mixture) into a bowl of flour and/or cornmeal.
Fry in a cast iron skillet with 1/4" of melted real butter or bacon grease. Be gentle with the morels, and try to flip only once. Fry until golden brown on both sides.
Salt & freshly cracked black pepper to taste.
Serve them up and watch them go. If you family is anything like mine, they'll be gone before the serving plate hits the table!
Morels and Scrambled Eggs
Morels and scrambled eggs is one of the simplest and most enjoyable morel recipes. This is a true family favorite!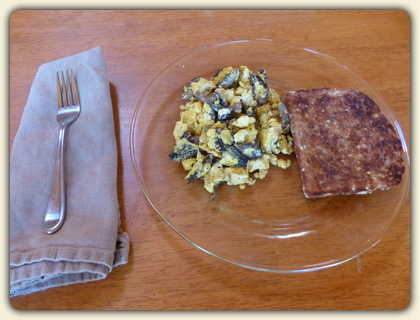 Fry up a handful of sliced morels and a couple diced green onions in a couple tablespoons real butter, until the morels are just starting to brown. Add in a classic scrambled egg mixture, with two or three eggs and some fresh whole milk mixed together with salt and pepper. Cook until finished just right, and enjoy this little bit of heaven on earth.
Stuffed Morels
Here we begin to enter the series of morel recipes that artfully bring together diverse flavors and textures:
Preheat your oven at 325 degrees.
Soak 10-12 large dried morels in 3/4 cup cream and 1 Tbsp. dry sherry.
Sauté one large clove of garlic, one large minced shallot, and 1/2 cup finely chopped pecans in 3 Tbsp. real butter.
Once they have cooked, turn off heat and mix in 4 oz. goat cheese and a little fresh grated nutmeg and white pepper, and stuff the soaked morels.
Bake at 325 degrees for 20 minutes and serve over fresh penne pasta.
Enjoy this scrumptious delight!
Sautéed Morels with Cream
Ingredients:
15 - 20 fresh medium size morels
1 large clove garlic chopped fine
1 large shallot chopped fine
2 Tbsp. unsalted butter
2 Tbsp. extra virgin olive oil
3/4 cup chicken broth
1 cup heavy cream
salt & freshly ground black pepper to taste
Directions:
Put olive oil in heated pan over medium heat. Finely chop the garlic and shallots, and sauté until softened but not brown. Add butter until melted then add morels. Stir and cook until mushrooms start to brown, about five minutes. Add chicken broth and cook for two to three minutes. Add heavy cream and cook on low until reduced and thickened. Classically served on toast, but best on grilled venison backstrap steaks.
Recipe for Grilled Venison Steaks:
Ingredients:
2 Venison Backstrap Steaks (New York Strip steaks as a second choice)
4 Tbsp. Steak sauce (A-1)
4 Tbsp. Worcestershire sauce
4 Tbsp. Soy Sauce
1 large diced garlic clove
1 tsp. steak seasoning (McCormick Montreal)
A few dashes of Tabasco (optional)
Directions:
Mix all ingredients in a bowl, add steaks and marinate, covered, in refrigerator for one hour or more. Cook over a hot grill. Remove from and cover for a few minutes before serving, which insures that your steak is juicy. Serve with Sautéed Morels with Cream. To die for!
Cream of Morel Soup
Of all the morel recipes, this is an absolutely heavenly soup that will make you dream of morels…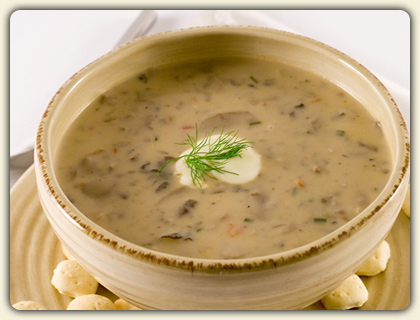 Ingredients:
3/4 pound fresh morels, chopped
1 large leek (use everything below the green leaves)
3 medium russet potatoes
1 cup chicken broth
1 cup heavy cream
1/2 cup dry white wine
2 Tbsp. real butter
2 cups water
salt and freshly ground black pepper to taste
Directions:
Prepare the leeks by removing the dark green leaves and roots. Slice the stem lengthwise. Rinse under cold water, making sure to remove all the grit between the layers. Peel the potatoes and cut in half. Add the leeks and potatoes to soup pot with the water. Boil moderately until tender, 20 to 30 minutes.
Heat a pan over a medium heat. Add butter, morels, and a few dashes of salt. Cook morels gently for approximately 10 to 15 minutes, making sure they do not dry out. Add a few dashes of wine at a time to keep moist. When nearly done add the rest of the wine, turn up heat and continue cooking until liquid is almost gone. Now add chicken broth and stir until blended.
When the leeks and potatoes are tender, remove from heat and blend until smooth. Return to pot.
Add morel mixture to potato/leek mixture and simmer very gently, stirring occasionally to avoid scorching the bottom. After approximately 5 to 10 minutes, add heavy cream and salt and pepper to taste.
Now serve up this delicious, earthy soup with a little fresh baked bread to win your family's heart...
Morel Quiche
Ingredients:
8 oz. fresh morels (or rehydrated), sliced
3 eggs, beaten
6 oz. swiss cheese, grated
2 Tbsp. butter, melted
1 cup cream
1/2 cup milk
1 pastry crust
Directions:
Mix all ingredients together and pour into the pastry crust. Bake in a 375 degree oven for 40-45 minutes. Enjoy this light, fluffy, and delectable morel quiche!
Grilled Trout Stuffed With Morels and Spring Greens
Ingredients:
2 Trout (~ 8 ounce. We prefer brook trout)
1 cup finely-chopped morels
1 Tbsp. butter
1 garlic clove, minced
1 bunch watercress, finely chopped
1 Tbsp. fresh dill, minced
4 scallions, minced
1/2 tsp. horseradish
1/2 tsp. salt
1/4 tsp. freshly ground black pepper
2 Tbsp. crushed crackers
Melted butter as needed
Directions:
Melt butter in a pan over medium heat. Add morels, garlic, watercress, dill, and scallions. Mix, cover, and cook over low heat for 5 - 10 minutes. Remove from heat and add in horseradish, salt, pepper, and crushed crackers.
Stuff trout with mixture. Brush the sides of the trout with melted butter. Cook for about 10 minutes per side on a hot grill, turning only once.
Serve hot, and indulge yourselves with the rich flavors of earth and water.
Salmon with Morels and Asparagus
Morel recipes with salmon are a classic northwest cuisine:
Ingredients:
4 salmon fillets
1 bunch asparagus
8 oz. fresh morels
1/3 cup chicken broth
1 Tbsp. real butter (unsalted)
3 Tbsp. extra virgin olive oil
Salt and freshly ground black pepper
Directions:
Prepare the salmon by removing skins and bones, and portion into four equal pieces. Rinse and pat dry. Put in the refrigerator for a few minutes to dry the salmon.
Prepare the asparagus by cutting to 3 to 4 inch lengths. Place in a pan on medium heat, lightly coat with olive oil, as well as salt and pepper to taste.
Slice morels lengthwise, then rinse and pat dry. Sauté the morels 1 tablespoon olive oil for 5 minutes until softened but still al dente. Season with salt & pepper. Add chicken broth and cook until reduced slightly. Remove from heat and stir in butter.
Cook the asparagus in a pan on high heat until the spears develop a nice char, but are still firm.
In a cast iron skillet, heat 2 tablespoons olive oil on high heat. When the oil starts to smoke, season salmon fillets with salt and place them in the pan fillet side down. Sear for 1 to 2 minutes until a crust forms.
Transfer pan to a 400 degree oven and finish baking for 3 to 5 minutes, depending on the thickness of the fish. Be sure not to flip the salmon.
Place the mushrooms back on low heat to warm through.
Transfer the grilled asparagus to a large platter. Flip the salmon fillets and place the crust side up on top of asparagus - season with a pinch of sea salt. Finish the dish with morels and butter sauce.
Par excellence!
I hope you enjoy these delicious morel recipes as much as I do. As you sit at the table after the meal is complete, close your eyes and feel the essence of the Earth moving through you. May your life and your taste buds be full of rich nature connection!
---
Interested in being personally mentored in Edible Wild Plants, on a transformational journey of connection to nature, community, and self?
Check out the Twin Eagles Wilderness Immersion Program.
---
comments powered by

Disqus
Return from Morel Recipes to Edible Wild Plants
Return from Morel Recipes to Wilderness Survival
(homepage)