Amazing Elderberry Recipes
by Jeannine Tidwell
In the days of our earth based ancestors, elderberry recipes were a common part of life, as elderberry was revered. There were not just elderberry recipes for making medicines and creating lavish foods but one could also craft flutes & whistles, containers, perfumes, and other wellness & beauty products as well as make arrows, blowguns, and other hunting implements from the shrub as well. Spotting their generous-laden berries from a distance makes gathering an easy-going pursuit. Having made a comeback in recent decades, elderberry is once again revered today.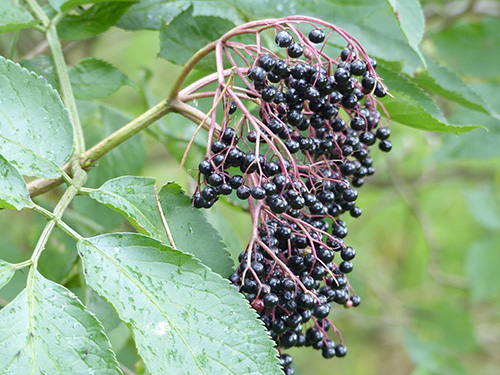 Benefits of elderberry
The medicinal qualities are so potent that it doesn't take many berries at all to make something that will revitalize you. I'm talking about food here, too. The flavor of elderberries is so complex and formidable that the taste itself just can't be put into words. Elderberry has colossal vitamin C content and is high in anti-oxidants and vitamins and minerals. It is used as a medicine for colds, coughs, flu, viral infections, weight loss, arthritis, improving vision, lowering cholesterol, and boosting the immune system. Because of its' powerful track record as a food and medicine that is so versatile we offer you a plethora of elderberry recipes for your everyday use.
The Best of Elderberry Recipes
The elderberry recipes here are what will make the bounty of your foraging a real prize. A recipe is what brings surprise to all you've gathered. There is much to learn from bringing your abundance into further form such as food or medicine. Here is a little secret for you. After gathering your elderberries, be sure to freeze them before removing the berries from the stems. When frozen, the berries pop right off the stems. Also, by taking out only the amount of elderberries needed for each recipe, you'll be able to stretch out your berries for several months as you begin to try out the recipes.
Elderberry Pie
This was one of the first elderberry recipes I began cooking with. When I first made elderberry pie I went out and gathered elderberries with the hummingbirds eating the berries right next to me. The hummingbirds were foraging faster than I was at times! The sensory memory of the hummingbirds zipping around me foraging is something that lives on in me to this day.
Talk about easy elderberry recipes, this pie is so very simple to make. You can go for straight elderberries or add in some apples for a great taste as well. Either way you'll come out with a rich and flavorful pie. Since most elderberries ripen towards the end of the summer, the dark colors of the elderberries contrasts with the fading colors of summertime.
For every cup of elderberries add in one tablespoon of melted butter and a teaspoon of arrowroot or cornstarch along with a hearty sprinkling of flour to serve as a thickener and to absorb the juice of the berries. Mix all this together in a bowl. If you want to add in apples then slice them up and fill your pie crust 1/2 to 3/4 full. Sprinkle with elderberries all over the apples.
Next in another bowl mix 1/2 - 1 cup of sugar with 2 - 3 tablespoons of flour and 1/8 teaspoon salt. Then sprinkle this on top. Now slice up and place a few tablespoons of butter on top of the pie. Bake at 450 for 15 minutes. After 15 minutes bake at 350 for 30 - 45 minutes until the crust is golden brown. One of my favorite wild foods radicals, Bradford Angier says that "the taste of elderberry pie when eaten in the perfumed breezes of the evening tastes pungently pleasant".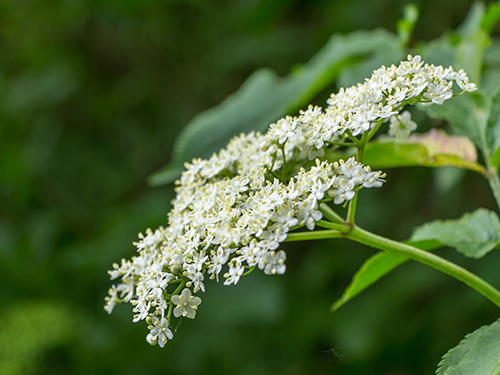 Elder Flower Fritters
Elder flower fritters are truly a gift from the heavens. Gather some of the clusters of the elderberry flowers. Snip off the greenish branches connected to the flowers but keep them in a bunch ready for making fritters.
Ingredients:
2 cups flour
1 tablespoon baking powder
1 teaspoon salt
2 eggs
1 teaspoon vanilla
2/3 cup milk
Several bunches of creamy white elder flowers
Directions:
Mix all batter ingredients together except the elder flowers until you've got a smooth and even batter. Dip flowers in batter and lightly fry in a skillet until golden brown. You could also try sprinkling the elder flowers directly into the batter for a lacy treat. I've cooked them both ways and they are both equally satisfying. Enjoy with elderberry syrup (recipe below!)
Elderberry Compote
You might just feel like an alchemist when you make this compote. Of all the elderberry recipes here, this one is a two day process. The reason for this is that you are giving the elderberries the time and space to cure and more completely preserve their flavors overnight.
Ingredients:
1 lbs elderberries
1 - 2 strips of lemon zest (2 inches long)
1/8 - 1/4 split vanilla bean
1 - 1 1/4 cups sugar
1/2 cup lemon juice
Directions:
In a glass bowl mix elderberries, lemon zest and vanilla bean. Cover with sugar and then with a piece of plastic wrap or a lid to set overnight. The next day take your mixture and pour it into a pot. Add lemon juice and bring to a boil. Immediately reduce heat to low. If and when you continue to see bubbles coming up remove from heat entirely. Pour into small glass bowls or jars for eating fresh or you are also welcome to can the jars for later savoring. If you choose to can your compote, fill jars leaving 1/2 inch space at the top. Clean the rims before covering with lids. Place jars in a hot water bath making sure jars are covered with water at least 1 inch. Boil jars for 15 minutes. Compote can store up to a year in a cool dark place.
Elderberry Vinegar
Elderberry recipes like this vinegar add an extraordinary pizzazz. Including a splash of something sharp like vinegar enhances the flavors of many a meal and can be added to things like barbecue sauce and salads.
Ingredients:
2 cups elderberries
1 1/2 tablespoons sugar
2 cups white wine vinegar, with 6% acidity
Directions:
Mix the elderberries and sugar in a pan over medium heat. Mash the elderberries and stir to help disperse the sugar into the berries. Bring to a boil, immediately remove from heat and let cool. Once completely cooled, mix berries with vinegar and cover with plastic wrap or a lid and let sit for 3 - 5 days in a cool, dark place. Strain through a sieve or strainer thoroughly. Store in a clean glass bottle. This vinegar can be stored and used for up to two years.
Elderberry Shrub
Elderberry shrub is a timeworn term for a tart fruit-based drink. The strong flavor of elderberries offers an energizing drink with sparkling water.
Ingredients:
2 cups elderberries
1/2 - 1 cup sugar
1 cup red-wine vinegar
1/4 cup water
Sparkling carbonated water
Directions:
Pour the elderberries, sugar and water in a pan over medium heat. Bring to a boil. Once the sugar is dissolved immediately turn down heat and simmer 10 - 15 minutes. Stir in vinegar and bring to another boil. Turn down heat and simmer again for 15 - 20 minutes. Cool completely. Strain through a sieve or strainer. Pour liquid into a measuring cup, pressing on berries to pull out all the juice. Pour into clean glass bottle, jar or glass for drinking.
You can now either add sparkling carbonated water and enjoy fresh, or you can store in the refrigerator for up to one year and add sparkling carbonated water whenever you want to drink it. This is one of those elderberry recipes where the amount of sparkling carbonated water you mix with the volume of elderberry shrub is entirely up to your preference.
With a Berry on top: A few more Elderberry recipes
Elderberry Syrup
Of all the elderberry recipes, this one might just be the most well-known classic. Used for so many different purposes, this is one of those recipes that helped elderberry make a comeback from forgotten times and helped it find its niche in health food stores.
Ingredients:
1 cup elderberries, stems removed
3 cups water
Raw honey to taste
Directions:
Combining this syrup with raw honey makes a delectably dark and earthy syrup as well as a healing tonic. Elderberry syrup is good taken by the teaspoon as a medicine by itself or in warm water for chest colds, coughs, congestion, sinus discomforts and the flu every 2 - 3 hours. You can also enjoy it with pancakes, yogurt, granola or an addition with other meals.
Place elderberries in water in a large pot with berries covered with water at least two inches. Bring to a boil then immediately reduce heat to a simmer. Continue to simmer until water is reduced to half its amount. Remove from heat and let cool. Pour into a blender and blend on low briefly. If you don't have a blender then mash berries in the pot or blend with a hand blender. Strain into mason jars and let cool. Add raw honey to create the taste you prefer. Screw on the lid and stir or shake until honey has dissolved. Syrup lasts in the refrigerator for several months.
Elderberry Fool
This recipe was originally a custard type dish (comprising of milk, eggs and sugar) and dates back to medieval times. Modern recipes have customarily replaced the custard for cream or pre-made whipping cream.
Ingredients:
2 cups heavy cream (raw cream is recommended)
1 - 2 tablespoons sugar (to taste)
1/8 teaspoon kosher salt
1/2 cup elderberry syrup or compote
Grated zest of 1 - 2 lemons
Directions:
Combine cream, sugar and salt and whip until cream holds firm peaks. Gently fold in 1/2 cup of elderberry syrup/compote, creating a marbled effect in the cream all the while being careful to not lose the firmness of cream. Divide among 6 - 8 bowls or glasses and top with lemon zest. If you don't want swirls in your fool you can go with plain elderberries mixed in the cream instead of syrup or compote. Either way it's a teasingly delicious dessert.
Elderberry Elixir
Ingredients:
2 cups elderberries
3 cups brandy or vodka
1 cup honey
Directions:
Fill a quart jar half full with elderberries. Pour enough alcohol to fill the jar ¾ full and then top with honey. Stir the honey in with the berries until fully mixed. Top off with more honey until the jar is full and stir again. Seal the jar and label. Let sit for 3 weeks and shake daily. After 3 weeks strain berries from the elixir. Take 1 -3 teaspoons daily to help keep the flu at bay.
A Deeper Connection
Certainly you can go and purchase dried elderberries at your local health food store but the mystery, wonder and real connection with elderberry comes from experiencing foraging firsthand and in trying out these time-tested recipes yourself. In your search you just might discover that all the forces which come together to cultivate elderberry into a strong and resilient plant are still elementally in the landscape holding the wisdom of elderberry long after you've gathered it. When you taste of the elderberry you are partaking of all those forces of sun, wind, air, rain, earth. Knowing this is one of our first bonds to the land and can offer us pause for thanks.
I hope these elderberry recipes will lure you into the fields and forests, inviting you to discover elderberry and its successions through the natural cycles of the year. One trip into the woods can often offer surprising gifts that then compel us to return again and again. In that pattern of return our connection with elderberry and other foraging delights gets stronger until our relationship with it becomes so natural we may forget there was ever a time it was unfamiliar. And that blueprint is the way we were meant to connect with nature.
Additional Resources
Here are some books with loads of elderberry recipes to help inspire and further your learning as you continue to gather, process and cook up these tasty gorgeous berries!
Edible Wild Plants: A North American Field Guide to Over 200 Natural Foods by Thomas Elias and Peter Dykeman
The Wild Food Cookbook by Roger Phillips
Wild Food: Nature's Harvest: How to Gather, Cook and Preserve by Biddy White-Lennon and Evan Doyle
---
Interested in being personally mentored in Edible Wild and Medicinal Plants, on a transformational journey of connection to nature, community, and self?
Check out the Twin Eagles Wilderness Immersion Program.
---
comments powered by

Disqus
Return from Elderberry Recipes to Edible Wild Plants
Return from Elderberry Recipes to Wilderness Survival
(homepage)