Delicious Dandelion Recipes
by Jeannine Tidwell
You'll find a variety of diverse, daring, dandy dandelion recipes right here! The dandelion is an extraordinary and resilient plant ready for you to savor. First, let's take a look at the benefits of eating dandelion.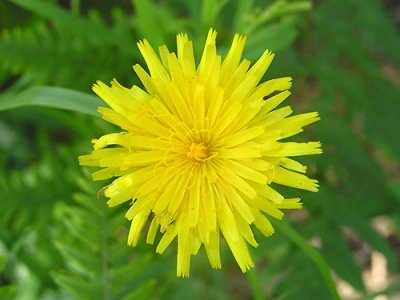 Benefits of eating dandelion
Dandelions rank as one of the top green vegetables in overall nutritional value. They contain a plethora of anti-oxidant vitamins, minerals, calcium, and protein. Many people of the past and present have suffered from vitamin deficiencies and dandelion plants are a champion for this cause! They promotes bone health, helps maintain healthy skin, and stimulates good digestion.
These lovely edibles are well known as a detoxifying herb and famous for their use in liver disorders. This hardy plant is even known as an anti-cancer agent! Did you know that Europeans originally brought dandelion to North America as a food source? It's true. Knowing the powerful benefits of plants like dandelion can empower us to form deep relationships with them. We really owe it to ourselves to connect with this plant!
I now present... top dandelion recipes!
Are you ready to eat? In total, these dandelion recipes comprise a full course meal to dine on starting with appetizers and drinks and ending in dessert. I've also thrown in a couple of dandelion recipes for breakfast. These recipes are simple to prepare and make and you'll be savoring every bite in no time!
Steamed Dandelion
Ingredients:
2 cups fresh dandelion leaves
1/2 cup red wine vinegar
1 1/2 cups olive oil
1/2 tsp. salt
1 – 2 tbsp. honey
1/4 tsp. each of oregano, basil, thyme
1 tsp. Dijon mustard
1 clove garlic crushed and minced
Directions:
Combine all ingredients except dandelion leaves in a glass jar. Tighten lid on and shake vigorously until mixed well. You can refrigerate this dressing overnight for stronger flavor or use immediately. Steam 2 cups of fresh dandelion leaves. Marinate overnight in Italian dressing and honey. Eat the next day. The oil and vinegar curbs the distinctive bitter taste of these highly appreciated edibles!
Dandelion Cordial
Ingredients:
2 - 3 cups fresh dandelion blossoms with no green parts
1 1/2 cups water
2/3 - 3/4 cup sugar
1/2 lemon rind
1 quart vodka
Directions:
Peel lemon into strips. Set aside. In a pan bring water and blossoms to a boil. Reduce heat and simmer 3 minutes. Remove from heat and steep for 10 minutes with a lid. Strain. Add sugar, stirring until it dissolves. Add lemon peel and vodka. Pour into jars and seal tightly. Refrigerate for up to 2 weeks. Shake daily. Stir and serve cold. This drink has been known as a traditional spring tonic!
We also have a delectable dandelion wine recipe right here!
Dandelion Pasta
Ingredients:
2 – 3 cups uncooked pasta shells (depending on how much pasta people eat), cooked and drained
1 medium onion
2 – 3 cloves garlic, minced
1/3 cup crumbled feta cheese
1 tbsp. Olive oil
1 – 2 cups fresh dandelion leaves, washed and chopped
Directions:
Sauté garlic and onion in olive oil. Add dandelion leaves. Cook 1 – 2 minutes. Combine garlic and onion with pasta shells and dandelion leaves. Crumble feta cheese throughout. Voila - ready to eat!
Dandelion Pizza
Ingredients:
1 pizza crust
Tomato sauce or pesto
Cheese (cheddar, mozzarella or a blend)
Toppings:
Fresh or steamed dandelion greens
Fresh dandelion blossoms
Onion
Garlic
Spread tomato sauce or pesto onto pizza crust. Sprinkle cheese on top. Sauté onion, garlic, dandelion blossoms. and dandelion greens in skillet 2 – 3 minutes or until onions are translucent. Sprinkle on toppings. You can sprinkle on additional toppings like pine nuts or edible wild mushrooms! Bake pizza in oven 8 – 10 minutes. Dandelion will be the hit of the party with its unique flavor!
Dandelion Baklava
Ingredients:
1 box phyllo sheets or dough
1 cup butter, melted
Filling:
2 cups finely chopped walnuts
1/2 - 1 cup fresh dandelion blossoms, with no green parts
1 tsp. sugar
1/2 - 1 tsp. cinnamon
1/4 - 1/2 tsp. nutmeg
Syrup:
1 cup water
1 tsp. vanilla
1/2 tsp. lemon juice
3/4 cup syrup or honey (could use Dandelion Blossom syrup)
Preheat oven to 350. Butter a 9 X 13 inch baking dish. Combine filling ingredients and set aside. Separate phyllo sheets or unroll dough and cut in half and cover the sheets not being used with a slightly damp towel. Lay two sheets of phyllo in the baking dish. Spread butter on phyllo sheet with a brush. Sprinkle phyllo with a layer of filling. Repeat layers alternating between phyllo and filling making sure to brush phyllo with melted butter each time. Make sure you have 5 – 6 buttered phyllo sheets to cover the top. Cut baklava into squares or diamonds. Bake for 50 minutes or until golden. Meanwhile, combine syrup ingredients in a pan. Bring to a boil then simmer 20 minutes until it thickens a bit. Pour syrup over cooled baklava. Relishing dandelion baklava is a true melt in your mouth experience!
Dandelion Fritters
Ingredients:
2 cups dandelion flowers, rinsed
1 1/4 cups flour
1 egg
1 cup milk of any kind
Olive oil, canola oil or butter
Combine flour, egg and milk and mix well. You can add a little more flour if you want your batter to be thicker. Heat olive oil in skillet. Dip dandelion flower heads into batter until completely covered and lay into skillet. Cook just like pancakes to the brownness you like. Serve warm with dandelion blossom syrup or other syrup, honey or applesauce. Dining on dandelion fritters will re-awaken dreams of warm and balmy summer days when the wind blows the dandelion seeds up to the sky, inviting you to float with them.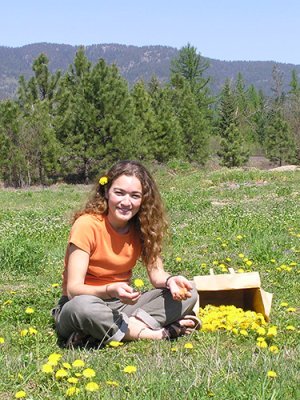 Dandelion Blossom Syrup
Ingredients:
1 quart of dandelion flowers
4 cups water
1/2 chopped lemon or orange
1/2 cup sugar
Put water and blossoms in a jar. Boil gently then let it cool down and cover. Let it sit for the night. The next day strain and squeeze the liquid out of the flowers. Add in the lemon or orange and sugar. Simmer until it turns into a thick honey. Your syrup is now ready. You can eat immediately or can in glass jars. This dandelion recipe is perfect with dandelion fritters!
Dandelion Sunrise
Mix 4 eggs with 2 tbsp. milk with salt and pepper to taste. Add 1 cup chopped or shredded dandelion greens. Melt 1 tbsp. butter in skillet. Pour in egg/dandelion mixture. Reduce heat and stir constantly. Remove from heat when eggs are cooked to a creamy consistency. For variation add in dandelion blossoms and/ or cook like an omelet. Imagine the creamy, sunny, buttery color of dandelion flowers waking you up with this breakfast!
Dandelion recipe books and other resources
Here are some wonderful dandelion recipe books I have come across over the years. These recipe books are great resources for bringing the best out in this unforgettable and ever-enduring plant!
The Dandelion Celebration – A Guide to Unexpected Cuisine by Peter Gail
Dandelions are Free by Joanne Henry and Stacey Wanchisn
Acorn pancakes, dandelion salad and 38 other wild recipes by Jean Craighead George
Not only does this plant have books written after it; this legendary plant has even had its name in several movies! Despite its celebrity status, it is often disregarded. Its important to not let its common, widespread presence be taken for granted or overlooked for the tremendous value that it gives. Cooking with dandelion recipes is just the beginning of a lifelong relationship and its a remarkable plant that will forever change your life when you connect with it.
---
Interested in being personally mentored in Edible Wild Plants, on a transformational journey of connection to nature, community, and self?
Check out the Twin Eagles Wilderness Immersion Program.
---
comments powered by

Disqus
Return from Dandelion Recipes to Edible Wild Plants
Return from Dandelion Recipes to Wilderness Survival
(homepage)