Mother Daughter Wilderness Program
Friday March 31 - Sunday April 2, 2017
Twin Eagles Wilderness School - Sandpoint, Idaho
for mothers and their 7 - 12 year old daughters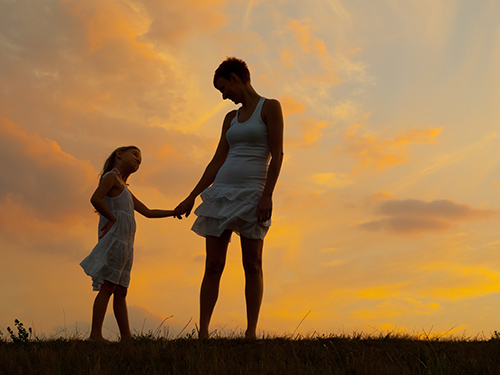 Motherhood - a monumental journey. A journey of seeing our daughters grow and change, and a journey of being a refuge and sanctuary for their greatest unfolding.
Through the mother daughter bond our daughters learn about trust and connection. It's that trust and connection that will take you over the hurdles of life with her. What greater place to foster and strengthen that connection than in the safety, timelessness and healing balm of nature?
What a greater time than now.
Imagine having a weekend where you and your daughter can come to the retreat of nature to nurture your relationship with one another. Imagine being nestled in a community and the common bond of other mothers and their daughters in the sanctuary of nature. Accompanying you on this adventure are female guides who can hold you and your relationship with your daughters as sacred and support the growth of your relationship when and where it counts. It's a time to really be present to your journey as a mother and to that very special gift in front of you - your daughter.
For hundreds of thousands of years mothers and their daughters have gathered together to experience the simple gifts of daily life: foraging and gathering, savoring the taste of delicious wild foods, singing together, dancing together, giving thanks together, building and creating together, laughing together and even crying together. In our Mother Daughter Wilderness Program we'll return to that beautiful way of living as a way of nourishing something special in ourselves and in our relationship with our daughters. We'll build natural shelters to sleep in, cook wild foods, bring forth the elements of fire and water, and in the process, magically deepen our bonds with our daughters, too.
We'll circle in counsel to reflect on our journeys as women and mothers and feel the strength, support, and wider rounded perspective of the circle as well as explore the geography of our daughter's hearts and more deeply discover what they need to grow and blossom. We'll take this into our whole group process over the weekend as we drop into the pacing of nature's rhythm. Your daughters, too, will gather together to feel that collective specialness of being a girl while they immerse themselves in nature, making crafts, playing games, and honoring the feminine within themselves while having positive women role models holding space and mentoring them in their time together.
Perhaps you feel your daughter turning towards a new stage of development or the greater culture around her. At this time your daughter needs that connection with you in an ever-growing and dynamic way. This program will help support that.
If you are wanting more connections and resources with other women and mothers in order to support your daughter in her life's challenges or in helping her walk down those difficult roads she'll take in her life, then this program is for you.
If you are wanting to go on an adventure with your daughter, and want the magic, mystery and beauty of nature to take its rightful place in your relationship with your daughter, then this weekend is for you.
If you are seeking to build a steady bridge for your daughter to walk over as she nears her time of passage into young womanhood, then this program is for you. Twin Eagles offers Girl's Rites of Passage built on familiar and connected relationships with self, nature, family, peers, and a growing intergenerational community of other women mentors. This Mother Daughter Wilderness Program is a bridge to that Rite of Passage.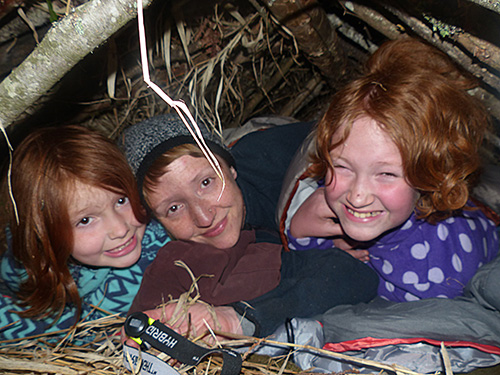 I asked my daughter to rate the program from 1 (weak) to 10 (best weekend ever). She replied, without hesitation, '10!'. I enjoyed having the time to connect with other like-minded moms and daughters and felt the weekend was a worthwhile investment."
- Janet Dowell
Over the course of this weekend program, we'll experience skills like:
Wild Edible and Medicinal Plants
Wilderness Survival
Natural Shelters
Fire Making
Nature Based Mentoring
Core Routines of Nature Connection
Inner Journeys and Processes
Honoring the Feminine in Nature and in each other
Deepening Relationships: Mothers and Daughters, Mothers and Mothers, Daughters and Daughters
Nature Connection Games
Natural Crafts
Earth Centered Spirituality
Your Guide
The Mother Daughter Wilderness Program will be led by Jeannine Tidwell, co-Director and co-Founder of Twin Eagles Wilderness School. Jeannine has been leading adult and youth programs for over 15 years including leading Girl's Rites of Passage. She is a mother herself, as well as a nature based mentor and auntie to many girls and young women.
Accommodations
This Mother Daughter Wilderness Program will be held at Cedar Springs - our home for Twin Eagles Wilderness School. Cedar Springs is about 20 minutes north of beautiful Sandpoint, Idaho. We are blessed with immediate access to 50 acres of diverse forest, fields and wetlands, as well as being just minutes away from virtually unlimited state and national forest. You'll stay in traditional tipis or yurts, enjoying a simple life close to nature.
Travel
Each family is responsible for all travel to and from Twin Eagles Wilderness School. Carpooling is encouraged, and we're happy to help coordinate by sharing contact information of interested families.
Group Size
To support a powerful experience, we're limiting registration to just seven mothers and their daughters. Each mother is allowed to bring one or two daughters ages 7-12. This will help support a balanced experience for everyone.
Times
This Mother Daughter Wilderness Program begins at 6:00 pm Friday March 31, 2016 and ends at 3:00 pm Sunday April 2, 2017. Please allow adequate time for a spacious arrival and departure.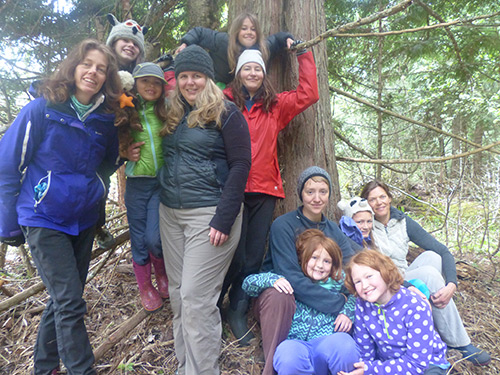 Cost
We are offering this full weekend, Mother Daughter Wilderness Program at $500 per mother daughter pair. If mothers would like to bring a second daughter, the cost is an additional $200. The cost is all-inclusive, covering all instruction, materials, accommodations, and some meals.
To Apply
Registration for this Mother Daughter Wilderness Program is now open.
Complete an online application and pay by credit card by clicking the "Apply Now" buttons below.
If you prefer to pay by check, or have questions, Contact Us here.
Scholarships are available for this program - click here for more information.
Return from Mother Daughter Wilderness Program to Wilderness Survival
(homepage)