Twin Eagles Wilderness School
eNewsletter - March 2013
Happy Spring from Twin Eagles! After a long winter, the season of new life is upon us. Here at Twin Eagles, we're busy preparing for Spring programs new and old, and it feels invigorating to experience the life force flow through us just as it is in the cottonwoods, tree frogs, robins, yarrow, towhees, trilliums, and all of nature.

Registration is now coming in very steadily for Twin Eagles Summer Camps 2013. Be sure to check out our update below if you are considering it for your kids this coming summer.

We are currently looking for volunteers and paid staff for our 2013 summer camp season. See below for more info.

We just completed our winter block of the Twin Eagles Wilderness Immersion Program. We've got some exciting updates to share with you here as well, so take a look below to learn more.

We've also got information about this Spring's Teen Weekend Programs and our weekly programs for homeschooled youth. Check it out below.

We hope you find some useful information and enjoy this month's eNewsletter!


Feature Article: Great Outdoor Games for Kids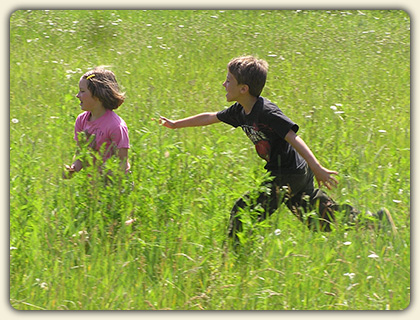 Don't you just love great outdoor games for kids? With Spring having just arrived, this is the perfect activity for kids to take on. Here is our list of some of our best outdoor kid games from Twin Eagles Wilderness School. Outdoor games for kids are ones that can be played by everyone and help connect kids with nature. Together, games and the outdoors bring out the humanness and natural sensitivities in children. As a result, they learn how to be spontaneous and out of that spontaneity arises freshness, creativity and the feeling of aliveness that every child yearns for.

These great outdoor games for kids give children a wider experience. They help kids understand that challenges can be fun, that risk-taking and safety can co-exist, that nature is safe, fun and deserves respect, and that indeed, there is room for cooperation and competition in the same game.


Bear Salmon Mosquito
Number of People: Four or more (best with ten or more)

Materials Needed: Boundary markers (could be branches, bandanas, backpacks, etc.)

How to Play: continue reading here


Twin Eagles Summer Camps Update!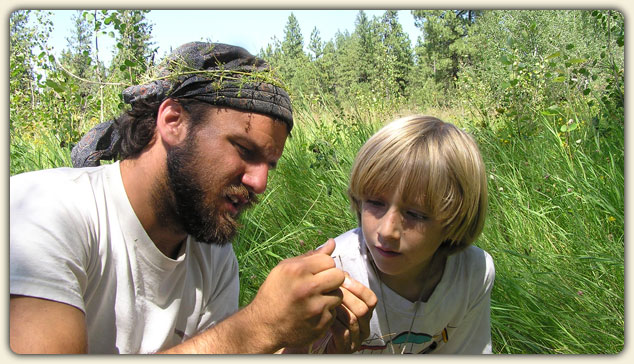 Registration is now coming in very steadily for Twin Eagles Summer Camps 2013. If you are considering having your kids join us this summer, we encourage you to enroll soon in order to reserve a spot!


Why Choose Twin Eagles Summer Camps?
1. Kids get to be kids again, roaming wild and free in nature.

2. Real skills, real challenges, real adventures. Trailing coyotes, making healing salves from St. Johnswort and Yarrow plants, crafting wooden bow and arrows. Does it get any better?

3. Our highly trained instructors are the finest in the field. First Aid/CPR certification, background checks, and a high level of training in both nature based mentoring and traditional earth skills are all requirements. Our staff are adept at really listening to kids, drawing out their passions, and engaging them fully.

4. Our small group sizes (1-5 staff to camper ratio) allow for intimate learning groups to form that feel more like family by camp's end. The deep bonds that form between campers and instructors alike last a lifetime.

Click here for the top ten reasons to choose Twin Eagles Summer Camps

"I am so grateful and so touched by how all the amazing people at Twin Eagles lovingly walked our son through what has turned out to be, perhaps, the most significant and positive learning experience he has ever gone through away from home. I can't say enough about how lucky we were to find them and have him take part in the last week of their summer program, except to say to them and the universe: Thank you, thank you, thank you."

- Alison Barrows-Young

For 2013, we are offering ten full weeks of summer camp in Sandpoint, Spokane, and Priest River. They include:
For full information on our summer camps, including our online registration, check out our Twin Eagles Summer Camp web page here.


Volunteer or Work with Twin Eagles this summer!
We are currently looking for volunteer assistant instructors who wish to deepen their experience of authentic nature based mentoring in a powerful culture of deep nature connection. Make a difference in the world by helping to restore hope in today's youth by connecting them deeply to nature, community, and self. Have a blast connecting with other nature based mentors and a whole community with shared values. Accommodations & meals provided at overnight camps. Click here for more info on volunteering at Twin Eagles.

We are also looking to hire staff for the roles of Lead Cook, Assistant Cook, and Lead Instructor. We're offering paid positions based on experience, with accommodations & meals provided for overnight camps. Have a blast working in a powerful deep nature connection mentoring culture, and deepening your mentoring expertise while supporting a common Vision of restoring hope in today's youth. We're known for crafting a culture of authentic depth mentoring. Click here for more info on working with Twin Eagles.


Twin Eagles Wilderness Immersion Program - Update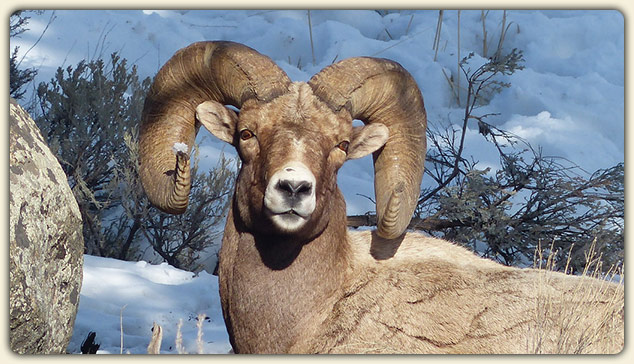 The second half of our winter block turned out to be full of deep journeys into the inner and outer landscapes. It began with a weeklong wildlife tracking expedition to Yellowstone National Park with the one and only Dr. James Halfpenny. Halfpenny has been tracking for over 50 years, and is one of the foremost tracking experts in North America. It was simultaneously an epic journey and great honor to track wolves, pine marten, lynx, river otters, short tailed weasels, coyotes, elk, big horn sheep, buffalo and more, all alongside this world renowned tracking expert. Not to mention studying with his unbelievable collection of thousands of plaster casts of wildlife tracks.

We then spent some good time harvesting local willow and red osier dogwood to weave baskets with. What a joy it is to guide participants in the process of weaving a strong and resilient basket made from locally sourced, wildcrafted materials. The age old process of traditional basketry worked its magic on each student, as they themselves deepened in their personal strength and resiliency as they wove warp and weft over and under.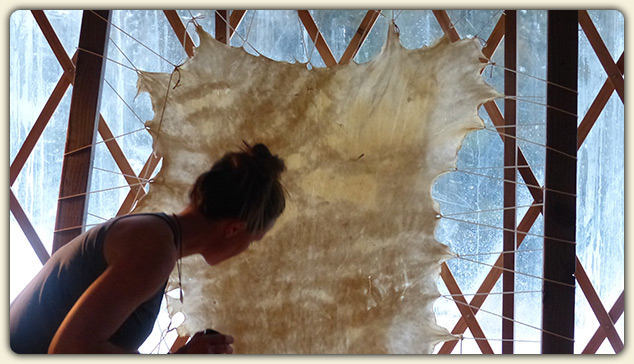 Amongst other highlights, we spent a very full three days with the ancient art of braintanning deer skins into buckskins. What an amazing process of transformation to watch these hides change from smelly, sloppy, and wet to velvety soft, supple, and resilient buckskin. The metaphor was strong here as well, as each student went through their own personal journey of transformation guided by both mentor and deer.

Our journey came to a completion with our end of winter inner tracking intensive. It was an incredibly powerful time of looking back on the essence of each person's inner journey as it expressed itself through the deep nature connection mentoring process of our winter. Where did they shine in their light with synchronicities abound? Where did they struggle with their shadows? These were the questions that opened our process. Empathetic listening, powerful feedback, the quiet mind, and several archetypal journeys opened the door for each student to connect with their essence and experience deep rejuvenation from within.

If you are interested in seeing more pictures of this transformational journey, check out our Facebook page here.

Registration is currently open for the 2013-2014 year at Twin Eagles Wilderness Immersion Program. You can save over $1000 on the tuition by registering early, before April 15, 2013. Remember that we also offer significant scholarships for this program. Please contact us if you're considering joining next year. We're happy to connect with you, give you more information, and schedule a time for you to come out and visit.


Weekly Homeschool Youth Nature Program
Twin Eagles Community School
For kids ages 6 - 13 · Sandpoint, Idaho
One day per week, Fridays 9 am - 3 pm
Now Enrolling for Spring Block 2013!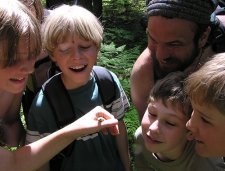 Come join our original weekly program for homeschool youth that explores deep nature connection and the wilderness arts through nature based mentoring. Students truly steep in a timeless experience of the natural world with teachings of the naturalist, the tracker, the wanderer, the herbalist, the ecologist, the survivalist and the scout. Now in its eighth year, Twin Eagles Community School is a tremendous opportunity for youth to experience knowledge of place and nature awareness all in a powerful atmosphere of cultural mentoring. Click here to learn more about Twin Eagles Community School!


Weekend Teen Wilderness Programs
Twin Eagles Seasonal Teen Rendezvous
For teens ages 13 - 18 · Locations throughout the Inland Northwest
Weekends run Friday evening through Sunday Afternoon
Now Enrolling for Spring 2013 Session - Apr 26-28!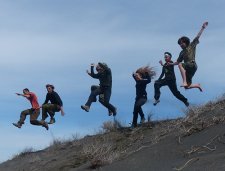 Twin Eagles Seasonal Teen Rendezvous offers awesome experiences to teens throughout the Inland Northwest and beyond to sink deep roots to the earth through wilderness skills while soaring high through full-on group adventures. Teens learn leadership by working together as well as applying their sensitivities through ancient earth based skills and crafts. This is a powerful opportunity for teens to encounter the wild around them. As well, teens have a chance to touch their own inner wildness by giving unique voice to their inner selves amongst a community of peers and mentors. Click here to learn more about Twin Eagles Seasonal Teen Rendezvous!

May you enjoy the blessing of Spring,

Tim Corcoran
co-Director & co-Founder
Twin Eagles Wilderness School


---
Help Spread the Word!
Do you know a few people who should be receiving these articles and program updates? Let them know and encourage them to subscribe by sending them this link: www.TwinEagles.org/enewsletter.html

Did you receive this email from a friend? Sign up for the Twin Eagles eNewsletter here.

Header photo courtesy Joseph Rocchio Photography

Twin Eagles Wilderness School Privacy Policy:
Twin Eagles Wilderness School respects both the privacy and time of our subscribers. We will not sell, rent or otherwise share your e-mail address or other personal information to any other person or company. This eNewsletter will be sent out approximately once per month, occasionally more. Our eNewsletters always contain an easy way to unsubscribe at the bottom of each email.

Track us down on Social Media!
We invite you to like, follow, comment, and share about us on these social media sites. This is a great way to stay connected and help forward the vision of deep nature connection mentoring. Thanks!







For adult & youth program information, free deep nature connection articles and more,
visit our website at:
www.TwinEagles.org