You are receiving this email because you signed up for our contact list or participated in an event
with Twin Eagles Wilderness School.
Thanks for continuing to be connected with us!
To make sure
you keep getting these emails, please add
tim@twineagles.org
to your address book or whitelist us.
Having trouble viewing this email?
View it on the web here.

Twin Eagles Wilderness School
eNewsletter - March 2018
Happy Spring! Songbirds like robins, juncos, and swallows have returned, wildflowers like buttercups, trillium, and dandelion are blossoming, hibernating bears and ground squirrels are awakening, frogs are starting to sing, and soon the first gourmet wild morel mushrooms will be bursting forth. Life is renewing itself.

We've got lots of opportunities for you to connect with nature, community, and self this spring and summer, including a new Girls Coming of Age Program (info below), as well as a new Women's Rite of Wholeness Programm and a new Wilderness Skills Instructor Training Program (info coming soon). Take a look at our everything below, including our very popular summer camps that are now filling up rapidly!

Here is what we have in store for you in this months eNewsletter:

NEW! - Girls Coming of Age Program
Update - Spring Teen Wilderness Program
Father Son Wilderness Program
Summer Camps
Volunteer or Work at our Summer Camps
Girls Coming of Age Program
For 13 - 16 year old girls
Thursday April 26 - Sunday April 29, 2018
Scotia House Retreat Center, Newport, Washington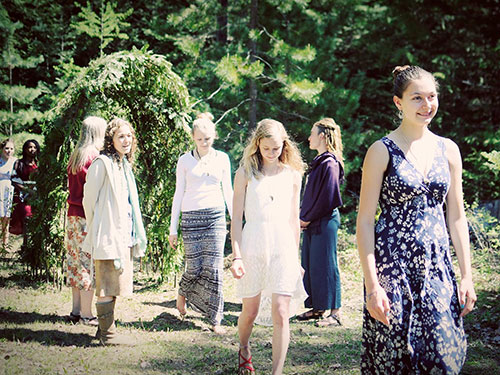 The journey from childhood to adolescence is a dramatic time of development. Just like the fledgling bird that leaves the nest, the Girls Coming of Age Program is an opportunity for girls to expand their wings and begin to take flight. It's a crossing. A place where two roads meet. Those two roads are where your daughter was once a child and is now emerging into adolescence.

This program is a coming of age ritual that has been taking place since humans have been on the planet. These types of traditions are common throughout the world and across cultures. It's a unique blueprint that stands apart from every day ordinary life and at the same time, brings new depth, understanding and meaning to it.
Learn more about Twin Eagles Girls Coming of Age Program here, and please help spread the word!



Weekend Teen Wilderness Programs
Twin Eagles Seasonal Teen Rendezvous
For teens ages 13 - 18 · Cedar Springs, Sandpoint, ID
Friday April 13 - Sunday April 15, 2018
Spring 2018 Session - Springtime Survival Skills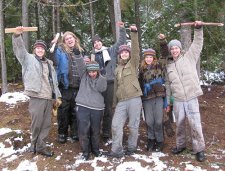 Spring is the great season of renewal. Birds are nesting, plants are bursting forth from the Earth, animals are moving on the landscape, frogs & salamanders are laying eggs, and trees are putting on another ring of growth. This weekend we'll celebrate the spring season by learning and practicing a plethora of new survival skills such as:

Wild Edibles! Identification, Harvesting, Preserving, Preparing, and Eating
Building and Sleeping in Unique Survival Shelters
Fire Making Challenges
Aidless Navigation & Lostproofing
Mapping
Mystery Elements and Adventures
Ecological Tracking
Renewing Connections amongst teens throughout our bio-region
Stories and Songs that celebrate and inspire
Super Fun Spring Games
Inner Teachings of the Spring Season
Click here to learn more about Twin Eagles Seasonal Teen Rendezvous!
Father-Son Wilderness Program
For fathers and their 7 - 12 year old sons
Friday May 4 - Monday May 7, 2018
Medicine Circle Eco-Retreat - Priest River, Idaho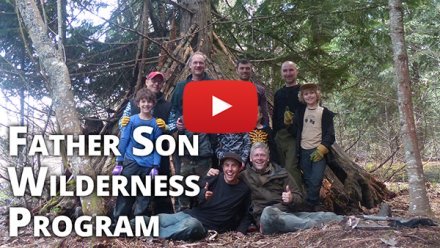 Imagine taking four days with your son(s), and connecting deeply with nature and your boy(s) through ancestral wilderness survival skills, all within a small "tribe" of other fathers & sons that are like minded with similar values.

Since the dawn of time, fathers and sons have bonded deeply in and with the wilderness. Ancestral wilderness skills have an innate ability to deepen the Father-Son connection like nothing else. This Spring, we're running a very special Father-Son Wilderness Program at Twin Eagles. During this program, we'll make fire by friction, build and sleep in natural shelters, learn traditional hunting and gathering techniques, and track wild animals. Primitive wilderness survival isn't a "Man vs. Wild" scenario, it is an opportunity to build a deep relationship with the Earth. As you and your son do so, you'll find that your relationship with your son deepens in powerful ways.

We'll have facilitated, open heart Father-Son relationship deepening time, and of course opportunities to connect with the other fathers and sons present. Just as our earth based ancestors did, we'll utilize traditional earth based spiritual practices to help facilitate the connection, and have surprise elements too. We're looking for fathers and sons who are ready to open their bodies, minds, and hearts to a deeper connection, have epic fun, and take the time to connect with what matters most.

Interested, or know someone who might be? Learn more here.



Summer Camps 2018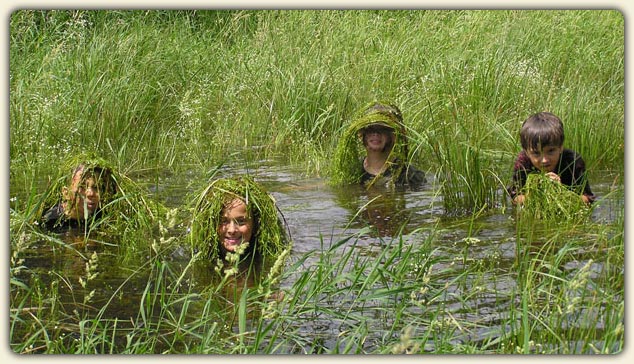 It never ceases to amaze me how our summer camps just keep growing and growing, every year getting larger and every year registration happens faster. We've got an amazing lineup of camps this year, so if you are considering having your kids join us this summer, we encourage you to enroll soon in order to get the best selection. Every year we have families who don't get their first choice, so now is your time to get access to the full selection of our camps! We have online credit card registration that is quick and easy.

Our nature based summer camps let kids be kids again, giving them the chance to be wild and free. In today's world, kids suffer from lives that have become over-structured, over-sterilized, and over-intellectualized. Children are engulfed in an increasingly disconnected, technological world that leads to the degeneration of health on all levels – physical, mental, emotion, and spiritual. Can you remember what it used to feel like to be a kid during the summer? I do. It was my ticket to freedom. Timeless moments of connecting with the wild places. Friendships deepening until we felt more like siblings. Running through our imagination and nature at the same time. Quiet moments alone just sitting by a creek, letting all the worries of life just drift away. Current research has now proven that these types of experiences lead to increased physical, mental & social health, a sense of peace, care for the Earth, increased concentration, greater creativity and resiliency. As a father and camp director, this is what I stand for, for my own children and for our community's children. Our summer camps maximize all of this, and indeed are good medicine for the challenges today's kids face in our post-modern world, bringing them back to their truest nature.

This coming summer we are offering fourteen full weeks of summer camp in Sandpoint, Coeur d'Alene, Spokane, and Priest River. They include:
This summer we are continuing our inspirational theme based day camps here at Twin Eagles! 2018 Day Camp themes include:

Nature Adventurers Day Camp - Mystery and adventure await all those who heed the call of the wild. Have you ever looked out onto a wild landscape, and imagined all the possible natural adventures, just waiting to be experienced?


Wilderness Survival Day Camp - There is an ancient calling deep in the heart to experience the freedom and adventure of living wild and free, close to nature - to provide for one's own needs directly from the Earth...


Nature Ninjas Day Camp - Nature ninjas are the eyes and ears of the tribe, protectors of the village. They are masters of stealth, camouflage, and invisibility, traveling unseen and unheard amongst the shadows...
These theme based camps are only for our day camps for kids ages 6 - 13, and are very popular. That said, we especially encourage you to register for these soon!

For full information on our summer camps, check out our Twin Eagles Summer Camp web page here.



Volunteer or Work at our Summer Camps!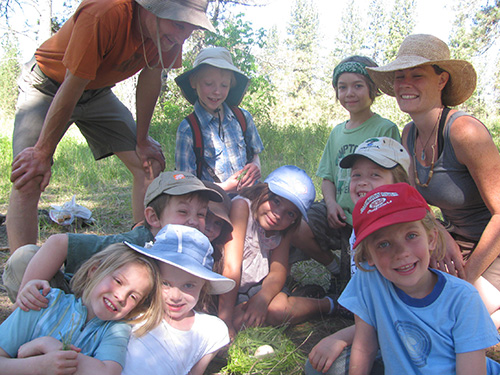 We are currently looking for Volunteer Assistant Instructors who are open to a transformational experience being professionally trained as a Deep Nature Connection Mentor. Volunteers will learn new wilderness skills, network with other nature based mentors, and develop a powerful sense of place, all while supporting a worthy cause. As you steep in our authentic nature based community, you'll develop passion, purpose, gratitude, confidence, and leadership. You'll have tons of fun experiencing a truly inspirational vision of hope as you are mentored to develop your fullest potential in service to the Earth and future generations!. Click here for more info on volunteering at Twin Eagles!

We are also looking to hire for the roles of:

Lead Instructor


Program Director


Assistant Cook


Lead Cook
We're offering paid positions based on experience, with accommodations & meals provided for overnight camps. Have a blast working in a powerful deep nature connection mentoring culture, and deepening your mentoring expertise while supporting a common Vision of restoring hope in today's youth. We're known for crafting a culture of authentic depth mentoring. Click here for more info on working at Twin Eagles this summer!


Enjoy the Springtime!

Tim Corcoran
co-Director & co-Founder
Twin Eagles Wilderness School


---
Help Spread the Word!
Do you know a few people who should be receiving these articles and program updates? Let them know and encourage them to subscribe by sending them this link: www.TwinEagles.org/enewsletter.html

Header photo courtesy Joseph Rocchio Photography

Twin Eagles Wilderness School Privacy Policy:
Twin Eagles Wilderness School respects both the privacy and time of our subscribers. We will not sell, rent or otherwise share your e-mail address or other personal information to any other person or company. This eNewsletter will be sent out approximately once per month, occasionally more. Our eNewsletters always contain an easy way to unsubscribe at the bottom of each email.

Track us down on Social Media!
We invite you to like, follow, comment, and share about us on these social media sites. This is a great way to stay connected and help forward the vision of deep nature connection mentoring. Thanks!







For adult & youth program information, free deep nature connection articles and more,
visit our website at:
www.TwinEagles.org