Twin Eagles Wilderness School
eNewsletter - May 2012
Happy May everyone! This is one of our favorite times of the year. There is so much new life on the landscape right now. White Trilliums, blue robin eggs, green larch needles, and white morel mushrooms are all back. Kids are feeling the sensation of gooey mud between their toes. The sun is back. Twin Eagles has all kinds of new offerings for you as well, take a look and let us know if something catches your eye. We'd love to see you this summer or fall!
Feature Article: Delicious Dandelion Recipes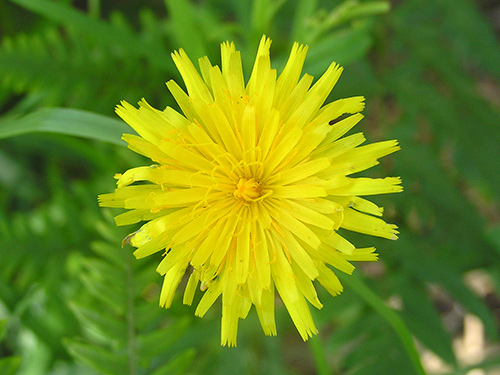 Spring is in full bloom and everywhere you look the landscape is bursting forth with dandelions! Now is the perfect time to get out there and connect with dandelions. It is a great family activity. Did you know that Europeans originally brought dandelion to North America as a food source? It's true. Knowing the powerful benefits of plants like dandelion can empower us to form deep relationships with them. We really owe it to ourselves to connect with this plant!
Are you ready to eat? In total, these dandelion recipes comprise a full course meal to dine on starting with appetizers and drinks and ending in dessert. I've also thrown in a couple of dandelion recipes for breakfast. These recipes are simple to prepare and make and you'll be savoring every bite in no time! continue reading here
Brain Tanning Buckskin Workshop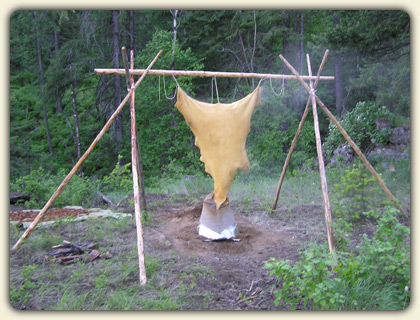 Friday June 8 - Sunday June 10 · Sandpoint, ID · Adults and older Teens Welcome
Imagine making your own luxuriously soft, resilient, and versatile fabric sourced from 100% local, renewable, wild crafted materials. Experience a deep connection to your indigenous ancestors as you learn the traditional art of brain tanning buckskin! Learn more about the Brain Tanning Workshop here.
The Art of Mentoring is coming to the Inland Northwest!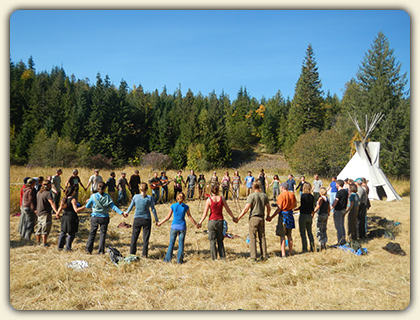 Monday, October 8 - Saturday, October 13 2012 · Sandpoint, ID · For Ages 3 - 103!
Deep in all of our roots, there are stories of our ancestors living in healthy, regenerative communities — villages where people of all ages were in deep relationship with the land, each other, and themselves. The Art of Mentoring is a six day, experiential, nature based set of concurrent programs for ages 3 - 103 designed to help us remember these old ways and learn to apply them to our modern communities.
Yes, it takes a Village to raise a child. It also takes a Village to:
Engage the gifts of our elders
Create essential rites of passage for our teens
Ensure parents are supported and thriving
Welcome our babies into a world of open arms
Feel deep compassion and gratitude for All of Our Relations
Understand your gifts and how to apply them in service to the people
We at Twin Eagles are proud and excited to be bringing the Art of Mentoring to the Inland Northwest this coming Fall! This workshop is one of several Art of Mentoring workshops currently being offered around the world. We bring together a team of experienced leaders and facilitators from around our bio region and beyond to staff five concurrent programs that will co-create a joyful, engaged learning community. Learn more about the Art of Mentoring here.
And here is a secret just for you folks on our email list: In early June, we'll be hosting a Free Call all about the Art of Mentoring with Jeannine Tidwell, Jon Young, and Mark Morey! Stay tuned for more info...
Summer Camps Update
Location Update - Overnight Camps 2012: We are very exited to announce that for summer 2012 we will be holding our overnight camps at the former Bear Tribe land on Vision Mountain, just outside of Tumtum, WA! This location is about one hour north of Spokane, and about two hours west of Sandpoint. It is an amazing location! We have access to over 100 acres of private land, including rich forests, lush meadows, huge rock outcroppings carpeted with moss and three ponds teeming with life. The landscape has a rich history and lore to it, as this is the same land where Sun Bear and the Bear Tribe were located in the '70's and '80's, and is part of the ancestral home of the Middle Spokane Indians. We're feeling very blessed, grateful, and excited to be holding our overnight outdoor adventure camps at this phenomenal location!
Summer Camps Enrollment Reminder: If you are thinking about enrolling in Twin Eagles Summer Camps, please do so soon! We continue to receive a steady stream of enrollment, so don't wait! More info on Twin Eagles Summer Camps here.
Teen Mentor-in-Training Program: Teens are wired to test themselves and test their world. As a culture, it is our responsibility to meet this need in a manner that benefits the whole community. Twin Eagles Teen Mentor-in-Training Program does all this and more. Check out the Mentor-in-Training Program here.
Paid Staff and Volunteer Reminder
Lead & Assistant Cook: Twin Eagles Wilderness School is still accepting applications for both a Lead Cook and an Assistant Cook for our upcoming overnight camps in July and August. These are paid positions based on experience, with accommodations and meals provided. Experience a beautiful outdoor primitive camp setting, and have an amazing time working in a powerful deep nature connection mentoring culture! More employment info here.
Lead Instructor: We're also still accepting applications for Lead Instructors at our upcoming day and overnight summer camps in June, July & August. These are paid positions based on experience, with accommodations & meals provided for overnight camps. Have a tremendous time working in a powerful deep nature connection mentoring culture, and deepening your mentoring expertise while supporting a common Vision of restoring hope in today's youth. Twin Eagles is known for crafting a culture of authentic depth mentoring. More employment info here.
Volunteer Assistant Instructors: Twin Eagles is currently accepting applications for Volunteer Assistant Instructor positions at our upcoming day and overnight summer camps in June, July & August. Deepen your experience of authentic nature based mentoring in a powerful culture of deep nature connection. Make a difference in the world by helping to restore hope in today's youth by connecting them deeply to nature, community, and self. Have an amazing time connecting with other nature based mentors and a whole community with shared values. Accommodations & meals provided at overnight camps. More volunteer info here.
Twin Eagles Wilderness Immersion Program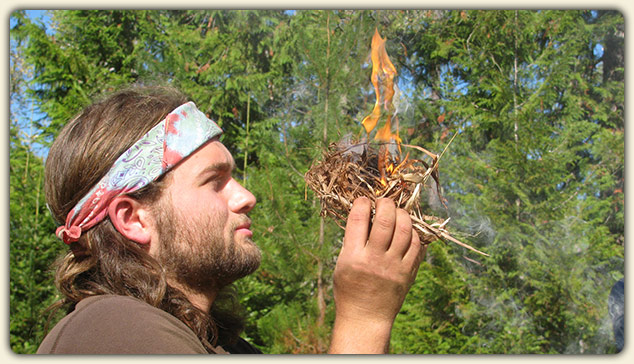 Excitement is building about our new-and-improved, transformational nine month long Wilderness Immersion Program for Adults!
Imagine a deep immersion into:
Wilderness Survival & Primitive Skills
Wildlife Tracking
Ethnobotany - Using plants for medicine, food, and tools
Permaculture & Regenerative Design
Nature Based Mentoring & Cultural Restoration
Naturalist Training
Bird Language & Native Scout Teachings
Inner Tracking - Knowing Thyself
We are currently accepting applications for the 2012-2013 school year.
Are you interested, or do you know someone who might be? Learn more about the Twin Eagles Wilderness Immersion Program right here. And thanks for spreading the word - your voice makes a difference as we work together to bring nature deeper into the collective consciousness of our world.
Thanks for reading - and take some time to enjoy this Spring while it is here!
Tim Corcoran
co-Director & co-Founder
Twin Eagles Wilderness School
www.TwinEagles.org
---
Help Spread the Word!
Do you know of any websites that would be a good connection for Twin Eagles? If so, please reply to this email and give us your suggestions of websites that could link to our website. We can always use the support. Thanks!
Do you know a few people who should be receiving these articles and program updates? Let them know and encourage them to subscribe by forwarding them this link: www.TwinEagles.org/enewsletter.html
Did you receive this email from a friend? Sign up for the Twin Eagles eNewsletter here.
Looking for back issues? Find back issues of the Twin Eagles eNewsletter here.
Header photo courtesy Joseph Rocchio Photography
Twin Eagles Wilderness School Privacy Policy:
Twin Eagles Wilderness School respects both the privacy and time of our subscribers. We will not sell, rent or otherwise share your e-mail address or other personal information to any other person or company. This eNewsletter will be sent out approximately once per month, occasionally more. Our eNewsletters always contain an easy way to unsubscribe at the bottom of each email.
Track us down on Social Media!
We invite you to like, follow, comment, and share about us on these social media sites. This is a great way to help forward the vision of deep nature connection mentoring. Thanks!
For adult & youth program information, free nature connection articles and more,
visit our website at: www.TwinEagles.org