You are receiving this email because you signed up for our contact list or participated in an event
with Twin Eagles Wilderness School.
Thanks for continuing to be connected with us!
To make sure
you keep getting these emails, please add
tim@twineagles.org
to your address book or whitelist us.
Having trouble viewing this email?
View it on the web here.

Twin Eagles Wilderness School
eNewsletter - May 2019
Late Spring greetings from Twin Eagles Wilderness School! It is a very busy time of year in the natural world, as robins, juncos, song sparrows and many more are fledging, the second wave of wildflowers are blooming like lupine, wild strawberry, queen's cup, and all the trees have now fully leafed out. Mama white tailed deer are getting ready to give birth, and soon summer will be upon us.

May has been a very full month here at Twin Eagles as well. We have three new interns living on the land practicing wilderness skills and honing the craft of mentoring, we completed our Spokane Monthly Youth Program, hosted the Spokane Windsong Waldorf School 3rd Grade Class for an overnight campout, and initiated a new cohort of young women at our annual Girl's Rite of Passage. Our Boy's Rite of Passage begins in just a few days! Our school year youth and adult programs are coming to completion, and summer camps are right around the corner!

Here is what we have in store for you in this months eNewsletter:

Summer Camps 2019 Update
Wilderness Skills Instructor Training Program
Summer Internship Program
Volunteer or Work at our Summer Camps!
Summer Camps 2019 Update

Twin Eagles Wilderness Adventure Summer Camps start in just three weeks! We do still have some spaces left. Don't delay! Sign up now while you still can!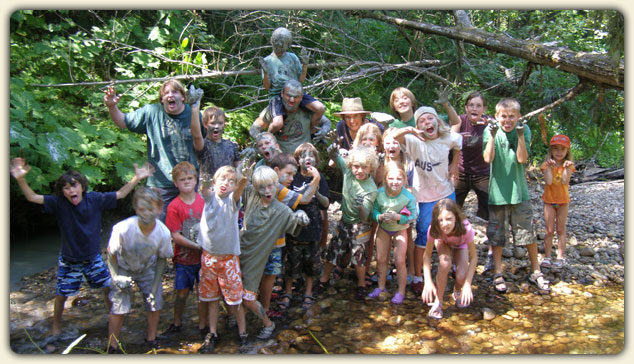 We have some amazing locations for our summer camps this year:

All of our Sandpoint Summer Day Camps will be happening at Camp Stidwell on Mirror Lake in Sagle. Camp Stidwell is an amazing, mosquito-free location comprised of over 160 acres, including mature cedar forests, meadows, creeks, and access to Mirror Lake itself. We're incredibly grateful to be holding our Sandpoint Day Camps at this very special location for the second year in a row, and for the Sandpoint Kiwanis Club for hosting us!

Our Coeur d'Alene Summer Day Camp is happening at Blue Creek Bay, just 15 minutes east of downtown Coeur d'Alene. Blue Creek Bay is a beautiful piece of land located on the edge of Lake Coeur d'Alene, managed by the Bureau of Land Management. We are blessed with access to 750 acres including over a mile of gorgeous lake frontage, mature douglas fir, cedar, hemlock and pine forests, beautiful meadows, as well as the incredibly diverse confluence of Blue Creek with Lake Coeur d'Alene. Gratitude to BLM for hosting us here for the second year in a row!

Spokane Summer Day Camps will be happening at the 9 Mile Day Use Area / Spokane House Interpretive Center, in Nine Mile Falls, WA. This beautiful location is comprised of over 100 acres of wild lands maintained by Riverside State Park. It includes mature Ponderosa Pine forests, lush meadows, and a mile and a half of frontage on the Spokane River that is easily accessible with gorgeous shade trees! It also includes the confluence of the Little Spokane and Spokane River, which is another incredibly diverse area! This spot is just 20 minutes from Spokane, and we are very excited to be running our Spokane Summer Day Camps here for the third year in a row, as we look forward to deepening our relationship with this land.

Our overnight camps will once again be happening at the Medicine Circle Eco-Retreat in Priest River, Idaho. It is with deep gratitude that we continue our overnight camps here for the 13th year in a row!! Medicine Circle includes a traditional tipi and yurt village, outdoor kitchen, and beautiful mature forests, creeks, and springs. We're grateful to David Kirchhof for continuing to host us all these years at Medicine Circle!

There is so much to love about Twin Eagles Summer Camps:

Kids get to be kids again, roaming wild and free in nature.


Safety. We take campers physical and emotional safety seriously, and hold every member of camp to a high standard that creates a safe space for powerful experiences to emerge.


Real skills, real challenges, real adventures. Trailing coyotes, making healing salves from St. Johnswort and Yarrow plants, crafting wooden bow and arrows. Does it get any better?


Our highly trained instructors are some of the finest in the field. First Aid/CPR certification, background checks, and a high level of training in both nature based mentoring and traditional earth skills are all requirements. Our staff are adept at really listening to kids, drawing out their passions, and engaging them fully.


We have the most fun! Year after year, our campers, instructors and parents consistently report that the Twin Eagles experience is the most fun, engaging, and relevant.


We offer a genuinely holistic experience rooted in hope, connecting with what is truly important in life - nature, community, and self.
"My boys LOVED Twin Eagles. Wish everyday of school and learning was like a day in the wild with Twin Eagles. We are grateful for all you teach and the deep nature connection you foster in each child. I wish every child could have this experience. We will be back! Thank you!"
- Shawnee Spitler

This coming summer we are offering thirteen full weeks of summer camp in Sandpoint, Coeur d'Alene, Spokane, and Priest River. They include:
This summer we are continuing our inspirational theme based day camps here at Twin Eagles! 2019 Day Camp themes include:

Nature Adventurers Day Camp - Mystery and adventure await all those who heed the call of the wild. Have you ever looked out onto a wild landscape, and imagined all the possible natural adventures, just waiting to be experienced?
Wilderness Survival Day Camp - There is an ancient calling deep in the heart to experience the freedom and adventure of living wild and free, close to nature - to provide for one's own needs directly from the Earth...
Nature Ninjas Day Camp - Nature ninjas are the eyes and ears of the tribe, protectors of the village. They are masters of stealth, camouflage, and invisibility, traveling unseen and unheard amongst the shadows...
For full information on our summer camps, check out our Twin Eagles Summer Camp web page here.



Twin Eagles Wilderness Skills Instructor Training Program
10 Days: Tuesday May 28 - Thursday June 6, 2019
Adults 18+. Motivated older teens considered on a case by case basis.
Camp Stidwell, Sandpoint, Idaho



Do you yearn to feel at one with nature?




Do you wish to guide the younger generation?




Are you seeking a community of like minds & hearts?




Do you want to truly discover yourself?


Twin Eagles Wilderness Skills Instructor Training Program is a ten day intensive that provides adults a rich opportunity to immerse themselves in the teachings of the Earth and develop themselves as nature connection mentors. Wilderness survival, wildlife tracking, wild edible & medicinal plants, naturalist training, bird language, nature based mentoring, outdoor leadership, and inner tracking become pathways to a transformational journey of deep connection with nature, community, mentoring, & self.

This experience will give you the chance to slow down and embrace time-tested, ancient practices of connecting deeply with nature and earth based approaches to education that we've been successfully facilitating for nearly twenty years. You'll steep in a culture of nature based mentoring with peers that will feel more like family by the end of the experience. You'll be guided by experienced, gifted, open-hearted mentors to discover your authentic self.

In a fast paced world that is increasingly fostering disconnection, this opportunity is designed from the ground up to holistically develop resiliency, a sense of place, confidence, vision, peace, meaning, leadership, mentoring, and connection. It is an opportunity to build relationships with what is truly important in life.

The Twin Eagles Wilderness Skills Instructor Training Program is for adults with a passion for nature, community, mentoring, and self-discovery who are ready to transform from yearning for deep connection to nature and mentoring, to living a life of deep connection with nature and mentoring.

Learn more about the ten day Twin Eagles Wilderness Skills Instructor Training Program here, and please spread the word about this amazing opportunity!



Summer Internship Program

We're very excited to announce our brand new internship program as a pathway to experience our transformational deep nature connection mentoring culture here at Twin Eagles Wilderness School! Summer Internships at Twin Eagles Wilderness School are an opportunity for an immersive experience in deep nature connection within a culture of conscious mentoring. Interns will experience a plethora of tools for connecting with the land, self, and others. Benefits include professional training as a deep nature connection mentor, transformational personal growth & self discovery, learning new wilderness skills, experiencing authentic nature based community, having tons of fun, and much more! Our summer internships last anywhere from two weeks to two months between mid-June and mid-August.

Click here to learn more about the Twin Eagles Internship Program!.



Volunteer or Work at our Summer Camps!
We are currently looking for Volunteer Assistant Instructors who are open to a transformational experience being professionally trained as a Deep Nature Connection Mentor. Volunteers will learn new wilderness skills, network with other nature based mentors, and develop a powerful sense of place, all while supporting a worthy cause. As you steep in our authentic nature based community, you'll develop passion, purpose, gratitude, confidence, and leadership. You'll have tons of fun experiencing a truly inspirational vision of hope as you are mentored to develop your fullest potential in service to the Earth and future generations!. Click here for more info on volunteering at Twin Eagles!

We are also looking to hire for the roles of:

Lead Instructor


Program Director


Assistant Cook


We're offering paid positions based on experience, with accommodations & meals provided for overnight camps. Have a blast working in a powerful deep nature connection mentoring culture, and deepening your mentoring expertise while supporting a common Vision of restoring hope in today's youth. We're known for crafting a culture of authentic depth mentoring. Click here for more info on working at Twin Eagles this summer!


In Wildness,

Tim Corcoran
co-Director & co-Founder
Twin Eagles Wilderness School


---
Help Spread the Word!
Do you know a few people who should be receiving these articles and program updates? Let them know and encourage them to subscribe by sending them this link: www.TwinEagles.org/enewsletter.html

Twin Eagles Wilderness School Privacy Policy:
Twin Eagles Wilderness School respects both the privacy and time of our subscribers. We will not sell, rent or otherwise share your e-mail address or other personal information to any other person or company. This eNewsletter will be sent out approximately once per month, occasionally more. Our eNewsletters always contain an easy way to unsubscribe at the bottom of each email.

Track us down on Social Media!
We invite you to like, follow, comment, and share about us on these social media sites. This is a great way to stay connected and help forward the vision of deep nature connection mentoring. Thanks!






For adult & youth program information, free deep nature connection articles and more,
visit our website at:
www.TwinEagles.org