Family Programs Spring 2024!
We are excited and grateful to be offering two very special opportunities for families to connect with the deep nature connection mentoring journey this coming spring! Amidst our increasingly fast paced lives, wouldn't it be a true gift to slow down and connect with your kids in the beauty of the natural world with the guidance of skilled, experienced, and caring mentors? Don't let this opportunity slip by!


Mother Daughter Program
For mothers and their 8 - 13 year old daughters
Friday May 17 - Monday May 20, 2024
Medicine Circle Eco-Retreat - Priest River, Idaho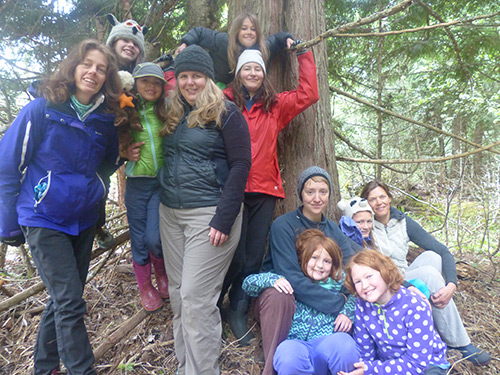 Through the mother daughter bond our daughters learn about trust and connection. It's that trust and connection that will take you over the hurdles of life with her. What greater place to foster and strengthen that connection than in the safety, timelessness and healing balm of nature?

Imagine having a time where you and your daughter can retreat to nature to nurture your relationship with one another. Imagine being nestled in a community and the common bond of other mothers and their daughters in the sanctuary of nature. Accompanying you on this adventure are female guides who can hold you and your relationship with your daughters as sacred and support the growth of your relationship when and where it counts. It's a time to really be present to your journey as a mother and to that very special gift in front of you - your daughter.

Perhaps you feel your daughter turning towards a new stage of development or the greater culture around her. At this time your daughter needs that connection with you in an ever-growing and dynamic way. This program will help support that.

If you are wanting more connections and resources with other women and mothers in order to support your daughter in her life's challenges or in helping her walk down those difficult roads she'll take in her life, then this program is for you.

If you are seeking to build a steady bridge for your daughter to walk over as she nears her time of passage into young womanhood, then this program is for you.

Interested, or know someone who might be? Learn more here.




Father-Son Wilderness Program

For fathers and their 8 - 13 year old sons
Thursday May 23 - Monday May 27, 2024 (Memorial Day Weekend)
Medicine Circle Eco-Retreat - Priest River, Idaho

Imagine taking five days with your son(s), and connecting deeply with nature and your boy(s) through ancestral wilderness survival skills, all within a small "tribe" of other fathers & sons that are like minded with similar values.

Since the dawn of time, fathers and sons have bonded deeply in and with the wilderness. Ancestral wilderness skills have an innate ability to deepen the Father-Son connection like nothing else. This Spring, we're running a very special Father-Son Wilderness Program at Twin Eagles. During this program, we'll make fire by friction, build and sleep in natural shelters, learn traditional hunting and gathering techniques, and track wild animals. Primitive wilderness survival isn't a "Man vs. Wild" scenario, it is an opportunity to build a deep relationship with the Earth. As you and your son do so, you'll find that your relationship with your son deepens in powerful ways.

We'll have facilitated, open heart Father-Son relationship deepening time, and of course opportunities to connect with the other fathers and sons present. Just as our earth based ancestors did, we'll utilize traditional earth based spiritual practices to help facilitate the connection, and have surprise elements too. We're looking for fathers and sons who are ready to open their bodies, minds, and hearts to a deeper connection, have epic fun, and take the time to connect with what matters most.

Learn more and register for our Father Son Wilderness Program here.


Autumn Blessings,

Twin Eagles Wilderness School