Give the Gift of Nature Connection this Holiday Season!
Twin Eagles programs give kids and adults the gifts that really matter: courage, inner peace, resiliency, self-confidence, lower stress, love for the Earth, awareness, and character.

Plastic toys, video games, and new sweaters just can't hold a candle to that.

Being mentored on a journey of connecting deeply with nature, community, and self is deeply nourishing for body, heart, mind, and soul. Consider one of our upcoming programs for yourself and your loved ones this holiday season:


For Adults:
Wooden Bow Making Workshop
with Tim Corcoran
Friday January 9 - Sunday January 11, 2015
Sandpoint, Idaho
Adults & motivated older teens welcome

Make your own wooden long bow at our bow making workshop!! Just imagine shooting bulls eyes with your very own handmade wooden long bow. Experience a deep connection to your indigenous ancestors as you discover this ancient art.

During this bow making workshop, participants will learn the skills to build a longbow, how to choose the wood, the tools needed and their use, how to make bow strings, and how to finish the wood. Shooting the bow will also be covered. By Sunday, your bow will be ready to shoot. You will be taught the "instinctive" shooting method (the same method used by people who relied on the bow in their daily lives). You will leave with a bow and the understanding to be able to build another bow on your own.

Click here to learn more about our Wooden Bow Making Workshop!


For Kids:
Winter Break Camps!
For kids ages 6 - 13 · Spokane, Washington
Mon Dec 29, Tue Dec 30, & Wed Dec 31 · 9 am - 3 pm
Get your kids outside this winter with Twin Eagles Winter Break Camps! Winter here in the Inland Northwest is a magical time. The landscape is transformed by a blanket of snow, and there is a stillness upon the land. Rather than holing up, get outside this winter! Like all Twin Eagles Youth Programs, our winter break camps bring out the best in kids by connecting them deeply to the natural world, forging strong community, and developing genuine self-awareness. Our highly trained instructors draw out kids' passions through nature based activities like tracking wild animals, building snow shelters, learning primitive skills & crafts, storytelling & Songs around a warm campfire, and much more! Click here to learn more about our Winter Break Camps!


For Teens:
Weekend Teen Wilderness Programs
Twin Eagles Seasonal Teen Rendezvous
For teens ages 13 - 18 · Locations throughout the Inland Northwest
Weekends run Friday evening through Sunday Afternoon
Autumn, Winter, & Spring Sessions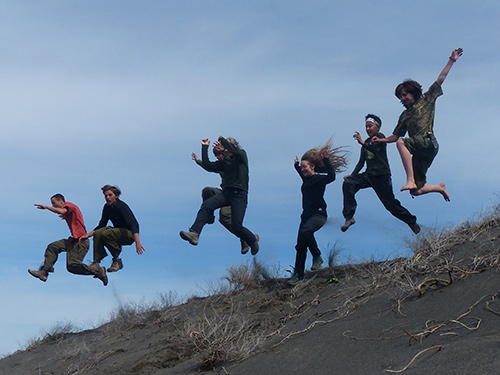 Twin Eagles Seasonal Teen Rendezvous offers awesome experiences to teens throughout the Inland Northwest and beyond to sink deep roots to the earth through wilderness skills while soaring high through full-on group adventures. Teens learn leadership by working together as well as applying their sensitivities through ancient earth based skills and crafts. This is a powerful opportunity for teens to encounter the wild around them. As well, teens have a chance to touch their own inner wildness by giving unique voice to their inner selves amongst a community of peers and mentors.

Winter 2015 Session: Primitive Skills & Crafts
Spring 2015 Session: The Walkabout

Click here to learn more about Twin Eagles Seasonal Teen Rendezvous!

All our best to you!

Tim Corcoran & Jeannine Tidwell
co-Directors & co-Founders
Twin Eagles Wilderness School


---
Header photo courtesy Joseph Rocchio Photography