You are receiving this email because you signed up for our contact list or participated in an event
with Twin Eagles Wilderness School.
Thanks for continuing to be connected with us!
To make sure
you keep getting these emails, please add
tim@twineagles.org
to your address book or whitelist us.
Having trouble viewing this email?
View it on the web here.

Twin Eagles Wilderness School
eNewsletter - June 2016
Happy Summer from all of us here at Twin Eagles Wilderness School! We're just a couple days past the summer solstice, with the days at their very longest and the nights at their very shortest of the year. The amount of life and growth upon the landscape is staggering. Some of the natural relationships we've been enjoying lately include Cedar Waxwings feasting on Saskatoon berries, Bull Snakes stalking White Tailed Mice, herds of white tailed deer browsing on lush grasses under a full solstice moon, huge crayfish being eaten by raccoons on the banks of the Spokane river, young moose awkwardly learning to make their way to pond lilies, and of course dozens and dozens of kids running wild and free upon the landscape exploring all of this and more at our summer camps!

We had a productive, deep, and raucous summer camp staff training before kicking off our summer camps, which are now in full swing, as we've already had 50+ kids steep in the journey of deep nature connection mentoring over the past 10 days. We do still have some spaces left, so register your kids now while you still can! It never ceases to amaze me how impactful our camps are on kids and families. Kids have been describing our camps as "Beyond ultra awesome!", "Best camp EVER!", and saying "I can't believe how fun this is!!". Parents have already been moved to tears, expressing big gratitude for our staff as they weave together relationships amongst the children, families, community, and land alike.

Here is what we have in store for you in this months eNewsletter:

Feature Article: Benefits of Echinacea
Summer Camps 2016 Update
Volunteers needed for Summer Camps!
Job Opportunity - Adult Programs Lead Instructor
Wilderness Immersion Program 2016-2017
Feature Article: Benefits of Echinacea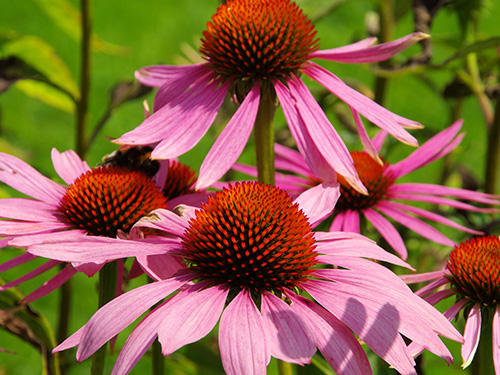 The benefits of echinacea make it easy to truly love this plant. With a beautiful flower and glossy green leaves standing on a tall and stately stalk all resting on a hardy taproot, this plant stands noble in yards, gardens, prairies, forests and meadows.

There are many varieties of this plant and the medicinal benefits of echinacea can be found in the leaves, flowers and roots of all of them. It's no wonder then that echinacea has been cultivated to grow in gardens. Having been used widely for hundreds if not thousands of years, there are several species of echinacea native to North America and many of the medicinal qualities are universal to the different species. They have a variety of common names and an eye-catching head of colors but they all have that same spiky central disc that makes them well-known.

It's amazing to think that echinacea can boost the immune system, heal skin injuries like burns and other external wounds, alleviate allergies, take away tooth pain, fight the flu, slow or stop bacterial growth, and even inhibit cancer. If that weren't enough, here is a staggering list of the benefits of echinacea: continue reading here!


Summer Camps 2016 Update

Twin Eagles Wilderness Adventure Summer Camps are off to an amazing start! We've already had dozens and dozens of kids exploring rivers, sloughs, meadows, ponds, forests, and creeks, celebrating the glory of summer as they learn real skills like flint and steel firemaking, debris shelters, practical medicinal plants, and wildlife tracking skills. All of this, of course, held in a container of traditional mentoring culture including spellbinding storytelling and songs rich with lineage. They have taken a journey of awareness and connection, resulting in joy and gratitude as they come home dirty, exhausted, and deeply satisfied. While many camps are now completely full with waiting lists, we do still have some spaces left. Don't delay! Sign up now while you still can!



There is so much to love about Twin Eagles Summer Camps:

Kids get to be kids again, roaming wild and free in nature.


Safety. We take campers physical and emotional safety seriously, and hold every member of camp to a high standard that creates a safe space for powerful experiences to emerge.


Real skills, real challenges, real adventures. Trailing coyotes, making healing salves from St. Johnswort and Yarrow plants, crafting wooden bow and arrows. Does it get any better?


Our highly trained instructors are some of the finest in the field. First Aid/CPR certification, background checks, and a high level of training in both nature based mentoring and traditional earth skills are all requirements. Our staff are adept at really listening to kids, drawing out their passions, and engaging them fully.


We have the most fun! Year after year, our campers, instructors and parents consistently report that the Twin Eagles experience is the most fun, engaging, and relevant.


We offer a genuinely holistic experience rooted in hope, connecting with what is truly important in life - nature, community, and self.
"My boys LOVED Twin Eagles. Wish everyday of school and learning was like a day in the wild with Twin Eagles. We are grateful for all you teach and the deep nature connection you foster in each child. I wish every child could have this experience. We will be back! Thank you!"
- Shawnee Spitler

This coming summer we are offering thirteen full weeks of summer camp in Sandpoint, Spokane, and Priest River. They include:
This summer we are continuing our inspirational theme based day camps here at Twin Eagles! 2016 Day Camp themes include:
For full information on our summer camps, check out our Twin Eagles Summer Camp web page here.



Volunteers Needed for Twin Eagles Summer Camps!

Come volunteer at Twin Eagles Wilderness School at our summer camps! Although our camps have started, we still need more volunteers for our upcoming camps! Volunteers at Twin Eagles Summer Camps consistently report having an incredibly meaningful, joyful, and transformational experience. You'll build and deepen your experience as a nature based mentor, as you join forces with other staff to craft a powerful culture of deep nature connection. You will make a real difference in the lives of youth by connecting them deeply to nature, community, and self. You'll have the time of your life as you connect with other nature based mentors and a whole community with shared values. These volunteer positions include accommodations and a stipend, and meals are provided at overnight camps. Click here for more info on volunteering at Twin Eagles this summer!


Job Opportunity - Adult Programs Lead Instructor

Adult Programs Lead instructors are the primary mentors at our nine month long transformational Twin Eagles Wilderness Immersion Program for adults. This makes up the majority of their role. To a smaller extent, they are also the primary mentors for youth and teens at our school year programs and summer camps. This is a part to full time job that starts mid-September 2016 and ends early-August 2017, with potential for additional employment in other programs at Twin Eagles Wilderness School, as well as future employment.

Lead Instructors are involved with all aspects of our programs, including design, planning, instruction, mentoring participants & apprentices, coordinating expeditions/intensives/field trips, debrief, overseeing student progress, and caretaking the land/classroom. Lead Instructors also support outreach including photography, videography, and other tasks.

Click here for more info on the Twin Eagles Adult Programs Lead Instructor position.



Twin Eagles Wilderness Immersion Program
Enrollments are coming in strong for the 2016 - 2017 year at Twin Eagles Wilderness Immersion Program. Be sure to apply soon for priority placement if you are interested in the coming year!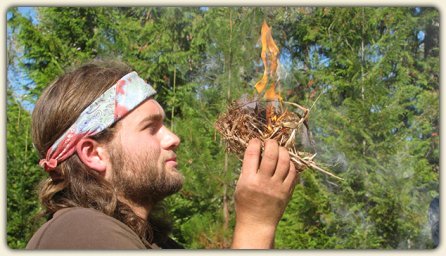 Do you yearn to feel like a part of nature rather than an onlooker? Do you feel a responsibility to our Earth? Are you seeking your contribution to the world? Do you want to fully experience nature rather than just learn about it? Do you want to find a community of like minded people? Are you seeking truth, the truth of who you really are?

If you answered yes to even some of these questions, then consider the Twin Eagles Wilderness Immersion Program. It is all about taking the essence of nature and weaving it into our modern experience. It is about feeling the kinship that comes only from roaming the wilderness together. It is about diving deep into the underground of human consciousness, and discovering the hidden gems that await. It is about deep mentoring that brings out the very best of who you are.

Twin Eagles Wilderness Immersion Program is a transformational journeys that brings back to life the skills and wisdom of our earth based ancestors:



Wilderness Survival & Primitive Skills
Wildlife Tracking
Wild Edible & Medicinal Plants
Permaculture & Regenerative Design
Nature Based Mentoring & Cultural Restoration
Naturalist Training
Bird Language & Native Scout Teachings
Inner Tracking - Know Thyself



This program is a huge step forward on the path of deeply connecting with nature, community, and consciousness.

Enrollment is now open for the 2016-2017 year. Interested, or know someone who might be? Learn more about the nine month Twin Eagles Wilderness Immersion Program here, and please spread the word about this amazing program!



Blessings to you and your family! We hope to see you here at Twin Eagles this summer, sharing in the abundance of the season!

Tim Corcoran
co-Director & co-Founder
Twin Eagles Wilderness School


---
Help Spread the Word!
Do you know a few people who should be receiving these articles and program updates? Let them know and encourage them to subscribe by sending them this link: www.TwinEagles.org/enewsletter.html

Header photo courtesy Joseph Rocchio Photography

Twin Eagles Wilderness School Privacy Policy:
Twin Eagles Wilderness School respects both the privacy and time of our subscribers. We will not sell, rent or otherwise share your e-mail address or other personal information to any other person or company. This eNewsletter will be sent out approximately once per month, occasionally more. Our eNewsletters always contain an easy way to unsubscribe at the bottom of each email.

Track us down on Social Media!
We invite you to like, follow, comment, and share about us on these social media sites. This is a great way to stay connected and help forward the vision of deep nature connection mentoring. Thanks!







For adult & youth program information, free deep nature connection articles and more,
visit our website at:
www.TwinEagles.org