Twin Eagles Wilderness School
eNewsletter - December 2014
Winter Greetings from Twin Eagles Wilderness School! Here at the end of the year, we're naturally feeling grateful for 2014 and full of hope for 2015. This past year was a year of many accomplishments for us. Indeed, 2014 was a year of potent growth. As we look ahead to 2015, we see a whole new possibility for Twin Eagles, and are eagerly anticipating what that means for our community, and our world at large. Many thanks to you for your continued support!

This winter we're excited to offer several deep nature connection mentoring programs for both youth and adults. Whether you join us for a program or not, we encourage you to get outside, slow down, and enjoy the miracles that nature offers.

Here's what is in store for you in this months newsletter:

Feature Article: Nature and Culture - The Wisdom of Learning
Wilderness Immersion Program
Adult Programs Winter 2015
Youth Programs Winter 2015
Feature Article: Nature and Culture - The Wisdom of Learning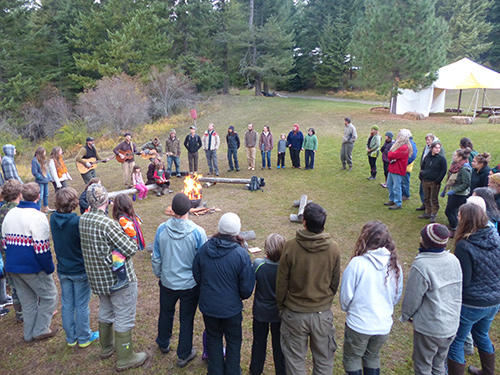 Nature and culture. What do they have to do with each other? Where do they overlap with authentic learning? Why does this matter to us in the post-modern era? To answer these questions, let's look into modern brain research, ancient indigenous wisdom, and our own experiences here at Twin Eagles Wilderness School and other similar organizations worldwide.

There is a lot of continuing brain research that reveals some important information about how the brain learns best. When we understand and make sense of how the brain learns we then have a larger framework for looking at our quality of life and the lives of those around us, especially when we ask ourselves if how we're learning is effective, holistic and powerful and if our learning then makes a positive difference in the world around us. Nature and culture are some of the most powerful contexts to support authentic learning.

There is also a pressing need that has taken shape in the form of a world wide movement for people to reconnect deeply with the natural world, and bring nature and culture back together. This need has been the catalyst for many organizations, such as Twin Eagles Wilderness School, to form worldwide with the focus on nature connection, wilderness immersion, cultural mentoring, regenerative community design, and inner tracking. We refer to this as the deep nature connection mentoring movement.

Modern brain research, indigenous wisdom, and our own experiences within the deep nature connection mentoring movement all agree on how learning happens best: Read more here!


Twin Eagles Wilderness Immersion Program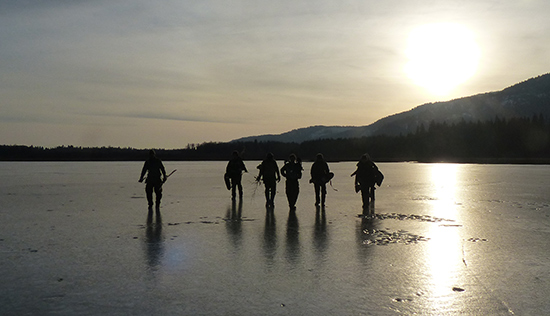 Can you imagine making fire by friction using the hand drill, following the tracks and sign of dozens of local species of wildlife, crafting your own knife and sheath from scratch, learning primitive traps and snares, and flint knapping obsidian arrowheads, all in one month? Each day is full of rich experiences that weave together nature and culture like opening our days with authentic gratitude, inspirational storytelling, songs of Earth and sky, and intimate sharing circles all held in a powerful culture of nature based mentoring. That is just a small window into what December looks like at the Twin Eagles Wilderness Immersion Program.

On top of all that, we bring the autumn block to a close with a very special Inner Tracking Intensive. During this time, we create a sacred space to allow for deep, open heart sharing. Through a combination of processes that draw from indigenous wisdom and human potential, we move through the blocks that limit us as humans, experience authentic healing, and open the door of possibility. Powerful connections are made to passion and purpose, and we all come out the other side deeply renewed and refreshed.

It is our passion to share this with the world, and we welcome you to learn more about the Twin Eagles Wilderness Immersion Program.

Do you yearn to feel like a part of nature rather than an onlooker? Do you feel a responsibility to our Earth? Are you seeking your contribution to the world? Do you want to fully experience nature rather than just learn about it? Do you want to find a community of like minded people? Are you seeking truth, the truth of who you really are?

If you answered yes to even some of these questions, then consider the Twin Eagles Wilderness Immersion Program. It is all about taking the essence of nature and weaving it into our modern experience. It is about feeling the kinship that comes only from roaming the wilderness together. It is about diving deep into the underground of human consciousness, and discovering the hidden gems that await. It is about deep mentoring that brings out the very best of who you are.

The Twin Eagles Wilderness Immersion Program is a transformational, nine month journey that brings back to life the skills and wisdom of our earth based ancestors:



Wilderness Survival & Primitive Skills
Wildlife Tracking
Wild Edible & Medicinal Plants
Permaculture & Regenerative Design
Nature Based Mentoring & Cultural Restoration
Naturalist Training
Bird Language & Native Scout Teachings
Inner Tracking - Know Thyself



This program is a huge step forward on the path of deeply connecting with nature, community, and consciousness.

Interested, or know someone who might be? Learn more about the Twin Eagles Wilderness Immersion Program here.


Adult Programs Winter 2015
Wooden Bow Making Workshop
with Tim Corcoran
Friday January 9 - Sunday January 11, 2015
Sandpoint, Idaho
Adults & motivated older teens welcome

Make your own wooden long bow at our bow making workshop!! Just imagine shooting bulls eyes with your very own handmade wooden long bow. Experience a deep connection to your indigenous ancestors as you discover this ancient art.

During this bow making workshop, participants will learn the skills to build a longbow, how to choose the wood, the tools needed and their use, how to make bow strings, and how to finish the wood. Shooting the bow will also be covered. By Sunday, your bow will be ready to shoot. You will be taught the "instinctive" shooting method (the same method used by people who relied on the bow in their daily lives). You will leave with a bow and the understanding to be able to build another bow on your own.

Click here to learn more about our Wooden Bow Making Workshop!


Youth Programs Winter 2015
Winter Break Camps
For kids ages 6 - 13 · Spokane, Washington
Mon Dec 29, Tue Dec 30, & Wed Dec 31 · 9 am - 3 pm
Get your kids outside this winter with Twin Eagles Winter Break Camps! Winter here in the Inland Northwest is a magical time. The landscape is transformed by a blanket of snow, and there is a stillness upon the land. Rather than holing up, get outside this winter! Like all Twin Eagles Youth Programs, our winter break camps bring out the best in kids by connecting them deeply to the natural world, forging strong community, and developing genuine self-awareness. Our highly trained instructors draw out kids' passions through nature based activities like tracking wild animals, building snow shelters, learning primitive skills & crafts, storytelling & Songs around a warm campfire, and much more! Click here to learn more about our Winter Break Camps!


Weekend Teen Wilderness Programs
Twin Eagles Seasonal Teen Rendezvous
For teens ages 13 - 18 · Locations throughout the Inland Northwest
Weekends run Friday evening through Sunday Afternoon
Autumn, Winter, & Spring Sessions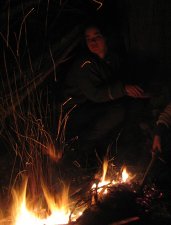 Twin Eagles Seasonal Teen Rendezvous offers awesome experiences to teens throughout the Inland Northwest and beyond to sink deep roots to the earth through wilderness skills while soaring high through full-on group adventures. Teens learn leadership by working together as well as applying their sensitivities through ancient earth based skills and crafts. This is a powerful opportunity for teens to encounter the wild around them. As well, teens have a chance to touch their own inner wildness by giving unique voice to their inner selves amongst a community of peers and mentors.

Winter 2015 Session: Primitive Skills & Crafts
Spring 2015 Session: The Walkabout

Click here to learn more about Twin Eagles Seasonal Teen Rendezvous!

Happy New Years to you!

Tim Corcoran
co-Director & co-Founder
Twin Eagles Wilderness School


---
Help Spread the Word!
Do you know a few people who should be receiving these articles and program updates? Let them know and encourage them to subscribe by sending them this link: www.TwinEagles.org/enewsletter.html

Header photo courtesy Joseph Rocchio Photography

Twin Eagles Wilderness School Privacy Policy:
Twin Eagles Wilderness School respects both the privacy and time of our subscribers. We will not sell, rent or otherwise share your e-mail address or other personal information to any other person or company. This eNewsletter will be sent out approximately once per month, occasionally more. Our eNewsletters always contain an easy way to unsubscribe at the bottom of each email.

Track us down on Social Media!
We invite you to like, follow, comment, and share about us on these social media sites. This is a great way to stay connected and help forward the vision of deep nature connection mentoring. Thanks!







For adult & youth program information, free deep nature connection articles and more,
visit our website at:
www.TwinEagles.org