You are receiving this email because you signed up for our contact list or participated in an event
with Twin Eagles Wilderness School.
Thanks for continuing to be connected with us!
To make sure
you keep getting these emails, please add
tim@twineagles.org
to your address book or whitelist us.
Having trouble viewing this email?
View it on the web here.

Twin Eagles Wilderness School
eNewsletter - June 2022
Summer greetings from Twin Eagles Wilderness School! It is a very busy time of year in the natural world, as all sorts of life is bursting forth on the landscape. During the past weeks, we've had tons of wildlife encounters on the land with our summer camps including finding active nests of Song Sparrow, Dark Eyed Junco, American Robin, Osprey, Common Merganser, Mallard, and Violet-green Swallow. We've been lucky enough to have observed muskrat, beaver, white tailed deer, elk, moose, and black bear (all safely!) Stinging nettle, cattail, dandelion, plantain, yarrow, st. johnswort, and many more plants are strong on the earth. Crayfish, rainbow trout, small mouth bass, and sunfish are thriving in the lakes and rivers. All of life seems to be expressing itself fully now that summer is here.

June has been a great month here at Twin Eagles as well. Summer Camps are off to a great start, and we're just about to complete our third week. We've already touched the lives of over 150 youth this summer. Here is what one mother had to say after her son attended one of our camps just a week ago:

"My 7 yr old son attended camp this past week and absolutely LOVED every minute of it! Our family has always loved nature and the outdoors and this camp is perfect for pursuing that in a child! On the last day of camp my husband and I attended for a parents get together and we learned even more about Twin Eagles and what they believe in and it truly was incredible. Our family will continue to be apart of Twin Eagles Wilderness school for many many years! We HIGHLY recommend this program! Thank you Twin Eagles!"

Here is what we have in store for you in this months eNewsletter:

Summer Camps 2022 - New Spots Available!
Wilderness Vision Quest Autumn 2022
Wild Women
Summer Camps 2022 - A Few Spots Available!

Twin Eagles Wilderness Adventure Summer Camps are off to an amazing start! We've already had over 150 kids exploring rivers, sloughs, meadows, ponds, forests, and creeks, celebrating the glory of summer as they learn real skills like flint and steel fire making, debris shelters, practical edible and medicinal plants, and wildlife tracking skills. All of this, of course, held in a container of traditional mentoring culture including spellbinding storytelling and songs rich with lineage. They have taken a journey of awareness and connection, resulting in joy and gratitude as they come home dirty, exhausted, and deeply satisfied. While most of our camps are still completely full with waiting lists, we do have a few spots available.

SPACE AVAILABLE - Forest Arts Summer Day Camp in Sandpoint - July 4 - 8, 2022

SPACE AVAILABLE - Wilderness Crafts & Forest Foraging Day Camp in Spokane - August 8 - 12, 2022

Don't delay! Sign up now while you still can!

Please note, these available spots will definitely get taken quickly. If the registration system reports these camps as "Waitlist Only", it means our available spots were taken and these camps are back to wait lists.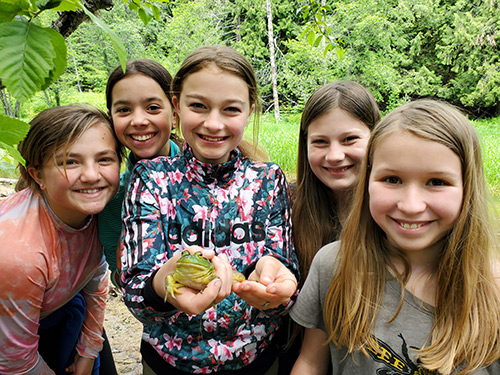 There is so much to love about Twin Eagles Summer Camps:

Kids get to be kids again, roaming wild and free in nature.


Safety. We take campers physical and emotional safety seriously, and hold every member of camp to a high standard that creates a safe space for powerful experiences to emerge.


Real skills, real challenges, real adventures. Trailing coyotes, making healing salves from St. Johnswort and Yarrow plants, crafting wooden bow and arrows. Does it get any better?


Our highly trained instructors are some of the finest in the field. First Aid/CPR certification, background checks, and a high level of training in both nature based mentoring and traditional earth skills are all requirements. Our staff are adept at really listening to kids, drawing out their passions, and engaging them fully.


We have the most fun! Year after year, our campers, instructors and parents consistently report that the Twin Eagles experience is the most fun, engaging, and relevant.


We offer a genuinely holistic experience rooted in hope, connecting with what is truly important in life - nature, community, and self.
For full information on our summer camps, check out our Twin Eagles Summer Camp web page here.



Wilderness Vision Quest
For adults 18+
September 23 - October 2, 2022 - North Idaho
A 10-day live, in-person immersion into the mysteries of Wild Nature and Wild Soul, carefully curated by Tim Corcoran and Mark Tollefson.

Be held in a conscious mentoring culture led by two 20+ year experienced nature-based & soul-based mentors as you prepare, quest and integrate a pinnacle transformational experience of connecting with your deepest life vision, the largest conversation you are capable of having with the world.

A timeless ceremonial process rooted in traditional earth-based wisdom, adapted for humans living today to facilitate the journey of ecological awakening and soul initiation.

You can learn more about the Vision Quest by clicking here.

Please note that this link takes you to the Purpose Mountain website, which is the organization Tim founded a few years ago to focus on Nature Based Purpose Discovery and Visionary Development.



Wild Women!
For women 18 and older
Friday October 7 - Sunday October 9
Gathering all Wild Women! Come join us for an amazing outdoor deep nature connection adventure to connect with your innate wild, soulful essence. This is an opportunity to reconnect with your wild, instinctual animal nature and deepen your understanding of the wild woman archetype through a direct immersive experience.

Click here to learn more about Wild Women!



Wild Blessings,

Tim Corcoran
co-Director & co-Founder
Twin Eagles Wilderness School


---
Help Spread the Word!
Do you know a few people who should be receiving these articles and program updates? Let them know and encourage them to subscribe by sending them this link: www.TwinEagles.org/enewsletter.html

Twin Eagles Wilderness School Privacy Policy:
Twin Eagles Wilderness School respects both the privacy and time of our subscribers. We will not sell, rent or otherwise share your e-mail address or other personal information to any other person or company. This eNewsletter will be sent out approximately once per month, occasionally more. Our eNewsletters always contain an easy way to unsubscribe at the bottom of each email.

Track us down on Social Media!
We invite you to like, follow, comment, and share about us on these social media sites. This is a great way to stay connected and help forward the vision of deep nature connection mentoring. Thanks!






For adult & youth program information, free deep nature connection articles and more,
visit our website at:
www.TwinEagles.org