Twin Eagles Wilderness School
eNewsletter - April 2014
Welcome to our April eNewsletter! Spring is in full bloom here at Twin Eagles, and there just aren't enough hours in the day to experience all the new growth on the landscape. Tree frogs are singing, robins are laying eggs, trilliums & violets are blooming, salamanders are slinking, and morel mushrooms are bursting from the Earth. What a joy it is to feel the renewal of life!

Here is a quick list of what's in store for you in this month's eNewsletter:

Feature Article: Finest Morel Recipes
Wilderness Immersion Program Update
Summer Camps 2014 Update
Twin Eagles is Hiring - Year Round & Summer Positions
Grandmother Margaret Behan visits the Inland NW
Feature Article: Finest Morel Recipes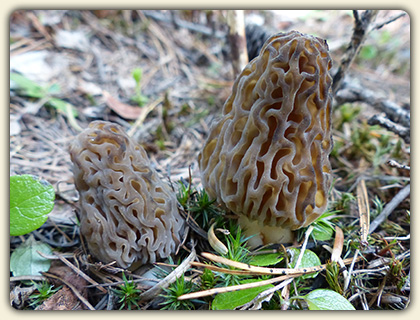 It's that time of year again, that so many of us just can't wait for. I feel like my seven year old son does on Easter morning hunting easter eggs, just overflowing with excitement to find that next morel mushroom!

With morel season here, I am inspired to share with you my personal, very favorite morel recipes. Morel mushrooms are an exquisite delicacy, and truly deserve your very best. These mushrooms are prized for their earthy flavor and texture, and are a delight to share with family and friends.

How about Grilled Trout Stuffed With Morels and Spring Greens, or Salmon with Morels and Asparagus? If you haven't tried the classics like Fried & Breaded Morels or Morels & Scrambled Eggs then you haven't lived. Take a look at the Finest Morel Recipes right here, and good luck hunting them!


Twin Eagles Wilderness Immersion Program Update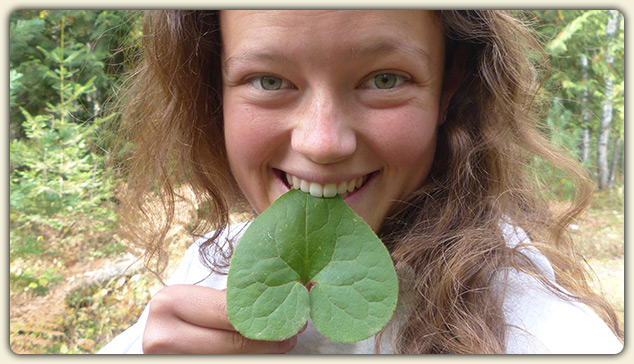 Being a part of the Twin Eagles Wilderness Immersion Program during the month of April is one of my absolute favorite times of year. Tracking wildlife on the Pack River delta, Primitive Pottery, discovering the web of life through ecology, a survival skills intensive making fire totally primitively and building and sleeping in group survival shelters, and immersing in experiential permaculture and regenerative design teachings. The participant's and staff's passion is bursting forth like the spring wildflowers!

We had a great free visit day a couple weeks ago, as folks came out from throughout the region to get a glimpse into the program. I was reminded once again that despite all my efforts, this work must be experienced to be truly appreciated. While most visitors arrived with a sense of what we do, by the end of the day we were getting comments like, "I had no idea how amazing and powerful this program really is!" Folks didn't want to leave. Here is how one man put it:

"These are reality classes. Common threads of ancient knowledge and wisdom learned by elders spread the many joys of the natural world, weaving born­in wilderness wool right into the human spirit. This is fabric for the clothing of compassion, a sturdy coat made of self confidence that can help our children to provide for themselves and protect their planet for generations to come."

Do you yearn to feel like a part of nature rather than an onlooker? Do you feel a responsibility to our Earth? Are you seeking your contribution to the world? Do you want to fully experience nature rather than just learn about it? Do you want to find a community of like minded people? Are you seeking truth, the truth of who you really are?

If you answered yes to even some of these questions, then consider the Twin Eagles Wilderness Immersion Program. It is all about taking the essence of nature and weaving it into our modern experience. It is about feeling the kinship that comes only from roaming the wilderness together. It is about diving deep into the underground of human consciousness, and discovering the hidden gems that await. It is about deep mentoring that brings out the very best of who you are.

The Twin Eagles Wilderness Immersion Program is a transformational, nine month journey that brings back to life the skills and wisdom of our earth based ancestors:



Wilderness Survival & Primitive Skills
Wildlife Tracking
Wild Edible & Medicinal Plants
Permaculture & Regenerative Design
Nature Based Mentoring & Cultural Restoration
Naturalist Training
Bird Language & Native Scout Teachings
Inner Tracking - Know Thyself



This program is a huge step forward on the path of deeply connecting with nature, community, and consciousness.

Interested, or know someone who might be? We still have room in the 2014 - 2015 program year. Learn more about the Twin Eagles Wilderness Immersion Program here.


Twin Eagles Summer Camps Update!

Registration continues to come in very steadily for Twin Eagles Summer Camps 2014, with some camps getting nearly full. If you are considering having your kids join us this summer, we encourage you to enroll soon in order to secure a spot!

Twin Eagles summer camps bring out the best in kids by connecting them deeply to the natural world, forging strong community, and developing genuine self-awareness. Since 2005 we've been offering day and overnight camps for ages 3 - 18 in Sandpoint, Spokane, and Priest River. Our highly trained instructors draw out kids' passions through nature based activities like:

Making fire by friction & Building natural shelters
Learning wild edible & medicinal plants
Stealth, camouflage, & invisibility
Traditional Archery
Tracking wild animals & Exploring natural mysteries
Building natural shelters
Discovering the language of the forest
Learning earth based crafts, stories, songs
Immersion in nature & Sensory Awareness
and much, much more!
"Hands down, the summer outdoor adventure camp offered by Twin Eagles was my son's favorite experience, over and above any art camp, sports camp or other organized activity he has attended. I believe the overwhelming positive response can be attributed to the unique nature based mentoring process Twin Eagles offers children, answering some core childhood needs that too often go unmet for many of today's busy children. This experience is precious"

- Carrie Lipe

For 2014, we are offering eleven full weeks of summer camp in Sandpoint, Spokane, and Priest River. They include:
For full information on our summer camps, including our online registration, check out our Twin Eagles Summer Camp web page here.


Twin Eagles is Hiring - Year Round & Summer Positions
We are excited to share the good news that Twin Eagles Wilderness School is growing, and with that growth we have several paid positions available:
We also have volunteer assistant instructor positions available at our very popular summer camps.


Grandmother Margaret Behan visits the Inland NW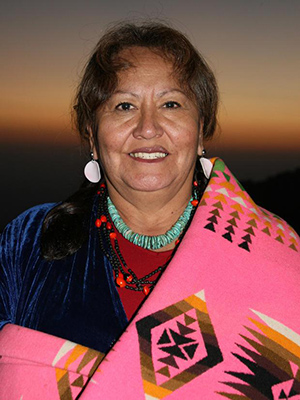 We are pleased to share with you this announcement for a public sharing of indigenous wisdom through stories and teaching. While Twin Eagles is not actually hosting this event, we very much support this essential work. Grandmother Margaret Behan, formerly of the International Council of Thirteen Indigenous Grandmothers, will be visiting the Inland NW for several events including:

Weekend Workshop ~ May 2-4 ~ Scotia House, Newport, WA
Afternoon Presentation ~ May 7 ~ Eastern Wash. Univ.
Evening Presentation ~ May 9 ~ Panida Theater, Sandpoint

For more information, please contact Sandee Meade at (509) 447-2693 or scotiahouse(at)povn.com replace (at) with @

Thanks for reading, and may you enjoy the blessing of new life that Spring brings,

Tim Corcoran
co-Director & co-Founder
Twin Eagles Wilderness School


---
Help Spread the Word!
Do you know a few people who should be receiving these articles and program updates? Let them know and encourage them to subscribe by sending them this link: www.TwinEagles.org/enewsletter.html

Did you receive this email from a friend? Sign up for the Twin Eagles eNewsletter here.

Header photo courtesy Joseph Rocchio Photography

Twin Eagles Wilderness School Privacy Policy:
Twin Eagles Wilderness School respects both the privacy and time of our subscribers. We will not sell, rent or otherwise share your e-mail address or other personal information to any other person or company. This eNewsletter will be sent out approximately once per month, occasionally more. Our eNewsletters always contain an easy way to unsubscribe at the bottom of each email.

Track us down on Social Media!
We invite you to like, follow, comment, and share about us on these social media sites. This is a great way to stay connected and help forward the vision of deep nature connection mentoring. Thanks!







For adult & youth program information, free deep nature connection articles and more,
visit our website at:
www.TwinEagles.org