Twin Eagles Wilderness School
eNewsletter - November 2012
Greetings from Twin Eagles Wilderness School, and welcome to our November eNewsletter!


Fall Harvest 2012 was a huge success!
This past month we hosted our eighth annual Fall Harvest community celebration. We had a great turn out from community members in both Sandpoint, Spokane, and beyond, and we celebrated the harvest time together with primitive cooking. Just imagine fresh caught rainbow trout cooked over woven willow grills, fresh bread baked in a rock oven, elk steaks cooked over a flat rock, and several varieties of wild crafted herbal teas brewed over the open fire - it was delicious, but even more tasty was the community connection. We gathered together at the end of the day for a simple earth based ceremony called the "Giving Circle", where each member made a contribution from the natural world to a beautiful mandala-like circle that represented our collective gratitude. We shared from the heart what we were each grateful for, and indeed hearts were touched by the power of our community coming together around thanksgiving.


Feature Article: Simple Herbal Cough Remedies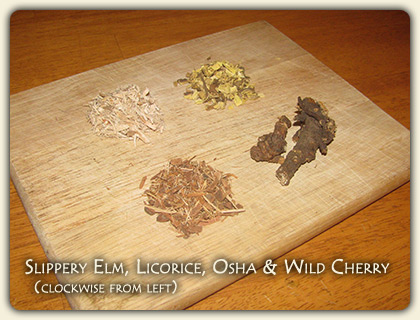 Discover herbal cough remedies for all kinds of coughs - the short lived and the tough ones, too. Come learn about herbs for cough and their benefits, get recipes and more. Don't let those coughs get the best of you!

Long ago I used to not think that much about coughs. I just never really got them. When I gave birth to two little boys the coughs started coming in. I initially would worry about them and wonder if those coughs would ever take a hiatus until I learned that a cough is actually a good thing. I went on a quest to find all the natural cough remedies I could find to not only treat a cough but help support a person's whole body before, during and after a cough. One of the things I discovered is that a cough is simply a symptom of clearing the throat of anything from pollen to smoke to dust to bacteria. And thankfully there are simple herbal cough remedies for them, too. First, let's take a look at the benefits.

The benefits of herbal cough remedies start with... continue reading here


Twin Eagles Wilderness Immersion Program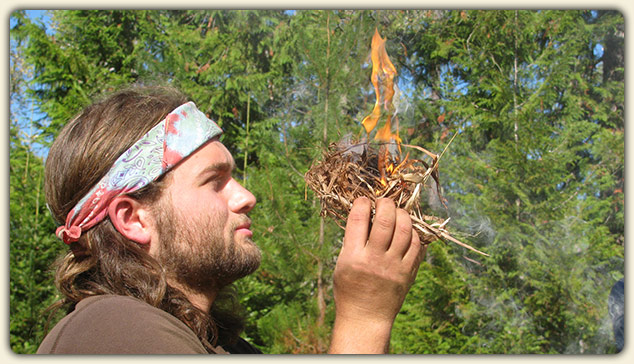 This past month at the Twin Eagles Wilderness Immersion Program has been full of adventures. Amongst other highlights, we traveled to Moses Lake sand dunes for our autumn wildlife tracking expedition. This area is known as a "tracker's playground" and is a magnet for wildlife and ecological diversity. It never ceases to amaze me how powerful a tool tracking is for expanding people's awareness. Coyote, beaver, white tail deer, muskrat, crayfish, mink, oriole, kingfisher, gull, and many others each left their marks on the landscape, combining like chapters in a book to deliver one of the greatest stories ever told. Unraveling this mystery proved all engaging for everyone, and we each left only wanting more.

Building and sleeping in natural shelters, visiting one of the finest stands of dogbane for cordage material collection, coal burning bowls and spoons, and hand drill firemaking are a few of the other adventures we've shared in this month. The journey continues...

If you're interested, we encourage you to reach out, or better yet, come out for a visit and try a day for free. Lots of info about the Twin Eagles Wilderness Immersion Program is available online here.


Weekend Teen Wilderness Programs
Twin Eagles Seasonal Teen Rendezvous
For teens ages 13 - 18 · Locations throughout the Inland Northwest
Weekends run Friday evening through Sunday Afternoon
Autumn, Winter, & Spring Sessions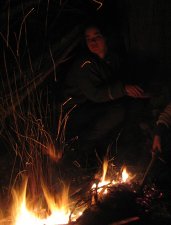 Twin Eagles Seasonal Teen Rendezvous offers awesome experiences to teens throughout the Inland Northwest and beyond to sink deep roots to the earth through wilderness skills while soaring high through full-on group adventures. Teens learn leadership by working together as well as applying their sensitivities through ancient earth based skills and crafts. This is a powerful opportunity for teens to encounter the wild around them. As well, teens have a chance to touch their own inner wildness by giving unique voice to their inner selves amongst a community of peers and mentors. Click here to learn more about Twin Eagles Seasonal Teen Rendezvous!

Looking Forward,

Tim Corcoran
co-Director & co-Founder
Twin Eagles Wilderness School


---
Help Spread the Word!
Do you know a few people who should be receiving these articles and program updates? Let them know and encourage them to subscribe by sending them this link: www.TwinEagles.org/enewsletter.html

Did you receive this email from a friend? Sign up for the Twin Eagles eNewsletter here.

Header photo courtesy Joseph Rocchio Photography

Twin Eagles Wilderness School Privacy Policy:
Twin Eagles Wilderness School respects both the privacy and time of our subscribers. We will not sell, rent or otherwise share your e-mail address or other personal information to any other person or company. This eNewsletter will be sent out approximately once per month, occasionally more. Our eNewsletters always contain an easy way to unsubscribe at the bottom of each email.

Track us down on Social Media!
We invite you to like, follow, comment, and share about us on these social media sites. This is a great way to stay connected and help forward the vision of deep nature connection mentoring. Thanks!







For adult & youth program information, free deep nature connection articles and more,
visit our website at:
www.TwinEagles.org