Twin Eagles Wilderness School
eNewsletter - October 2012
Fair Autumn Greetings from Twin Eagles Wilderness School! The fall rains are back, and winter is on its way. This past month has seen unprecedented growth here at Twin Eagles, including hosting our first annual weeklong Art of Mentoring workshop with over 90 people attending from eight distinct communities throughout the Inland Northwest and beyond! The AoM was a significant step forward for both Twin Eagles as well as the greater deep nature connection mentoring movement in the Inland Northwest.

We've also successfully launched the Twin Eagles Wilderness Immersion Program which has already been an amazing adventure for everyone involved - more details below. There is still room in our year long deep nature connection program for youth, and our eighth annual Fall Harvest celebration will be here soon. We hope you find something of interest in this month's eNewsletter.


Feature Article: Identifying Wild Mushrooms!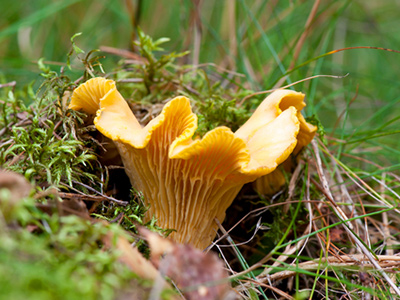 Identifying wild mushrooms is an amazing and practical skill set. Learn how to identify edible mushrooms, the benefits of befriending wild mushrooms, get resources for edible mushroom identification, and more. These amazing delicacies will rock your world!

What is a mushroom? It could be easy to think of a mushroom as a vegetable since they're often cooked into classic dishes like stir-fry with other vegetables. In the process of identifying wild mushrooms it's important to know that a mushroom is actually a fungus which produces a fruit. The fruit is the main body of the mushroom. Let's take a closer look at the benefits that are waiting for us after learning how to identify edible mushrooms. continue reading here


Eighth annual Fall Harvest celebration!
Special Community Event for the whole family!
Saturday November 3 · 10 am - 4 pm
Cedar Springs, Sandpoint, Idaho
Free for families with children enrolled in our youth programs,
Otherwise suggested donation of $10 per person / $15 per family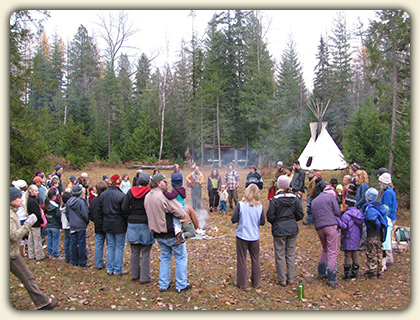 Please join us as we "gather the tribe" to celebrate the fall season, deep nature connection, family, and community! This day will be a celebration full of fun activities for everyone. We'll have songs, storytelling, games, ceremony and FOOD! We'll be focusing on various traditional primitive cooking methods for you to sample and savor! All activities are optional, and we'll keep a warm fire burning in the tipi throughout the day for you to kick back and relax.

Please be sure to contact us to let us know you're coming, and how many are in your group, so that we can prepare adequately for the big day. Thanks!

Volunteers are needed to help with a variety of projects so please contact us if you would like to help out in some way before or on the day of the event. We would really appreciate the support - thank you! As always, we encourage carpooling to this event. Hope to see you there!


Weekend Teen Wilderness Programs
Twin Eagles Seasonal Teen Rendezvous
For teens ages 13 - 18 · Locations throughout the Inland Northwest
Weekends run Friday evening through Sunday Afternoon
Autumn, Winter, & Spring Sessions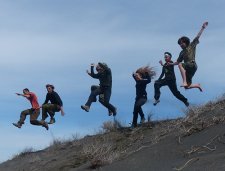 Twin Eagles Seasonal Teen Rendezvous offers awesome experiences to teens throughout the Inland Northwest and beyond to sink deep roots to the earth through wilderness skills while soaring high through full-on group adventures. Teens learn leadership by working together as well as applying their sensitivities through ancient earth based skills and crafts. This is a powerful opportunity for teens to encounter the wild around them. As well, teens have a chance to touch their own inner wildness by giving unique voice to their inner selves amongst a community of peers and mentors. Click here to learn more about Twin Eagles Seasonal Teen Rendezvous!


Teen Mentor-In-Training Program
For teens ages 15 - 18 · Sandpoint, ID & Spokane, WA
Twin Eagles Mentor in Training (MIT) program is an incredible opportunity for teens to step forward into becoming authentic nature based mentors. Twin Eagles MITs receive guidance from Twin Eagles' seasoned adult staff to move into a mentoring role with Twin Eagles Youth Program students, thereby experiencing themselves as powerful role models and leaders. It is a rare opportunity to be mentored into their greater potential as they experience the joy of mentoring others into a deep relationship with the earth. The MIT Program runs alongside all of our Youth Programs, so teens are able to select which one(s) they wish to participate in. Click here to learn more about Twin Eagles Mentor in Training Program!


Twin Eagles Wilderness Immersion Program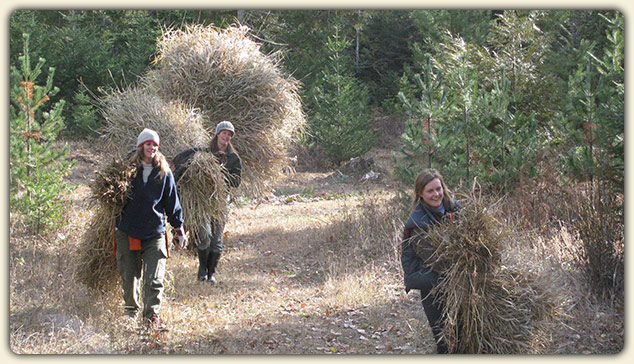 The Twin Eagles Wilderness Immersion Program has begun! And boy has it started with a bang. The year began with an incredible opening overnight intensive that gave participants a felt sense of the year to come, highlighted by an incredible inner tracking experience led by Barry Moses. In all my years of facilitating depth mentoring, I've truly never seen a group go to such a deep place in such a unified manner as this group has gone. It laid a rock solid foundation for what has already become an unprecedented year together.

Since then participants have also experienced deep nature awareness, primitive firemaking, a weeklong intergenerational nature based village re-creation called the Art of Mentoring, edible & medicinal plant preparations, bird language, and more. We're currently in the midst of building our own 30' yurt natural classroom as part of our natural building curriculum - all in the first month. The transformation has begun.

If you're considering joining, we encourage you to come out for a visit and try a day for free - its on us. Lots of info about the Twin Eagles Wilderness Immersion Program is available online here. Also, keep an eye on our Facebook page for updated pictures.

Looking Forward,

Tim Corcoran
co-Director & co-Founder
Twin Eagles Wilderness School


---
Help Spread the Word!
Do you know a few people who should be receiving these articles and program updates? Let them know and encourage them to subscribe by sending them this link: www.TwinEagles.org/enewsletter.html

Did you receive this email from a friend? Sign up for the Twin Eagles eNewsletter here.

Header photo courtesy Joseph Rocchio Photography

Twin Eagles Wilderness School Privacy Policy:
Twin Eagles Wilderness School respects both the privacy and time of our subscribers. We will not sell, rent or otherwise share your e-mail address or other personal information to any other person or company. This eNewsletter will be sent out approximately once per month, occasionally more. Our eNewsletters always contain an easy way to unsubscribe at the bottom of each email.

Track us down on Social Media!
We invite you to like, follow, comment, and share about us on these social media sites. This is a great way to stay connected and help forward the vision of deep nature connection mentoring. Thanks!







For adult & youth program information, free deep nature connection articles and more,
visit our website at:
www.TwinEagles.org