What on EARTH are your kids doing for Winter Break?
Bouncing off the walls? Zoning out on screens and video games? Driving you crazy? No thanks!!

As a parent myself I know how hard it is to have energetic kids with nothing to do during school break. It can be frustrating, stressful, and downright crazy-making when my kids are stuck inside for a week or more.

Why not send them to Twin Eagles this winter break where their energy is welcome and honored? Kids need nature. We provide a safe space for kids to fully express themselves as they deepen their connection to nature, other fun loving kids, and caring mentors. Our instructors are carefully trained to not just mentor kids in super cool wilderness skills, but drive home the deep life lessons that support them to develop into healthy, caring, empowered human beings. The actions we take today influence who our children become tomorrow.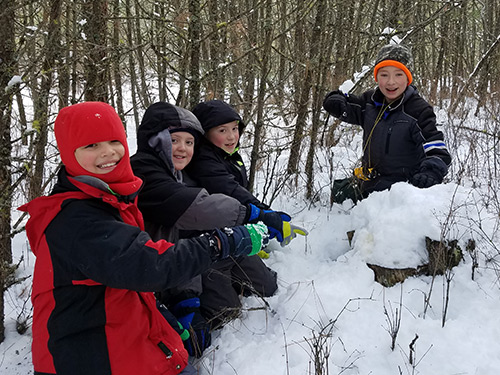 We're offering a three day winter break camp that meets Tuesday December 31 - Thursday January 2, 9:00 am - 3:00 pm daily. Our location is just 15 minutes SW of downtown Spokane, where we have access to 50+ acres of beautiful and diverse land, rich with areas to explore.

Learn more and register online for Twin Eagles Winter Break Camp here.

Kids spend their days practicing skills like building practical & warm snow shelters, tracking wild animals, safely making fire, exploring natural mysteries on the land, learning primitive crafts, as well as storytelling around a warm fire in our tipi. Its an experience like no other that meets a deep need in today's youth that is typically otherwise going unmet for most kids.

"Our 6 year old daughter recently attended Twin Eagles. She had a magical time during each session singing new songs and bringing home crafts that she had made from the landscape. She developed a deep maturity around being outside and the natural world that we haven't seen from her before. We have so much gratitude toward Twin Eagles for the amazing mentorship and guidance they provide for the people of all ages in our community. Highly recommend any and all programs that Twin Eagles offers. Thank you!" -Sara McTavish

Wishing you and your family a wonderful holiday season filled with the joy of nature,

Tim

Tim Corcoran
co-Director & co-Founder
Twin Eagles Wilderness School

P.S. - Our Winter Break Camp is a GREAT way for kids to get started at Twin Eagles! At just three days long, its a great starting point for new families who are interested in checking us out, but not yet ready for a longer commitment. The three day school break camp format allows us to get to know your kids, build relationships, and form a mentoring foundation in partnership with you as their parent that has the potential to positively impact them long into the future. "It takes a village to raise a child", so lets do this!!

Click here to register for Twin Eagles Winter Break Camp!