Save 50% on Next Week's Summer Camps!
Great news! We're holding a special sale on our summer camps, cutting the cost in half for up to 10 lucky campers! For the next three days only, you can register for next week's camps happening July 2 - 6, both in Sandpoint as well as Spokane, at 50% off the normal cost.

Families have the option of signing up for all five days (normally $285, now just $142.50), or just four days, skipping Wednesday July 4 (normally $235, now just $117.50). That's a savings of up to $140!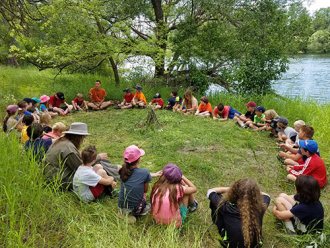 The theme for both of next week's camps is Wilderness Survival, a perennial favorite. Kids have the opportunity to forge strong connections with the natural world, community, and themselves as they learn the basics of primitive shelter building, fire making, wild edible plants, and how to stay safe and empowered in the woods!

This sale is only good until this Friday, June 29 at 5:00 pm. It is also first come first served, and we only have five spots in Sandpoint and five spots in Spokane available. Once they are gone, they are gone. Also, please note that this sale is not retroactive, so it cannot be applied to registrations already in place. All registrations must be made online, not over the telephone, and paid for via credit card.

To take advantage of this sale for our summer camps happening next week July 2 - 6, use the following coupon codes:

For next week's Spokane Summer Camp: SPOK-SUMMER-243

For next week's Sandpoint Summer Camp: SAND-SUMMER-879

For a full description of our summer camps, please visit our summer camp web page here.

Feel free to spread the word to family and friends!

All our best,

Tim

Tim Corcoran
co-Director & co-Founder
Twin Eagles Wilderness School


---
Header photo courtesy Joseph Rocchio Photography