You are receiving this email because you signed up for our contact list or participated in an event
with Twin Eagles Wilderness School.
Thanks for continuing to be connected with us!
To make sure
you keep getting these emails, please add
tim@twineagles.org
to your address book or whitelist us.
Having trouble viewing this email?
View it on the web here.

An Evening with
Tony Ten Fingers
Earth Based Mentoring
and Traditional Lakota Life ways
Free Evening Presentation
Tuesday February 23rd, 6:30 – 8:30 pm
Unitarian Universalist Church, Thoreau Room
4340 Fort Wright Blvd., Spokane, Washington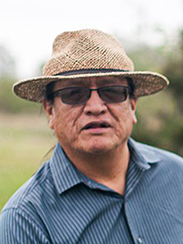 Join Tony Ten Fingers as he shares teachings of traditional Lakota wisdom, appreciating the diverse gifts of life and the Earth. Well take a journey of discovery to touch the wisdom that first cultures have to offer our modern world, and how one of the central purposes of culture is to actualize human beings. Learn about tracking animals, food gathering, traditional medicines, and the spirituality that accompanies these activities in traditional Lakota life.

Tony Ten Fingers (Wanbli Nata'u) is an Oglala Lakota and was raised in the traditional ways of his people. Tony specializes in empowerment, education, leadership, healing, and prevention training's for Native youth and young adults. He has been essential in the founding of Twin Eagles Wilderness School, as well as many other deep nature connection mentoring organizations throughout the country.

An international speaker, Tony is a cultural ambassador who brings the wisdom of the Lakota people to all those he touches in the form of the original teachings the Lakota were given. Gifted with the skill to blend traditional Native American ways with an understanding of the modern world, Tony is an accomplished educator and storyteller. A "master teacher of teachers," indeed, he has much to offer.

Tony's contributions to suicide prevention in Native communities have been transformational. His work includes being an Indian Health Program analyst, substance abuse clinician, and college instructor alongside practicing Oglala Lakota traditions and ceremonies. Tony received his bachelors degree from Oglala Lakota College, his graduate degree from the University of Hawaii and is currently studying for his doctorate in Psychology.

"Tony Ten Fingers has a very precious gift to give us. Marcel Proust once advised, 'A true journey of discovery is not to see new landscapes but to see with new eyes'"
&nbsp &nbsp &nbsp &nbsp &nbsp &nbsp &nbsp &nbsp &nbsp &nbsp &nbsp &nbsp &nbsp - Michael Bachmann, M.D., D.Sc. Stanford University School of Medicine

Donations welcome to help continue Tony's work.

For more information contact Maggie Dale (509) 230-9896


---
Header photo courtesy Joseph Rocchio Photography