Twin Eagles is Celebrating 10 Years!!!
Free Community Event!
I can still remember the butterflies in my stomach as Jeannine and I held our first ever parent meeting for Twin Eagles Wilderness School ten years ago. It was the summer of 2005, and we had gathered a handful of parents together at our local farmer's market to share our vision of deep nature connection mentoring, and the idea of starting our first program here in Sandpoint, Idaho.

Despite my anxiousness and nervousness, I was able to speak powerfully about the possibility of a community coming together around the teachings of the Earth. About deep nature connection and mentoring, about becoming fully alive through holistic sensory engagement, about community based rites of passage, cultural restoration, deep inner tracking, and authentically changing the world for the better one person at a time in the same way that our lives had been changed.

Our message was received, and indeed we started our first program with a dozen home schooled kids.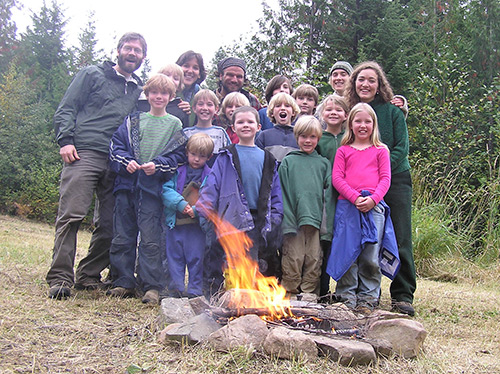 Now, ten years later, I am so proud, so humbled, and so grateful to look back at the thousands of lives that have been touched and changed by our work of deep nature connection mentoring, as our vision thrives!

So it is time to celebrate!!!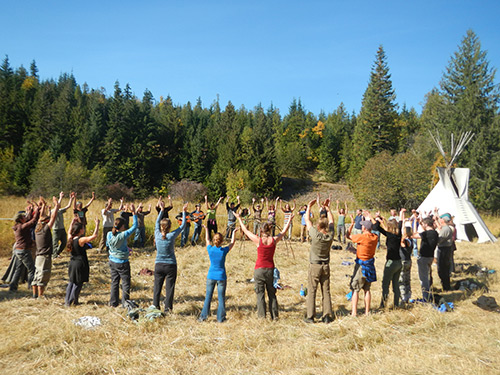 Twin Eagles Village Gathering and 10 Year Anniversary Celebration!!
A community event sponsored by the elder council of Twin Eagles Wilderness School to celebrate ten years of deep nature connection mentoring and the joy of community

Medicine Circle Eco-Retreat, Priest River, Idaho
Labor Day Weekend - Saturday September 5 - Monday September 7
Saturday afternoon to Monday afternoon
Main event Monday
Flexible attendance - Camp out Sat and/or Sun or visit for just Monday

This is a FREE* community event - Families and friends of Twin Eagles are all invited!
*No cost to attend, but we ask that everyone bring food to share.
*You must RSVP with David Kirchhof in order to attend - see below for details

Community connection and celebration through fun and meaningful activities such as music, skill sharing, storytelling, group meals, council circles, ceremony, games, nature connection adventures, relaxed camping, river excursion and more...

Confirmed attendees include Jeannine Tidwell, Tim Corcoran, Barry Moses, David Kirchhof, Ken Fischman, and Lanie Johnson! We're inviting community members near and far, including past and present instructors, participants, parents, MITs, volunteers, elders, and families.

Bring music, songs, games, activities, and nature connection/Twin Eagles stories to share! Let's make this happen!!

Please RSVP David Kirchhof @ (208) 448-1305 or medicinecircle@gmail.com by Aug 30th... so we can plan for food and camping - tipis, yurts or tent camping; we will provide directions and what to bring.

We look forward to seeing you there!!

Tim

Tim Corcoran
co-Director & co-Founder
Twin Eagles Wilderness School


---
Header photo courtesy Joseph Rocchio Photography