You are receiving this email because you signed up for our contact list or participated in an event
with Twin Eagles Wilderness School.
Thanks for continuing to be connected with us!
To make sure
you keep getting these emails, please add
tim@twineagles.org
to your address book or whitelist us.
Having trouble viewing this email?
View it on the web here.

Twin Eagles Wilderness School
eNewsletter - July 2019
Greetings from all of us here at Twin Eagles Wilderness School! We're grateful to be thriving during the fullness of summer. Serviceberries, bunchberries, and huckleberries are ripe, white tail fawns are getting big, bucks are in velvet, and the yellowjackets and summer thunder storms are here. It seems that all the wild creatures are seeking out the coolness of water and shade right now in the heat of the summer.

July has been a big month here at Twin Eagles, as we've had 120 kids at our summer camps this month alone! There have been many moments of deep connections with nature, friendships being formed, and discovery of self. Take a look at our summer camp update below for more info!

Here is what we have in store for you in this months eNewsletter:

Summer Camps 2019 Update
The Soulful Hunter Podcast
Summer Camps 2019 Update

Twin Eagles Wilderness Adventure Summer Camps are prospering this year! We've already had hundreds of kids exploring creeks, ponds, springs, rivers, lakes, forests, hills, mountains and meadows, basking in the joy of summer as they learn real skills like bow and drill fire making, wildlife tracking, edible wild plants, bird language, and natural camouflage. Plus our classic camper favorites like spellbinding storytelling and songs rich with lineage. All of this, of course, held in a container of nature based mentoring focused on drawing out the wholeness of each individual child. They have taken a journey of awareness and connection, resulting in joy and gratitude as they come home dirty, exhausted, and deeply satisfied. We have just a couple summer camps left this season, take a look if you're interested, and sign up now while there is still space!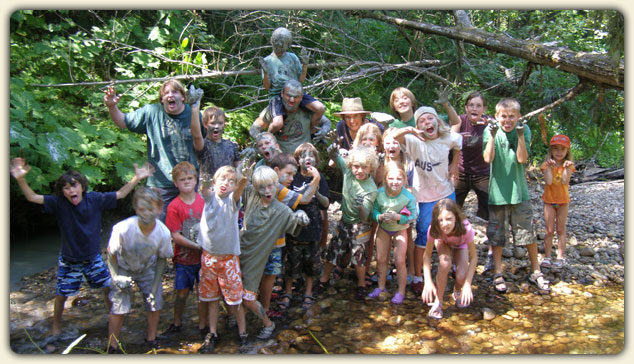 Here are a few quotes from this summer:

"Our 6 year old daughter attended 3 week-long kids camps with Twin Eagles this summer. She had a magical time during each session singing new songs and bringing home crafts that she had made from the landscape. Willow developed a deep maturity around camping and the natural world that we haven't seen from her before. We have so much gratitude toward Tim and Jeannine for the amazing mentorship and guidance they provide for the people of all ages in our community. Highly recommend any and all programs that Twin Eagles offers. Thank you!"
- Sara McTavish

"My son had a great time at Twin Eagles Wilderness school last week. He went to the camp here in Spokane at the Spokane House in Riverside State Park. He is a pretty shy kid, but he had so much to talk about when we picked him up everyday. He will be back next year. Highly recommend!"
- Mike Adams

"Both of my sons, ages 11 & 12, enjoyed Twin Eagles' Wilderness Survival Camp. Skills learned, such as knife safety, respect for the land, water filtration, hunting small game with a stick, tracking, and taking time just to chill in the woods- will last them a lifetime."
- Hope Friese

"Will, my 11 year old, participated in the Twin Eagles day camp this summer for the first time. He LOVED it!! The counselors were so patient with all the kids, drawing on their natural curiosity while teaching them tidbits. Tim was there every morning with a smile and a handshake then ready every afternoon with a quick update. Will is already hoping to attend the overnight camp!!"
- Nicole Reynolds

This summer we are offering thirteen full weeks of summer camp in Sandpoint, Coeur d'Alene, Spokane, and Priest River. They include:
This summer we are continuing our inspirational theme based day camps here at Twin Eagles! 2019 Day Camp themes include:

Nature Adventurers Day Camp - Mystery and adventure await all those who heed the call of the wild. Have you ever looked out onto a wild landscape, and imagined all the possible natural adventures, just waiting to be experienced?
Wilderness Survival Day Camp - There is an ancient calling deep in the heart to experience the freedom and adventure of living wild and free, close to nature - to provide for one's own needs directly from the Earth...
Nature Ninjas Day Camp - Nature ninjas are the eyes and ears of the tribe, protectors of the village. They are masters of stealth, camouflage, and invisibility, traveling unseen and unheard amongst the shadows...
For full information on our summer camps, check out our Twin Eagles Summer Camp web page here.



Soulful Hunter Podcast with Tim Corcoran

I was recently featured on the Soulful Hunter Podcast, hosted by Johnny Mack. Johnny's podcast is all about the essence of holistic hunting, focusing on ethics, mentoring, respect for the land and animals, and a spiritually rooted experience. During our conversation we spoke about the roots of deep nature connection, mentoring, the power of purpose, fulfillment in life, the root of humanity, courage, vulnerability, and I shared the story of my first hunt, which is one you don't want to miss! The excitement was palpable!

You can listen to my interview on the Soulful Hunter Podcast here.


In Wildness,

Tim Corcoran
co-Director & co-Founder
Twin Eagles Wilderness School


---
Help Spread the Word!
Do you know a few people who should be receiving these articles and program updates? Let them know and encourage them to subscribe by sending them this link: www.TwinEagles.org/enewsletter.html

Twin Eagles Wilderness School Privacy Policy:
Twin Eagles Wilderness School respects both the privacy and time of our subscribers. We will not sell, rent or otherwise share your e-mail address or other personal information to any other person or company. This eNewsletter will be sent out approximately once per month, occasionally more. Our eNewsletters always contain an easy way to unsubscribe at the bottom of each email.

Track us down on Social Media!
We invite you to like, follow, comment, and share about us on these social media sites. This is a great way to stay connected and help forward the vision of deep nature connection mentoring. Thanks!






For adult & youth program information, free deep nature connection articles and more,
visit our website at:
www.TwinEagles.org