Twin Eagles Wilderness School
eNewsletter - August 2015
Late summer greetings from Twin Eagles! The rains finally came today giving us a welcome break from the intensity of summer's heat. With all the wildfires raging this summer, we're incredibly grateful for the precious gift of water from above. Our summer camps have come to completion, also giving us a break from the fullness of our biggest summer camp season yet, with a whopping 240 campers having experienced the joy of deep nature connection mentoring! Wow!

This time of year is always one of reflection for us, as we pause before entering into the school year ahead, which will no doubt be filled with tons of programs and lots more moments of hearts being touched by the essence of nature. We'll be opening registration for our autumn, winter and spring programs very soon.

In the meantime, as we look back we're thankful for a rich, full year here at Twin Eagles. Our youth programs flourished this year with our Weekly Program for Homeschooled Youth, three Monthly Programs for Youth, Teen Overnight Weekends, Spring Break Camp, our Teen Mentor-in-Training program, Custom Programs for local schools, and both Boys and Girls Rites of Passage. Programs for the whole family grew as well, with Community Nature Connection Days, Earth Based Mentoring, and our first ever Father-Son Wilderness Program. Of course our adult programs continued strong as well with Sacred Space, Bow Making, as well as Twin Eagles Wilderness Immersion Program and Twin Eagles Depth Mentoring Apprenticeship. All of this was capped off with a thriving summer camp season. So much to be grateful for!

Beyond looking back at the past year, this is also a time for us to look back at and celebrate the past decade, as next month marks our Ten Year Anniversary! Amazing! We're celebrating next weekend with a big, free, community gathering. See below for details, and we hope to see you there!

This is an amazing and unprecedented time to be alive. With all the wild fires burning out here in the west, it can feel disturbing and unsettling. Yet it provides an opportunity to settle in to what is most important - family, nature, that still quiet place within, and community. It is from this place that we remember who we are, and we live into our shared, bright vision of tomorrow. Thanks for joining us.

Here's what we've got for you in this months newsletter:

Feature Article: Ode to the Skunk Cabbage
Last Call - Ten Year Anniversary Party!
Wilderness Immersion & Gap Year Programs
Inland Northwest Permaculture Convergence
Feature Article: Ode to the Skunk Cabbage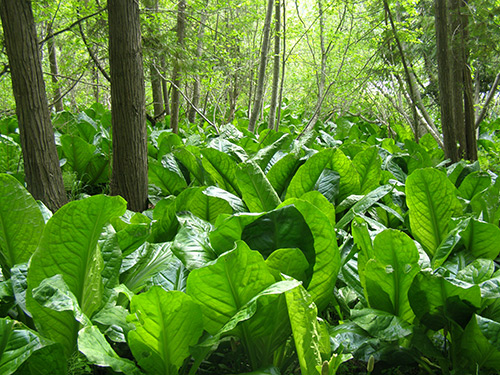 The fragrance of the western skunk cabbage emerges like a thin mist from the early spring forests and swamps of north Idaho. It's a harbinger of spring here in our bio region, and this old friend catches my eye with its vivid green leaves and alerts me to the coming of spring with its unique scent. The sheer sight of this wild plant evokes the landscape from which it comes. Swampy wetlands with huge lush green leaves packed in everywhere. Although I live in north Idaho, I often feel I'm in the jungle when I go out to forage for this amazing plant.

True to its name, the skunk cabbage (Lysichiton americanus) emits a "skunk" like odor from its leaves, flowers, spadix, spathe, rhizome and roots. For those of you not fond of this distinct smell, plug your nose and let's look a little closer. Those huge leathery leaves, vibrantly green and oval can grow to 3 feet in size. We've often used them as... Read more here...



Last Call - Twin Eagles 10 Year Anniversary Celebration!!
RSVP required in order to attend - see below for details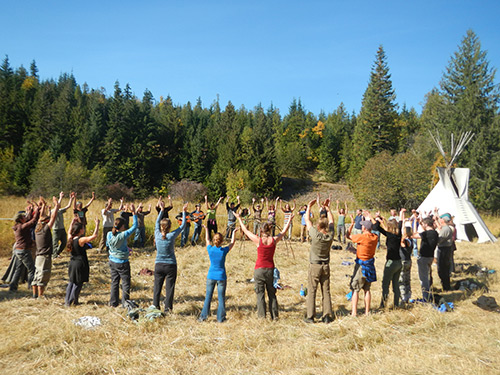 A community event sponsored by the elder council of Twin Eagles Wilderness School to celebrate ten years of deep nature connection mentoring and the joy of community

Medicine Circle Eco-Retreat, Priest River, Idaho
Labor Day Weekend - Saturday September 5 - Monday September 7
Saturday afternoon to Monday afternoon
Main event and Honoring Ceremony Monday
Flexible attendance - Camp out Sat and/or Sun or visit for just Monday

This is a FREE* community event - Families and friends of Twin Eagles are all invited!
*No cost to attend, but we ask that everyone bring food to share.

Community connection and celebration through fun and meaningful activities such as music, skill sharing, storytelling, group meals, council circles, ceremony, games, nature connection adventures, relaxed camping, river excursion and more...

Confirmed attendees include Jeannine Tidwell, Tim Corcoran, Barry Moses, David Kirchhof, Ken Fischman, and Lanie Johnson! We're inviting community members near and far, including past and present instructors, participants, parents, MITs, volunteers, elders, and families.

Bring music, songs, games, activities, and nature connection/Twin Eagles stories to share! Let's make this happen!!

Please RSVP David Kirchhof @ (208) 448-1305 or medicinecircle@gmail.com by Aug 31st... so we can plan for food and camping - tipis, yurts or tent camping; we will provide directions and what to bring.


Twin Eagles Wilderness Immersion & Gap Year Programs Update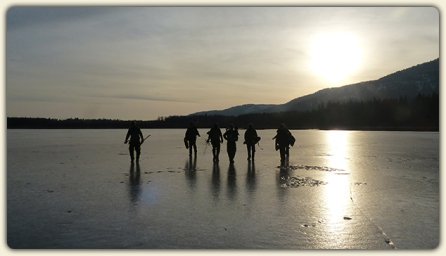 Do you yearn to feel like a part of nature rather than an onlooker? Do you feel a responsibility to our Earth? Are you seeking your contribution to the world? Do you want to fully experience nature rather than just learn about it? Do you want to find a community of like minded people? Are you seeking truth, the truth of who you really are?

If you answered yes to even some of these questions, then consider the Twin Eagles Wilderness Immersion Program or Gap Year Programs. It is all about taking the essence of nature and weaving it into our modern experience. It is about feeling the kinship that comes only from roaming the wilderness together. It is about diving deep into the underground of human consciousness, and discovering the hidden gems that await. It is about deep mentoring that brings out the very best of who you are.

Twin Eagles Wilderness Immersion and Gap Year Programs are transformational journeys that bring back to life the skills and wisdom of our earth based ancestors:



Wilderness Survival & Primitive Skills
Wildlife Tracking
Wild Edible & Medicinal Plants
Permaculture & Regenerative Design
Nature Based Mentoring & Cultural Restoration
Naturalist Training
Bird Language & Native Scout Teachings
Inner Tracking - Know Thyself



These programs are a huge step forward on the path of deeply connecting with nature, community, and consciousness.

Enrollment is still open for the 2015-2016 year. Interested, or know someone who might be? Learn more about the nine month Twin Eagles Wilderness Immersion Program here, or discover our two to nine month long Gap Year Programs here, and please spread the word about these amazing programs!



Inland Northwest Permaculture Convergence 2015!

Thursday, September 10 - Sunday, September 13, 2015
Heartsong Retreat Center, Tumtum, Washington

Hundreds of people exploring pathways to a positive future!

The fifth annual Inland Northwest Permaculture Convergence features hundreds of topics, dozens of presenters, workshops, round tables, permaculturists from around the Inland Northwest, a trade show, music, plant walks, swimming, tasty home grown nutrient dense food, and youth programs being offered by Twin Eagles!

Permaculture is about restoring local economies and local ecosystems, resilient communities and great gardens, natural building, renewable energy, water harvesting, sharing information, having fun!, Care of land, Care of People, and Fair Share! This years theme is "Permaculture's Answers to Drought"

Twin Eagles will be well represented at this year's Inland Northwest Permaculture Convergence, with our staff offering both adult presentations as well as youth programs. Put simply, if you care about the Earth and our future, this gathering is worth attending!

Learn more about the Inland Northwest Permaculture Convergence 2015 here!

Thanks for reading, and may you enjoy these beautiful last days of summer!

Tim Corcoran
co-Director & co-Founder
Twin Eagles Wilderness School


---
Help Spread the Word!
Do you know a few people who should be receiving these articles and program updates? Let them know and encourage them to subscribe by sending them this link: www.TwinEagles.org/enewsletter.html

Header photo courtesy Joseph Rocchio Photography

Twin Eagles Wilderness School Privacy Policy:
Twin Eagles Wilderness School respects both the privacy and time of our subscribers. We will not sell, rent or otherwise share your e-mail address or other personal information to any other person or company. This eNewsletter will be sent out approximately once per month, occasionally more. Our eNewsletters always contain an easy way to unsubscribe at the bottom of each email.

Track us down on Social Media!
We invite you to like, follow, comment, and share about us on these social media sites. This is a great way to stay connected and help forward the vision of deep nature connection mentoring. Thanks!







For adult & youth program information, free deep nature connection articles and more,
visit our website at:
www.TwinEagles.org