Twin Eagles Wilderness School
eNewsletter - June 2012
Wild roses are blooming, Juncos have fledged, fawns are being birthed, and the summer solstice is just one week away. The season of intense growth is upon us, and Twin Eagles is no exception. We're gearing up for our biggest season of summer camps yet, our largest week long adult workshop ever - the Art of Mentoring (coming up next October), as well as the launch of our completely redesigned nine month long transformational Wilderness Immersion Program. Check it all out below!


Feature Article: What is Mentoring?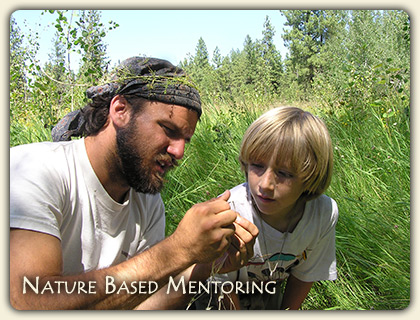 What is mentoring? What is a mentor? What is a mentor relationship? These terms are being used more and more in the world today in a variety of contexts and environments. Here we offer our unique mentoring model that is rooted in the heart of nature and has the power to facilitate individual growth, deep connection to nature, and cultural change.

Mentoring is a dynamic, multi-layered experience in which... continue reading here


Summer Camps Update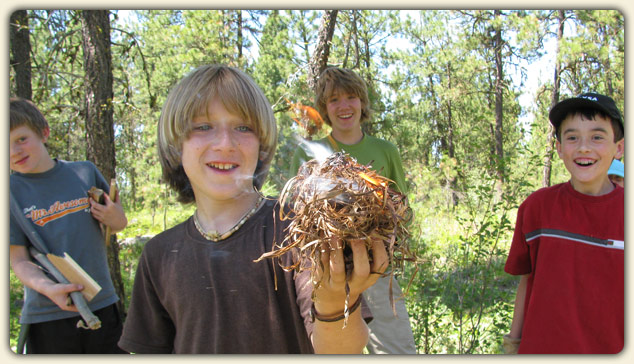 We are just a few days away from the beginning of our 2012 summer camp season. Campers, MITs, volunteers, and staff are traveling in from all over the western US to be a part of the epic adventures that will unfold. If you've been to Twin Eagles, you know that we don't just run summer camps, we redefine what summer camps are. Sure we do storytelling, songs, and games. But we take much deeper than that.

Deep connection to nature is facilitated that words can't do justice to. We give kids real skills like finding edible plants, making fire by friction, or tracking animals, the same skills that kept our ancestors alive. We facilitate deep personal growth in the context of nature, and kids discover who they really are and surprise themselves by what they are capable of. The bonds that form are like family. All this adds up to an unforgettable experience that people come back year after year for.

We still have openings in most of our camps, and we also still have some available funds for summer camp scholarships. Don't wait any longer to register! The time is now. More info on the web here.


Save $100 on the Art of Mentoring!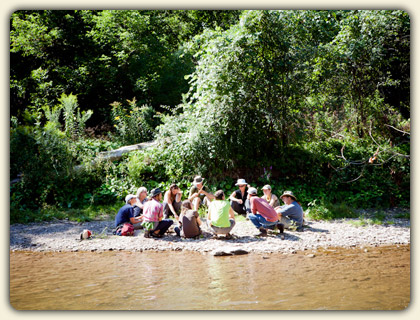 This past week we hosted an absolutely amazing free conference call on the Art of Mentoring. The response was huge, with over 325 people registering for it from all over the world. Jeannine Tidwell spoke on the call, as well as Jon Young (from the 8 Shields Institute) and Mark Morey (from the Institute for Natural Learning).

The call was deeply inspiring, and we also offered a special limited time $100 discount on the Art of Mentoring workshop happening here in Sandpoint, Idaho October 8 - 13, 2012. The discount is only good for one more week, so we really encourage you to take advantage of this offer while you still can. In order to get in on the discount, you'll need to listen to the recording of the call here.


Save $1000 on our Wilderness Immersion Program!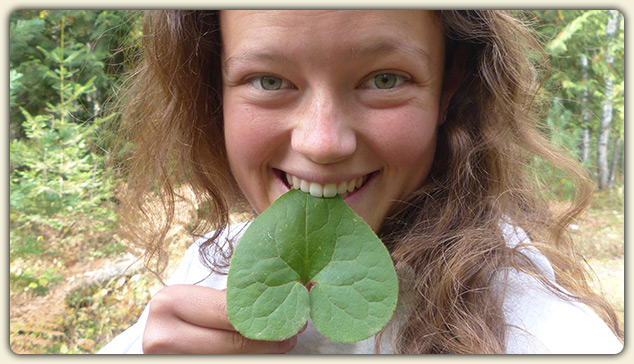 There are just two weeks left to get the early bird discount on the Twin Eagles Wilderness Immersion Program. This is a transformational, nine month journey into the science and art of:



Wilderness Survival & Primitive Skills
Wildlife Tracking
Ethnobotany - Using plants for medicine, food, and tools
Permaculture & Regenerative Design
Nature Based Mentoring & Cultural Restoration
Naturalist Training
Bird Language & Native Scout Teachings
Inner Tracking - Knowing Thyself



If you are serious about immersing into the teachings of the wilderness, and really changing your life, consider this program. It is a huge step forward towards becoming a nature based mentor, wildlife researcher, permaculture designer, or more. Interested, or know someone who might be? Learn more about it here.

Blessings on the journey ahead,

-Tim

Tim Corcoran
co-Director & co-Founder
Twin Eagles Wilderness School


---
Help Spread the Word!
Do you know a few people who should be receiving these articles and program updates? Let them know and encourage them to subscribe by sending them this link: www.TwinEagles.org/enewsletter.html

Did you receive this email from a friend? Sign up for the Twin Eagles eNewsletter here.

Looking for back issues? Find back issues of the Twin Eagles eNewsletter here.

A great way to help get the word out about Twin Eagles is by connecting us with other websites that are a good match. If you know of any, feel free to email us with your suggestions. We appreciate your support!

Header photo courtesy Joseph Rocchio Photography

Twin Eagles Wilderness School Privacy Policy:
Twin Eagles Wilderness School respects both the privacy and time of our subscribers. We will not sell, rent or otherwise share your e-mail address or other personal information to any other person or company. This eNewsletter will be sent out approximately once per month, occasionally more. Our eNewsletters always contain an easy way to unsubscribe at the bottom of each email.

Track us down on Social Media!
We invite you to like, follow, comment, and share about us on these social media sites. This is a great way to help forward the vision of deep nature connection mentoring. Thanks!







For adult & youth program information, free nature connection articles and more,
visit our website at:
www.TwinEagles.org